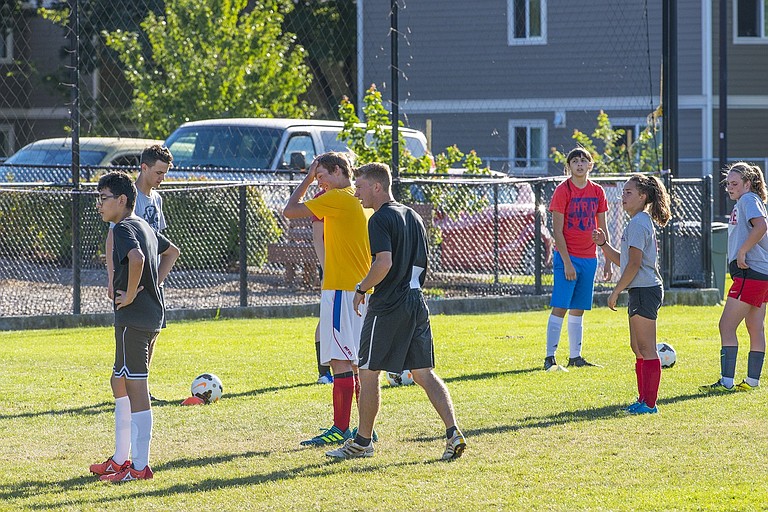 Saturday, September 16, 2017
For Horizon's soccer team, the plan wasn't to open their season against defending state champions Umpqua Valley Christian, but with the cancellation of games due to the smoke, that's how it ended up.
On Sept. 11, the Horizon soccer team traveled to Roseburg to face the 1A Monarchs in their first game of the season.
This year, Horizon's roster is almost entirely made up of underclassmen; out of the 16-player roster for the Hawks, only four are seniors returning for their final season.
Combine an unexperienced core group of players and the inability to practice due to the fires in the area, and you get results in game one of the regular season that aren't too ideal, but expected considering the circumstances.
The final score was 5-0 in favor of the Monarchs, but the Hawks were able to challenge the defending champions for much of the first half.
It wasn't until around the 10-minute mark remaining in the first half when the first goal was scored by the Monarchs, so the issue wasn't playing with Umpqua Valley Christian, it was trying to keep up with them for a whole game.
The Monarchs later scored again near the end of the first half and then scored the remaining three throughout the second half.
"Not having practice for a week definitely impacted our performance as I could tell the players seemed to have lost some of their fitness and touches during that time off," Head Coach Andrew Stenberg said. "Although it was a great learning experience for the players and I think it was good for them to go up against a great team early on so that we know now what we have to do to improve in order to perform at that level."
But forced into a difficult situation with not being able to practice and a quick turnaround game against Trout Lake on Sept. 13, the Hawks ended up losing to the Mustangs 5-1 days after their loss to the Monarchs.
However, improvement is what Stenberg wants to see and that's what his team showed him on the road at Trout Lake.
The Hawks were only down 2-1 for a majority of the game, as Trout Lake's three goals that extended the lead to 5-1 were all scored in the final minutes of the game.
The lone goal for the Hawks was scored by Miranda Roberts, a senior, in the 19th minute. "The goal scored was of high quality that involved great ball movement and possession," said Stenberg. "We got the ball crossed from the wing and our forwards advanced the ball to the open field and Roberts swooped in and put the ball in the back of the net."
Although the team wasn't able to get another score on the board in the remaining 60 minutes, "the team still improved significantly from our first game against Umpqua Valley Christian," said Stenberg. "I saw some ball movement in the game by our team that makes me feel confident that with a regular practice schedule we can get back to what we had been working on prior to the smoke phenomenon. I am looking forward to seeing how much more we can improve before our next league game against Damascus on Monday, Sept. 18."