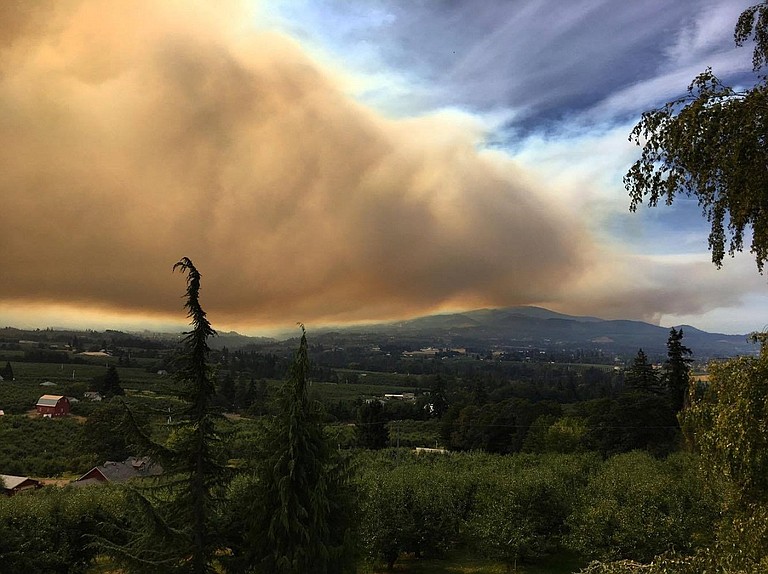 Saturday, September 16, 2017
Wildfires are raging across the state and Oregon Department of Environmental Quality and public health officials are urging residents to take precautions amid smoke.
When air quality is unhealthy for sensitive groups, those groups should reduce prolonged or heavy outdoor exertion. When air quality is hazardous, everyone should avoid prolonged or heavy exercise outdoors and those with lung and heart disease should remain indoors.
Air conditions can change rapidly depending on weather and wildfire growth.
Residents can view current air quality conditions at www.deq.state.or.us/aqi.
The index also offers tips various groups should take depending on air quality. Specific smoke forecasts for areas near large wildfires are available at the Oregon Smoke Blog at oregonsmoke.blogspot.com.
Oregon's monitoring network does not capture air quality conditions in all communities, such as here in Hood River. For this reason, it is important for residents to gauge air quality conditions and take appropriate actions to protect themselves. One helpful tool is the 5-3-1 visibility index at www.oregon.gov/deq/aq/Pages/Wildfires-Visibility.aspx.
People can take the following precautions:
• Be aware of smoke concentrations in your area and avoid the places with highest concentrations.
• Avoid strenuous outdoor activity in smoky conditions.
• If you have heart disease, asthma or other respiratory ailments, or are over 65, you have a higher risk of illness from wildfire smoke.
• Small children and pregnant women are at increased risk. People in any of these groups might consider leaving the area until air quality improves.
• People suffering from asthma or other respiratory problems should follow their breathing management plans or contact their healthcare providers.
No matter how far you can see or what the air quality monitors are reporting, if someone feels that they are having health effects from the wildfire smoke exposure, they should take extra care to stay inside or get to an area with better air quality. They should also see their doctor or health professional as needed.
Remember, local smoke levels can rise and fall rapidly, depending on weather factors including wind direction.