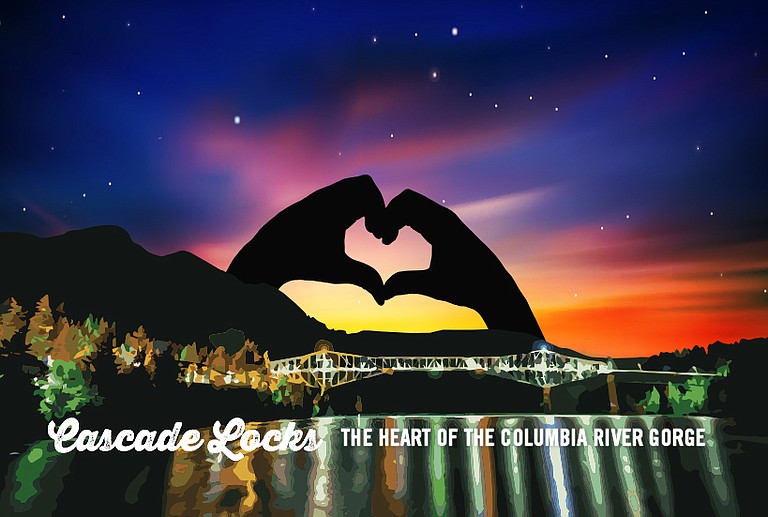 Originally published September 19, 2017 at 12:43 p.m., updated September 19, 2017 at 12:43 p.m.
Generous rain has somewhat calmed the 48,000-acre Eagle Creek Fire, which crews have nearly half-contained Tuesday.
Precipitation — a mixed blessing — carries a threat of landslides in burn areas, where vegetation was scorched and soil weakened.
The National Weather Service issued a flood warning for much of western Oregon for Tuesday. The alert said flooding could affect communities between Latourell and Hood River, and possibly Interstate 84. Forecasts state 1-2 inches of rain will fall on burned areas.
"The lack of vegetation and the burn scarring will likely result in enhanced runoff, debris flows, mudslides, and landslides in and downstream of the drainages affected by the fire and in steep terrain," NWS staff said.
Dan Pearson, fire behavior analyst for the Eagle Creek team, said rain from Sunday and Monday helped slow the blaze, but "that rain is not coming in equal amounts on all parts of the fire."
A "squeegee" effect results from clouds being forced higher at the Cascade divide, he explained, which leaves less rain east of the Pacific Crest Trail. More rain is forecasted, he said.
County reopens forest roads, trails, with some restrictions
Due to the recent weather change and reduced fire danger, the Hood River County Board of Commissioners has rescinded the County Forest and Forest Road Closure effective noon on Tuesday, Sept. 17. County forest, forest roads, and forest trails will again be open for public use. All county trails remain closed to motorized use. Non-motorized trail use will be allowed.
Keep in mind that a fire line was constructed across the Northwest Area of the Eagle Creek fire as protection from the fire, noted Henry Buckalew, County Trails Program coordinator. Portions of the fire line was constructed along existing forest roads and trails.
The line is currently in a dangerous, rough condition, has unstable tread, and is not safe for public use. Please stay off the fire line until further notice. Forestry Department staff will post signage and close some northwest area trails and gates in order to restrict access to the fire line.
Hood River County Sheriff's Office lifted all evacuation orders for the Hood River Valley Monday, though Cascade Locks, and communities near Wyeth and Viento remain under a Level One precaution. Multnomah County rolled back all evacuation orders the same day.
As the previously raging fire's activity dies down, incident response leaders are cutting down on personnel by the hundreds. The team of nearly 1,000 at its peak has dwindled to roughly 600.
"This is the last shift that will be at the camp," Olga Troxel, fire team spokeswoman, said Tuesday.
Remaining crews will relocate from the Hood River County fairgrounds in Odell to Cascade Locks, specific location yet to be determined, she said. A smaller Type II incident team will take over the scaled down camp.
Troxel said local resources, such as firefighters and engines from countywide agencies, will phase in as crews from outside the region decrease.
Needed resources will stay on to continue mop up and patrols. Given safety concerns, firefighters will focus work on the fire's edges and only monitor interior heat.
The county's emergency operations center, which gathered 20-40 people a day, will pull back into standby mode.
"The EOC remains open on standby only, and we will continue to phase out EOC operations. However, ongoing recovery planning operations will continue," Barb Ayers, Hood River County emergency manager, said.
Oregon Department of Transportation reopened Interstate 84 westbound between Hood River and Troutdale last week, though there's no estimate for eastbound lanes reopening. ODOT representatives have raised concerns about debris falls and slides, as crews work to remove fallen trees and rocks from the highway.
Motorists may see flames or clouds of smoke near the Cascade Locks area, but that doesn't necessarily mean the fire's on the move.
Federal aid will be coming to Oregon Department of Transportation, lawmakers said.
Oregon's U.S. Senators Jeff Merkley and Ron Wyden on Tuesday announced a $1 million emergency relief grant for ODOT to support cleanup operations in the wake of wildfires.
"The fires burning today reinforce how important it is to fund huge wildfires the way that we fund other natural disasters," Merkley said in a statement. "Emergency grant funding to clean up our roads and get our communities moving again is part of that. Meanwhile, we need to continue working toward a long-term fix so we stop raiding next year's fire prevention to fight fires today."
The emergency relief grant, from the U.S. Department of Transportation, will go toward repair or reconstruction of highways and roads that suffered serious damage from natural disasters.
The Oregon delegation last week wrote a letter to U.S. Secretaries Ryan Zinke and Sonny Perdue, pressing them to follow Oregon Gov. Kate Brown's request for more fire suppression resources to address 17 large wildfires burning in the state.
Brown told the News during a Hood River visit Sept. 14, "We will be very aggressive in terms of seeking federal assistance.
"We've already had conversations with our federal delegation — I met with Congressman Greg Walden last week. We're going to work very hard to get every dollar that we can for recovery."