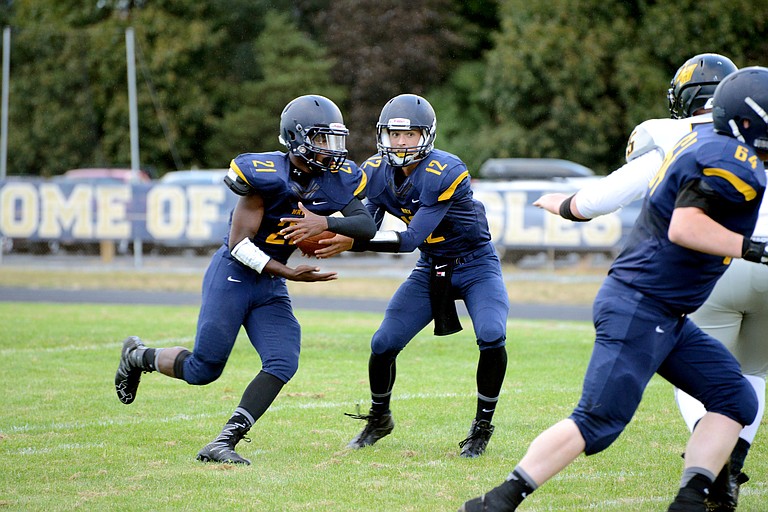 Wednesday, September 20, 2017
It had been two weeks since their first game of the season, but HRV football was back in action last Friday night.
This game was intended to be the Eagles' second home game of the season, but with air-quality still a major concern in the area last week, the Eagles were forced to travel to Sam Barlow High School in Gresham to play the Ridgeview Ravens.
Last year when these two teams met it came down to the final minutes of the game to determine a winner. In what would've been an upset on the road, the young Eagles were unable to ever get the offense going and ended up losing 12-6 to the Ravens.
But what a difference a year makes.
Considering everything that has happened in the past two weeks that has affected this team, the Eagles got off to a somewhat expected slow start in the first half against the Ravens, but were able to turn things around in the second half scoring 28 of their 42 points in the third and fourth quarters to down the Ravens, 42-14.
The next game for the Eagles is this Friday Sept. 22 as they travel to Bend to face the 2-1 Lava Bears. Last week, Bend won 33-0 on the road against Redmond.
With less practices and games than most teams in the state have had, the Eagles have really focused to not let things they can't control get in the way of their success.
In the first quarter, the Eagles were only able to put together one drive as, "Ridgeview's coach is a master at sustaining drives," said Head Coach Caleb Sperry. "They had the ball the whole first and it shows in our time of possession." The Eagles controlled the ball for 20 minutes in the game, while the Ravens had possession for 28 minutes.
"Even though we only had the ball for one drive in the first, it was a great drive. Just a couple of errors in the red zone," said Sperry. "But next time we were out there the offensive line did a good job of executing and opening up a hole for (Michael) Jones to pop through and make a play."
Heading into the second quarter with the scored tied at 0, the Eagles would open the flood gates on the Ravens defense after a 40–yard TD run by halfback Michael Jones only 11 seconds into the second, putting the Eagles up 7–0.
This would be the beginning of a big game for Jones.
Later in the second quarter, Jones capped off a four–minute drive with a one–yard touchdown run, giving the Eagles a 14-0 advantage with 2 minutes and 34 seconds left in the first half.
Ridgeview was able to find the end zone an eight-yard carry with 45 seconds left in the second, making it a 14-7 game heading into halftime.
After a defensive stop to open the second half, the Eagles offense would put together a 75–yard drive in only six plays, capped off by a 16–yard rushing touchdown by Bailey Holste.
Garnering 21 points solely off rushing touchdowns three minutes into the third was music to the ears of both Sperry and his quarterback Caden Leiblein as it opened things up for Leiblein to take some shots down field.
After another stop by the Eagle defense, HRV's offense took over again, just two minutes after scoring its last touchdown.
HRV continued to put the pressure on Ridgeview after Leiblein hooked up with wide receiver Greyson Losee for a 58–touchdown pass, making it 28-7 Eagles.
For Leiblein, his 58-yard touchdown pass would be the second longest of the game for him.
In the final minutes of the fourth, Leiblein and the Eagles offense would be done scoring for the game after he connected with Jones for a 60–yard touchdown to highlight the Eagles' night on offense.
Then with 1:30 left on the clock and the score 35-14, the Eagles defense came out and made its final statement on the game.
A punt by Ridgeview, backed up in their own territory, was blocked by Brycen Polzel, fumbling the ball into the back of the Ravens end zone. Polzel recovered the fumble for a defensive score and put the Eagles ahead 42-14 and 2-0 on the season.
In the backfield Jones reminded us why, in his sophomore season two years ago, he was an all-state honorable mention and first team all-conference player.
Jones ran for 201 yards and two touchdowns on 22 rushing attempts, an average of nine yards per carry. He also racked up 92 receiving yards and hauled in a touchdown on five receptions.
"He played a great game after missing our first game with an injury," said Sperry. "Him seeing himself be healthy was huge for his confidence."
Sperry also credited the line for making it simple for Jones and Holste. "The offensive line did a great job of allowing our running backs to hit holes cleanly, giving our backs an opportunity to make the second line of defense miss," he said.
Leiblein led the Eagles in passing with 12 completions on 18 pass attempts for 239 yards and two touchdowns. His play throughout the first two games have been eye-opening as he's 21 of 33 on pass attempts for 426 yards and five touchdowns. With the offensive line and running backs playing well, this is helping Leiblein get looks down the field, giving him a chance to show off his arm.
"We've been able to complement our running game with passing the ball effectively, something we weren't able to do last year well," said Sperry. "But with everyone executing on offense we get away from being a one-dimensional team and get to open up our playbook."
Performances on offense: Holste, 27 rushing yards and one touchdown. Losee, one reception for a 58–yard touchdown: and Christian Zack one 31-yard reception.
Defensively for the Eagles they were led by Polzel who gathered two tackles, 1.5 sacks, 1.5 tackles for loss and a defensive touchdown off a fumble recovery.
"The team on defense is being real physical," said Sperry. "As a group they're swarming to the football on every play, everyone is doing a great job of getting to the ball and it's making our opponents work harder for extra yardage."
Special teams were also a huge factor in Friday night's win against Ridgeview as kicker Riggs Bardin was six for six on extra points and Manuel Trejo on kickoffs had three touchbacks, averaging 57 yards a kickoff.
"Not only were we six for six on extra points, but we also held Ridgeview to a starting field position of 19–yards on average," said Sperry. "If we continue this special teams play it's going to make it difficult and exhausting on an opposing offense to drive 80 yards down the field almost every possession they have."
In the Eagles' first game of the season they set five goals, which were: win on turnovers, penalties, positive plays, extra points and field position. They met four of those five goals in their week one matchup against St. Helens.
In their second game of the season, the Eagles completed all five of their objectives.
The Eagles won the turnover battle 1-0, thanks to a late effort by Polzel's blocked punt. Ridgeview tallied six penalties for 55 yards, while the Eagles had five for 54 yards. Another battle won for the Eagles.
Sperry wants to see his offensive unit be above 60 percent on plays that are positive throughout a game, and in the first two games of the season they've exceeded that percentage Sperry has set for them.
Against St. Helens and Ridgeview, the Eagles on offense had 70 and 73 percent of their plays result in positive yardage.
Special team play is also key for this Eagles football team and came up big once again in last Friday's game. Going six for six on extra points and forcing the Ravens to start deep on their side of the field compared to the Eagles starting field position at their own 40 yard–line were key factors in the victory against Ridgeview.
A dominating week two performance is in the books and the team's next challenge is on the road Friday, Sept. 22, as they travel to Bend to face the 2-1 Lava Bears in a conference matchup.
Ahead of this game, Sperry said he will continue in practice to, "focus on getting this group more physical and continuing to improve on the little things that get looked over, like winning the penalty and special teams battle, that translate to big results." "Right now, more than anything though, we're focused on the process of winning games."