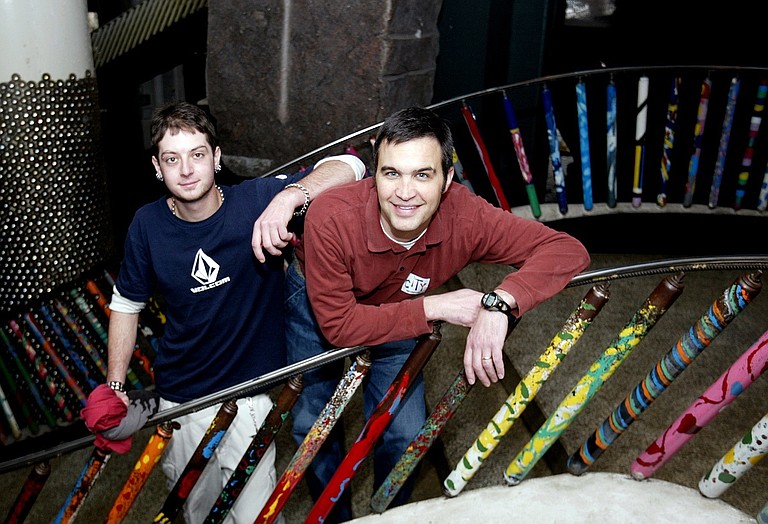 Wednesday, September 20, 2017
Becky Windsor's approach to being a foster mom is simple, but effective.
"I just love them as much as I can while I have them, but I always know deep in my heart that I'm going to have to let them go, so I do," said Windsor, who typically has the foster "kiddos" in the family's Hood River home for six months.
"My goal is to keep them safe and show them what a healthy family looks like," she said.
She and her husband, Dan, have parented 15 children, ages 10 to 14, in the last four and one-half years through The Next Door, Inc., which serves Hood River and The Dalles, as well as surrounding areas.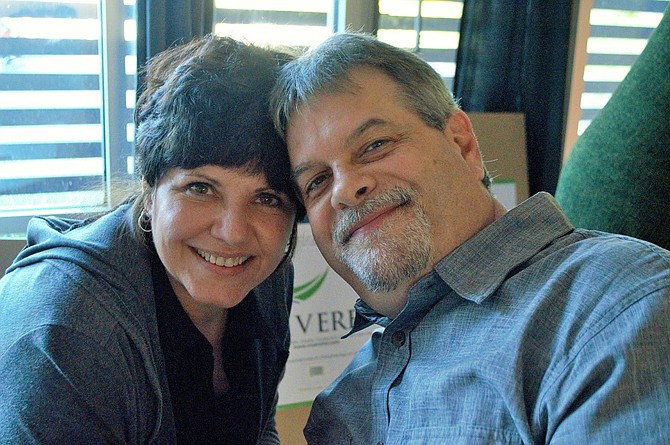 The Windsor family includes three grown children, 14-year-old twins and a newly adopted son, age 13, as well as a foster child or two. They also have a 5-year-old grandson and a new baby on the way.
Their teen son was adopted sight unseen and Becky said the family was confident about being able to bond with him because of their foster care experiences.

"Dan and I talked about adoption for years, but I don't think we would have been ready before, especially for a teenager," she said.
Mornings in the busy Windsor household are hectic, but also fun, said Becky, who provides three options that are served at the breakfast bar.
She then helps the children make lunches and checks to be sure they are dressed properly and have their homework and needed supplies before they head out for school.
Everyone sits around the table for dinner, something the Windsors insist upon because it promotes unity and encourages conversation.
Friday night is movie and pizza time, which everyone looks forward to.
Sunday mornings are spent at church, a requirement for all the children since they can't be left alone, but the Windsors don't force them to participate.
"They are learning how to be in a family," said Becky of this routine.
She was in the real estate business for 16 years and owned her own business before becoming the full-time mom of a large family.
"I re-invented myself," she said. "I didn't want to do what I was doing anymore and these foster kids are society's most vulnerable citizens, so this is where I felt that I belonged."
During training given to all foster parents by The Next Door, the Windsors learned not to expect instant bonding and improved behavior in their young charges. They were taught to view their role as "planting seeds" that would bear fruit in the future.
"We put in as many hours as necessary — we're parents," said Becky.
Although some of their friends and family members have been surprised that foster children don't express more gratitude over their improved living conditions, Windsor wonders why they would.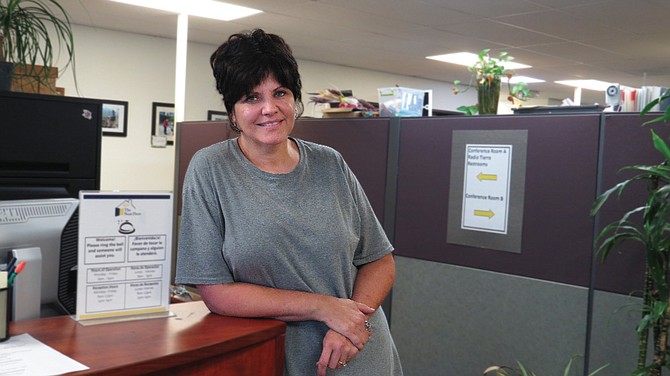 "They have been ripped out of their comfort zone, taken away from their family and sent to live with strangers," she said. "How could they feel grateful for that?"
Because they have biological children still at home, the Windsors chose to operate a Community Attention home under The Next Door, Inc., instead of taking youth involved in the Klahre House therapeutic program for those with behavioral challenges.
It has been interesting to note the positive ways that foster children influence the twins, she said.
"They will ask for help because someone is 'in their bubble' and that creates a skill building moment," said Windsor. "We talk about space and why it's important — and they learn mediation skills."
She said other lessons internalized by all family members include gratitude, patience and how to work with each other's behaviors.
"I think my children learned at an early age to accept people the way they are and to draw healthy boundaries and practice self-care," she said.
When they first started parenting foster children, Windsor said she was nervous about saying the wrong thing and causing a bad memory to surface, which can spark anger as a defense mechanism.
"The first time a kiddo escalated, I freaked out," she said.
Windsor is now comfortable facilitating tough discussions that often lead to better understanding by both parties.
"Basically, everyone in life has triggers but, with these kids, the triggers are caused by severe trauma," she said. "It's really not that difficult, you overthink it. And sometimes saying nothing is the right thing."
Once you learn the triggers, she said healing help can be given.
For example, a 13-year-old girl in their home sabotaged every birthday with unruly behavior. Once the Windsors learned from her that birthdays had been a horror story because her birth parents got drunk and fought, the family worked out a coping plan.
"We started talking about her birthday long before it occurred," she said. "It was still a little touch and go but we knew we could say, 'It's okay, take some space,' so it wasn't as bad."
Often, she said, the provocative things that foster children say are not necessarily what they feel. They learned long ago to survive the instability of their parent(s) by hiding behind a strong defensive front.
"What amazes me is their resilience," she said. "Given the right circumstance, there is so much hope for them."
What matters more than talking, said Windsor, is "walking your talk," because foster children watch closely to see if actions match the words.
Touch is often difficult for foster children to readily accept, so Becky looks for opportunities to express love in a way that won't encroach on their defenses.

"I do some neck messages while making breakfast," she said as an example of touch that is accepted.
The Windsor's older children and relatives have also embraced the cause and help wherever they can.
"We have an amazing support system," said Windsor. "My mother-in-law (Joann Todd) never judges; she finds out who's in the house and buys everybody presents, she doesn't play favorites."
Although they often don't know the entire story of the foster child's situation with parents — they are briefed only on what they need to know — the Windsors try to build a relationship with the natural mother and/or father.
"We have to remain objective and help repair that relationship if we can," said Becky.
She and Dan make the child's departure from their home as positive as possible. Sometimes the child leaves in as little as three months, other times they can be with the family for 18 months.
Eventually, they are going to go, which Becky had to learn to deal with.
"Sometimes it's really hard," she admitted.
There are children who are not a good fit for the family and that has made things difficult, she said. But a negative experience is the rare exception.
"There's just something about these kids that draws me," said Windsor.
Her advice to other potential foster parents: Use humor to get your message across as much as possible because it breaks down defensive barriers. And be adaptable to vary your routine to find new ways to communicate.
"I think these kids have had a lot of harshness," she said. "Sometimes, you just have to think outside the box with your approach. The same tactic is not going to work for every kid."
Underneath the creative solutions, Windsor said the home must provide stability and consistency, something that foster children have not experienced.
She said The Next Door has a team in place to guide and assist foster parents, which is why 88 percent of the children successfully complete their programs.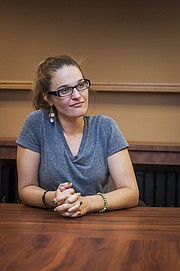 Elaine Cummings of The Dalles is the program manager at The Next Door. She works with foster children, ages 6 to 18, who live in homes such as the Windsor's. She also spends time at Klahre House, where 13- to 18-year-old teens attend alternative school and live in homes where counseling and behavioral therapy are part of the daily routine.
Children in Community Attention homes go to public school.
Wasco and Hood River counties currently have 210 kids in foster care, and The Next Door needs families to provide 10 more beds, said Cummings.
"We need more therapeutic homes," she said.

Children in Community Attention get nine hours of skill building every day, while Klahre House youth receive five and one-half hours because they have other programming going on.
"We use evidence-based curriculum and the parents get to choose what to teach," said Cummings.

She said people think foster teens are tough to deal with but, in truth, every teen is challenging. The difference is that youth taken out of their natural home have lost everything familiar, so they have built defenses against hurt, fear, anxiety and depression.
"How would you feel if your entire life was turned upside down, everything that made you feel comfortable?" she asked. "I would hope that people could have some compassion and grace because these kids are just like other kids — they've just gotten into a little trouble, their trouble or their parents."
Because children are the future, Cummings said it is vital that those in foster care receive nurturing and learn that life doesn't have to be full of negativity and drama.
"We show them a different way," she said. "They get to live in an environment that is safe."
Cummings also believes in using humor to bridge differences. She recently taught Klahre House teens how to make pizza and strawberry shortcake.
"I had one guy tell me that he didn't want to touch the pizza dough, that it looked like mud," she said. "I told him that he must not have played in the mud when he was a kid."
Learning that it is okay to make mistakes and no one is going to retaliate is one of the biggest lessons that Cummings tries to impart.
"Building trust, accountability and responsibility are the big things," she said. "They want to know what a family is like, they want to feel secure. We work with them on relationship building, setting school goals and after-school goals."
Foster parents are taught proactive methods of discipline and collaborative problem solving. They work with case managers, therapists, CASA (Court Appointed Special Advocates) and others.
"It's a team of people surrounding you to help these kids," said Cummings.
She said one of the most difficult emotions that foster parents learn to cope with is grief when their charges are reunited with mom and/or dad, which is a priority of the courts.
Some of the teens age out of the system after turning 18 and some get adopted when parental rights are severed.
"There is always a plan for what comes next," said Cummings.

She said foster children in care of The Next Door come from outside the region as well as local communities. Dangerous or violent youth are not accepted into the programs.
Cummings recalled one of the most rewarding moments of her job as being the day a very tough 17-year-old former gangster started laughing like a 7-year-old while engaged in an imaginary baseball game with other youth.
"We can never, ever give up on these kids," she said. "It just takes one person who holds the bar up high as far as expectations go, but never gives up, to help them succeed. Every one of these kids has that potential — they just need a village."
Windsor said people don't have to open their homes to foster children to help them out. She said respite care for parents is sorely needed and donations are always welcome so the needs of youth in the programs are covered.

"There is something everyone can do," she said.
To learn more about foster parenting opportunities at The Next Door, visit www.nextdoorinc.org or call 541-386-6665.