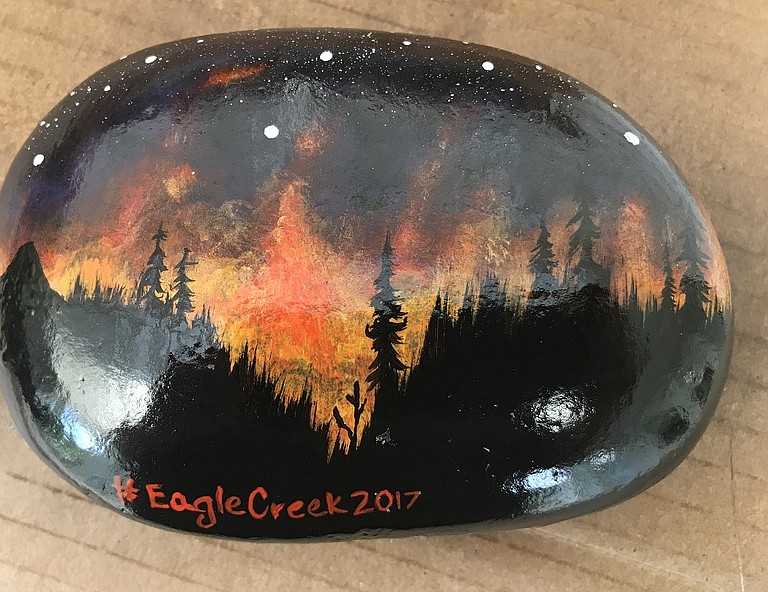 Wednesday, September 20, 2017
Parkhurst Place Assisted Living invites the community to come to Parkhurst to sign "Thank You" cards for the first responders, starting at 10 a.m. on Sept. 21 through Sept. 27 at 1 p.m. The cards will be set up in the facility library and well-wishers may sign as many thank you cards as they would like.
In addition, Parkhurst continues its tradition of transforming rocks into art, this time to observe First Responder Appreciation Week, declared for Sept. 21-27 by Oregon Gov. Kate Brown.
Parkhurst Life Enrichment Coordinator Rachelle Bisbee, with the help of residents, is painting a series of Commemorative #EagleCreek2017 rocks that will be available at Parkhurst's Open House on Sept. 27 at 1 p.m.
All proceeds from the sale of the rocks will go to the Hood River County Search and Rescue. The commemorative rocks will also be available for purchase (starting at $25 each depending on size) by calling Terri Hansen at Parkhurst Place 541-387-4600. The rocks were donated by Hood River Sand and Gravel.
At the open house, refreshments will be served and appreciations presented to local first responders. The community is invited to attend to show their appreciation for all their efforts.
Parkhurst is located at 2450 May St., Hood River.