Saturday, September 23, 2017
I won an award and haven't even bragged about it to my brothers.
That says a lot, as I am the beleaguered Number 3 son out of 4; no wonder I have this need for attention.
In February 2017, I won an award from Oregon Start Making A Reader Today (SMART). The news ran in this paper, I made the company newsletter, and, yes, I told my family all about it.
It was the State Volunteer of the Year Award. SMART is a literacy program that pairs adults with children in grades K-3 who, for a variety of reasons, need a boost to their reading skills, or their confidence. Some need a friend. Folks read with kids in our elementary schools and Head Start programs; the kids get the page time and each month they take home two books to keep and share with their family.
•
Seven months later I still feel a sense of disbelief at getting an award for doing something I simply love to do. While I feel a sense of modesty about blaring it all over, I am extremely proud of the recognition.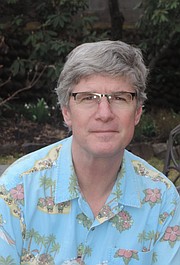 That pride comes from knowing I have helped make a difference. When I accepted the honor in Portland, I turned to the other regional Volunteer of the Year honorees and told them, "This is for all of us." Many volunteers are retirees, but many also are employed by day and find their way to SMART each week.
Jenni Donahue, then the Parkdale coordinator, got me involved in 2002 and it was one of the best things I ever did. Jenni and I both serve on the Hood River County SMART Leadership Council, for which I am nominally president. (It is truly a shared team effort.)
I started this weekly tradition 15 years ago and it remains a highlight of each Thursday, October through May. This is one hour of child-guided reading, intended to increase reading engagement and motivation. Next month, I'll be back in a chair at Westside Elementary. I've read at Mid Valley and Pine Grove schools over the years, and settled in at Westside three years ago. I've made friends with kids who will come up and greet me in the store.
•
I have come to realize that getting that statewide honor offers me the chance to use the bully pulpit for SMART, and so I take it.
SMART reading sessions will resume in October, and the program is going strong in Hood River with wonderful volunteer readers and coordinators (also volunteer) at each school, but SMART always needs two things: first of all, funds (schools serve as a partner, but all financial support comes from the community) and second, it needs readers.
The program is something I am passionate about, and frequently try to recruit friends to become volunteers. Yet this passion I have generally restrained, as I harbor the understanding that many people have many volunteer pursuits that keep them busy, too. The reality is also this: others don't have all that much going on. To them I make this appeal:
SMART needs you.
SMART needs people who will take one hour a week to read with kids.
Yes, people need to work, and for some people a daytime volunteer commitment is simply out of the question. I know that.
But stop and think: your schedule, and your boss, just might surprise you. For many people, it is reasonable once a week to give up a lunch hour or arrange a long "coffee break."
When you do, you will find yourself in the presence of other caring adults, and youngsters who are eager to be in your company. You will read books that will teach you things, move you or make you laugh, and over the course of a year you will see a first grader move beyond the literacy level he or she started in the fall, and blossom into a capable reader.
While SMART volunteers are not asked to teach their partner student to read, time spent in SMART goes far in helping those kids develop.
According to SMART, 83 percent of parents report that their child's reading skill improved, and 87 percent of educators said SMART contributed to increases in reading engagement and motivation for participating students. SMART participants are 60 percent more likely to meet state reading benchmarks than students who did not.
Simply put, kids learn to be better readers and in turn learn to love books and become better learners. SMART as a program is a guide, a nurturing, and a gift. I know there are adults out there who have that one hour per week to spare, and I urge them to spend it in SMART.
n
Anyone interested in learning more about SMART may call me at Hood River News, 541-386-1234 ext. 104, or call Regional Coordinator Paula Seid at 971-634-1614. You may also visit getsmartoregon.org and check out all the details, including a downloadable volunteer application form. Seid notes that readers are needed at all schools, but Parkdale in particular has a need for volunteers at the elementary school and Head Start program. The elementary school needs a volunteer coordinator in addition to readers.