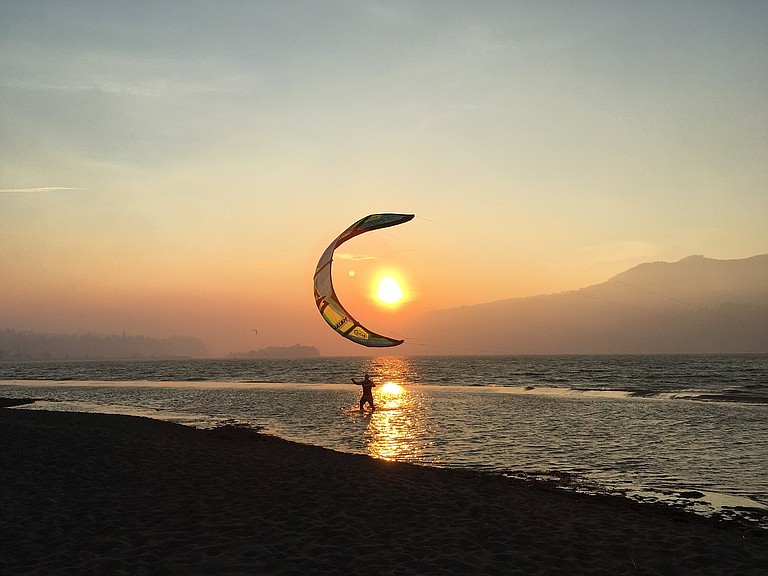 Originally published September 23, 2017 at midnight, updated September 23, 2017 at midnight
Little growth came at the Eagle Creek fire since cooler weather and rain settled in.
The fire's burning roughly 48,668 acres Friday — and is 46 percent contained.
A scaled down fire camp is operating at Best Western Plus Columbia River Inn at 735 WaNaPa St. in Cascade Locks. Remaining crews packed up their Odell camp and relocated. The team fighting the fire has shrunk from about 1,000 to less than 200.
Oregon Department of Transportation is preparing to open Interstate 84 eastbound lanes between Hood River and Troutdale this weekend.
ODOT spokesman Don Hamilton said the agency expects to reopen the eastbound lanes "Sunday, maybe sooner." At Shellrock Mountain, near milepost 52, traffic will be re-directed onto one lane of I-84 westbound for about a mile.
Crews have removed about 4,100 hazard trees along the interstate corridor, just part of their endeavor to make the highway safe for travelers.
Forest Service trail guide
Columbia River Gorge National Scenic Area (Washington Side)
• Klickitat Trail (Rails-to-Trails)
• Balfour-Klickitat Area & Trail
• St. Cloud Day Use Area & Trail
Columbia River Gorge National Scenic Area (Oregon Side)
• Sandy River Delta
More information on fire closures and restrictions on the Columbia River Gorge National Scenic Area.
Gifford Pinchot National Forest
Mount St. Helens Area
• Johnston Ridge Observatory & State Highway 504
• Mt. St. Helens East Side
Stevenson/Carson/Wind River Road to 90 Road
• Whistle Punk Trail
• Falls Creek Falls Trail
• Lewis River Lower Falls Day Use Area
• Lewis River Trail
• Curley Creek Falls
Near Trout Lake (Be aware that Indian Heaven Wilderness and the Pacific Crest Trail remain under closure due to the East Crater Fire.)
• Ice Cave/Natural Bridges
• Big Huckleberry Trail
Near Amboy
• Sunset Falls Day Use
Oregon State Parks
• Memaloose State Park
• Lewis and Clark State Recreation Site
• Government Island State Recreation Area
• Bonnie Lure State Recreation Area
• Milo McIver State Park
Washington State Parks
• Columbia Hills Historical State Park
• Beacon Rock State Park
• Battleground Lake State Park
• Klickitat State Park Trail
Oregon Partners, Friends and Neighbors
• Wildwood Recreation Site (BLM)
• Sandy Ridge Mountain Bike Trails (BLM)
• Oxbow Regional Park
Washington Partners, Friends and Neighbors
• Fort Vancouver National Historic Site
• Steigerwald Lake National Wildlife Refuge
• Yacolt Burn State Forest
• Lacamas Lake Regional Park
• Columbia Gorge Interpretive Center
Mt. Hood National Forest
Highway 35 Trail Opportunities
• Dog River Trail
• Lookout Mountain Trail
• Eightmile Loop Trail
• Surveyors Ridge Trail
• Fifteenmile Trail
• Knebel Springs Trail
• Cooks Meadow Trail
• Umbrella Falls Trail
• Elk Meadows Trail
• Sahalie Falls Trail
Highway 26 Trail Opportunities
• Crosstown Trail
• Camp Creek Loop
• Enid Lake
• Twin Lakes
• Frog Lake
• Boulder Ridge Trail
• Old Salmon River Trail
• Salmon Butte Trail
• Little Zigzag Falls
• Pioneer Bridle
• Tollgate
• Timothy Lake Area and Trail
• Miller Trail
• Pacific Crest Trail
Highway 224 Trail Opportunities
• Clackamas River Trail
• Alder Flat Trail
• Riverside Trail
Be Safe and Know Before You Go!
Some of these trails are categorized as "Difficult," "Most Difficult," or enter into designated Wilderness Areas. Visitors are encouraged to check online and with local officials for trail conditions, check weather forecasts, carry the 10 essentials, tell someone your plans, be comfortable with your own physical capabilities, and be willing to turn around as conditions change. Fall is hunting season is underway in the national forests. Visitors are urged to wear bright colors and follow outdoor safety tips here.
Eagle Creek Restoration Fund
The National Forest Foundation, the nonprofit partner of the U.S. Forest Service, has created an opportunity for interested citizens to donate to public lands recovery efforts in the Columbia River Gorge National Scenic Area stemming from the Eagle Creek Fire. Donations will be accepted to fund high-priority, post-fire recovery projects, including reopening hiking trails, restoring wildlife habitat, and planting new trees. The National Forest Foundation will work with the Forest Service to match funds and allocate donations to local partner organizations or local contractors. To donate or learn more about the Eagle Creek Fire Restoration Fund, visit www.nationalfores...
Fire activity has been minimal due to the cooler, wetter weather, the fire team stated in a Friday report. Over the last four days, a range of three to six inches of rain fell over the fire area, with heavier rain over the western fire flank.
Main tasks for the fire team include resource and condition assessments as well as planning and carrying out suppression repair efforts.
Heavy equipment has rolled on site help in the repair work. Much of that work depends on ground conditions, as there's potential to do further damage if heavy machinery operates in extremely wet and muddy terrain. Meanwhile hand crews are "low stumping" and cleaning up large woody debris.
A flood warning for the Gorge expired mid-week, but scientists say the threat of landslides in burn areas isn't over.
The Oregon Department of Geology and Mineral Industries (DOGAMI) on Thursday released new landslide inventory maps for eastern Multnomah County, including the Eagle Creek fire burn area.
Land that has slid in the past is more likely to slide again, said Bill Burns, DOGAMI engineering geologist. The new mapping revealed 286 existing landslides — all places highly susceptible to slides.
With vegetation removed, rain can reach soil more quickly, and lost root strength also means less stable soil, Burns explained.
"With Oregon's rainiest months still ahead, it's extremely important for people to be more aware than ever of landslide hazards in this area," Burns said.
On the eastern side of the Eagle Creek blaze, firefighters' plans include trying to build a hand line as a contingency closer to the fire's edge. This work will only be done if it is safe for firefighters to engage and there are safe escape routes and safety zones.
Live fire still burns at Shellrock Mountain and other places within the fire area. With the incoming warmer, drier weather, officials expect to see smoke and fire activity in the coming days.
Weather is forecasted to be cloudy and overcast with little chance for measurable rain Friday. Sunnier, warmer weather is headed to the Gorge over the weekend, with a drying trend early next week.
The most popular trails in the Gorge, such as Eagle Creek Trail, will likely be closed for months.
However, the Forest Service is offering alternatives and trail recommendations. Some close to Hood River include those stemming from Highway 35, like Dog River Trail, Lookout Mountain Trail and Eightmile Loop. Others in the eastern Gorge and in Klickitat County are available.
But all National Forest System lands in the scenic area south of the Columbia River, east of Sandy River Delta, north of the National Scenic Area boundary, and west of Hood River have a legal closure in effect.