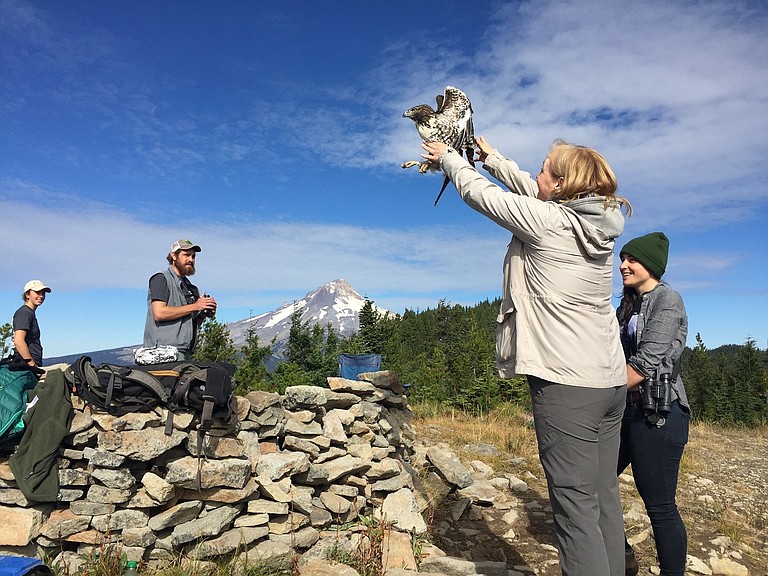 Saturday, September 23, 2017
HawkWatch International (HWI) partners with USFS Mt. Hood National Forest, Portland Audubon, and Mt. Hood Cultural Center and Museum to host a Hawk Migration Festival on Sept. 23 from 10 a.m. to 4 p.m.
HWI has conducted annual migration counts at the Bonney Butte HawkWatch in Mt. Hood National Forest since 1993 to track the population health of diurnal raptor species in the west. The data collected at the migration site helps scientists understand raptor migration and population trends, as well as unearth changes in the environment. Raptors, commonly referred to as birds of prey, are good indicators of environmental health because they feed at the top of the food chain.
To celebrate raptor migration this year, the Bonney Butte Hawk Migration Festival takes place at the Mt. Hood Cultural Center and Museum with vendor booths, live birds of prey, and educational activities. This is free, family-friendly event is open to the public.
"The real treat is witnessing a raptor migration and we are encouraging visitors to drive up to our Bonney Butte HawkWatch site to spend the day watching migrating birds of prey with us," said Nikki Wayment, HawkWatch International's Education and Outreach Director.
A shuttle service is provided to help visitors get to the migration site, where they will get to hawk watch with the pros and learn raptor identification tips. Before the festival takes place, the public is invited to attend a Migration and Raptor Identification presentation Friday, Sept. 22 at 7 p.m. also at the Mt. Hood Cultural Center and Museum.
For full festival details, visit www.hawkwatch.org/bbfest.
About the Bonney Butte HawkWatch
The Bonney Butte migration site runs from Aug. 27 through Oct. 31. The peak of raptor migration is around the end of September, beginning of October. Visitors are welcome at the observation site where a seasonal field crew conduct counting and banding operations. Free education programs on raptors and migration ecology are provided each day. A 4-wheel drive or high clearance vehicle is recommended for the rough road to the parking area and trail head. From the parking area, it's about a half-mile hike to the observation ridge. For further information, downloadable brochures, or driving directions, please visit www.hawkwatch.org/migration.