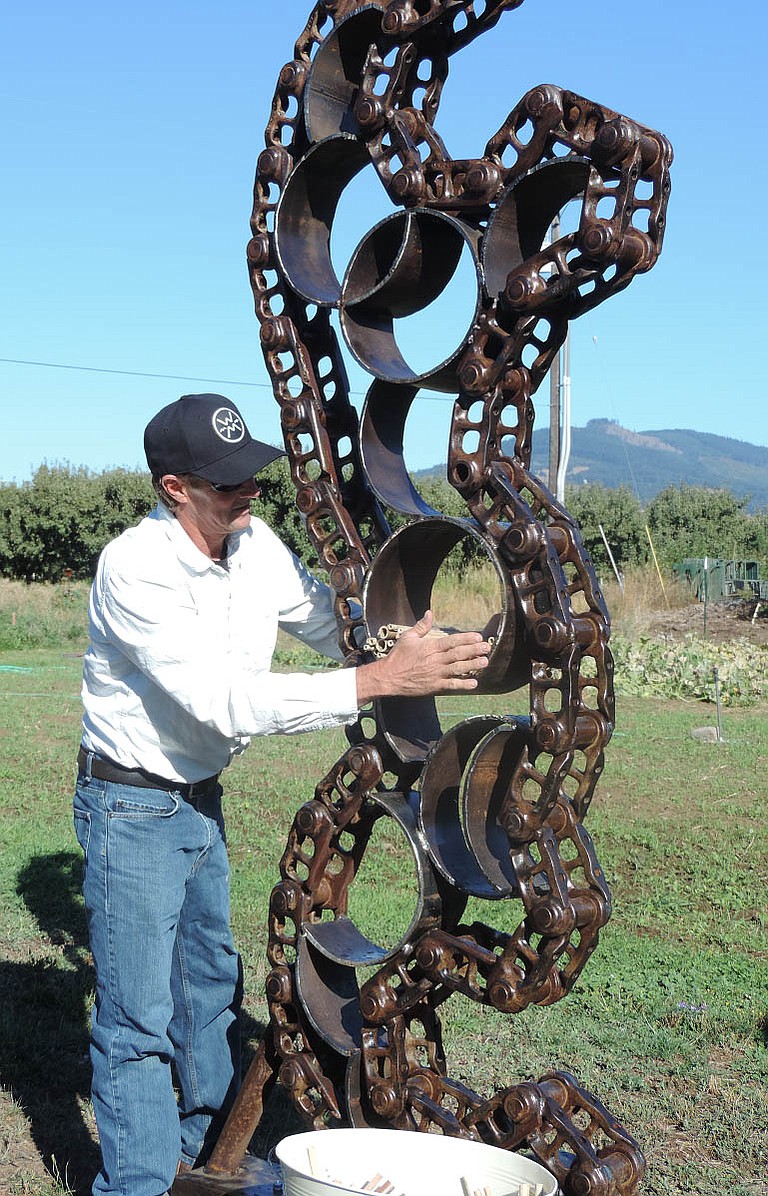 Saturday, September 23, 2017
Good things come in small spaces.
Artist MacRae Wylde of Hood River invites the community to his Highline Drive home Sept. 30 to learn about a project to build habitat for native bees.
Habitat as art happens in the form of sculptures, metal homes for hard-working Mason bees, already in place in Hood River, Odell, and Moro.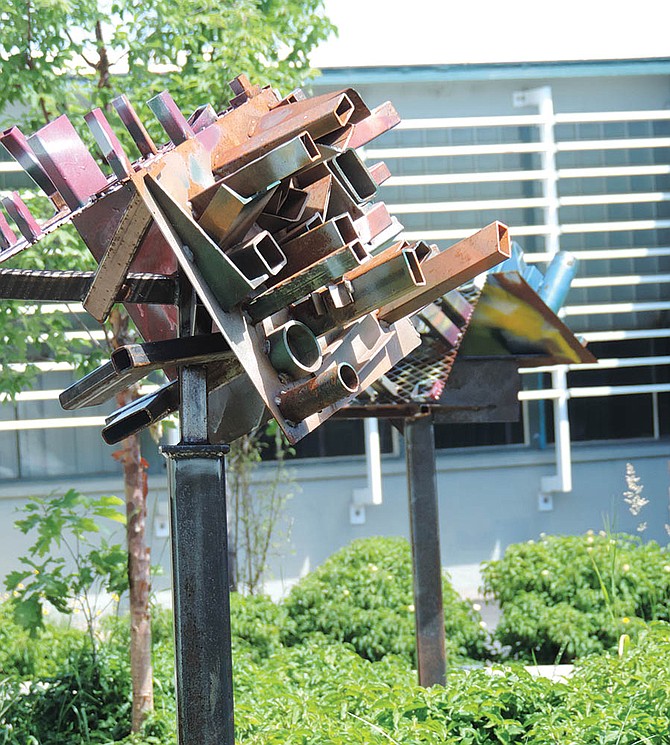 Bees are critical to pollination, and the new metal sculptures in the community have become homes to bees while also standing as artistic representations by students from around the Gorge. The project started last fall at Hood River and Wy'east middle schools, and expanded to Moro this spring. Next month in The Dalles, Wylde will teach a pollinator camp at a location to be announced. The project started a year ago in association with Arts in Education in the Gorge (see gorgeartsined.org for details).
The Hood River open house, from 5-7 p.m., at 560 Highline Drive, will feature seven to nine pollinators that are representative of the 15 built by teams of students at the three locations so far.
"You will be able to see the different configurations and how each one is unique," said Wylde, a veteran metal artist who has worked via an Arts in Education grant from the Edwin W. and Catherine B. Davis Foundation.
Attendees can see the pieces of the pollinators before they are assembled and put into place, and learn more about the value of installing a pollinator in a home garden.
Pollination is a scientific process, the transfer of pollen from a stamen to a pistil, which leads to the production of seeds, and the growing of plants and crops. Mason bees are an "opportunistic" species that move into what homes they find and go to work pollinating neighboring plants.
"They do not make honey — their job is just collecting food, which is pollination," Wylde said, adding that Mason bees are native to the Gorge and adapt to cool weather better than honey bees.
Last year in Hood River and Sherman counties, students created the sculptures from materials such as reclaimed metal tubes and mechanical treads — objects which provide tight spaces into which organic materials such as bamboo is inserted, the actual homes for the Mason bees.
Wylde said that a student in Moro researched the fact that the optimum size of a Mason bee space is two to seven millimeters.
Arts in Education of the Gorge coordinated the project as a way to blend students' learning about art and the importance of agriculture. Wylde taught the students concepts such as negative space and the way shapes can refer to other things figuratively — and give homes to bees.
Wylde did the technical work, the actual welding, but creatively the pollinator project was the students' doing.
"I enjoyed putting out a bunch of information and letting them take it where it wanted to go," Wylde said. "I did a little steering, and in the shop I did some minor editing, but not much."
Following the basic designs, the students realized that their cube-like creations closely resembled flowers, and had the idea of placing them atop poles to resemble flower or plant stalks.
The students worked in teams after coming up with the designs, some following a definite plan while others were placed their metal stamens, pistils and petals at random.
When it came to painting the metal, Wylde set the sculptures on drop cloths and gave the students spray paint and masks, and let them go to it. One student sprayed his gloves and manually transferred the paint to metal. Another modified a pen to create a nozzle to make fine stripes.
"I've never seen a group that enjoyed themselves so much," he said.