Originally published September 23, 2017 at midnight, updated September 23, 2017 at midnight
Rep. Greg Walden (R-Hood River) has introduced a bill that fast-tracks salvage logging and reforestation projects within the Columbia Gorge National Scenic Area and other scenic areas stricken by wildfires — such as the Eagle Creek fire.
Walden brought forth the bill, H.R.3715, in the U.S. House on Friday, Sept. 8.
The "Scenic Columbia Gorge Restoration Act of 2017" would require the U.S. Forest Service to start developing a cleanup and reforestation plan within 30 days of a natural disaster — or containment of a scenic area fire.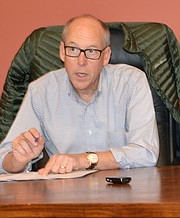 "Year after year, we have catastrophic wildfires on federal lands, some of which have been set aside and managed in a way that they have no management," Walden said in a statement. "So if you want to do something that is extraordinarily important, join us in reforming the way we manage our precious public lands and federal forests to reduce the fuel loads."
The week before Walden unveiled the bill, the Eagle Creek fire broke out Sept. 2, amid an intense fire season in the West that has renewed discussion among lawmakers about forest management policy.
The bill includes in its definition of "catastrophic events" other natural disasters such as rain and ice storms, earthquakes and landslides.
Other main points of the bill:
Sets timelines for completion of the post-fire planning process within 60 days.
Gives the Forest Service expedited authority to clean up and reforest priority areas including municipal watersheds and key viewing areas.
Requires the Forest Service to replant the burned area within two years.
The bill states that 30 days after the conclusion of a catastrophic event within a National Scenic Area, the Secretary of Agriculture — acting through the U.S. Forest Service Chief — must start proposing response activities.
Friends of the Columbia Gorge, an environmental conservation group based in Portland and Hood River, criticized the emerging bill for its logging plans and "short-circuiting public involvement and limiting legal challenges."
"The Walden clear-cut bill could undo over 100 years forest protection, resulting in road building and logging in areas that are extremely sensitive and set a dangerous national precedent for undermining wilderness protections," Michael Lang, conservation director for Friends, said.
An online bill tracker database shows the bill was referred to the House Agriculture Subcommittee on Conservation and Forestry and the House Natural Resources Subcommittee on Federal Lands.
The bill's text is posted in full at the Library of Congress' website at www.congress.gov/bill/115th-congress/house-bill/3715