Originally published September 23, 2017 at midnight, updated September 23, 2017 at midnight
A former youth coach from Parkdale has been convicted for sexually abusing a teen.
Gerardo Morales, 27, was sentenced Monday to five years and eight months in custody. He was found guilty of sex abuse and attempted sodomy — in total six felonies and two misdemeanors.
The male victim was a minor and in high school when the crimes began, according to court testimony.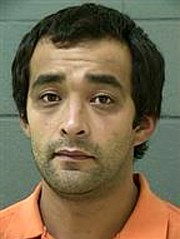 On March 11, 2015, Hood River County Sheriff's deputies arrested Morales on charges of multiple sex offenses involving a minor. In the past, authorities said, Morales had worked with youth in the community through various sports and youth group programs.
The criminal investigation, which began March 8, concluded with Morales's arrest and detention at Northern Oregon Regional Correctional Facility. He posted $20,000 bail later that month and was released.
Four public defenders represented Morales through court proceedings over the last two and a half years, most recently attorney Louis Grossman.
The case went to trial last week, culminating in a guilty verdict for Morales on multiple counts, but with other allegations dismissed.
At Morales' sentencing hearing Monday in Hood River Circuit Court before Judge Karen Ostrye, friends and family members of the defendant and victim spoke.

The victim and family members described ramifications that affected them, resulting from the crimes, such as mental and physical trauma, and missing work.
"I honestly don't have words to describe what we have been through. By his (Morales') actions, he destroyed … friendships that I thought worth keeping," the victim said in court.
Morales also appeared, dressed in an orange jail uniform. In remarks, he discussed his own recovery with a fire metaphor.
"Just like a burning fire, with time things do grow more lush and better, and all I can say is I've realized the damage I've done and all I can hope is for time to get it lush, more green vegetation — and in hopes that in that time I myself can get a little more lush and green in my personal life too," Morales said.
Speakers on Morales' behalf focused largely on his positive deeds and his community involvement.
Carrie Rasmussen, Hood River County deputy district attorney, said Morales not only abused the victim, but sent him hundreds of texts, many of which threatened the victim and his family.
Ostrye sentenced Morales to 68 months and ordered that he pay roughly $15,000 in compensatory fines to the victim's family and attorney's fees, taken from posted bail.
Ostrye said to the victim, "I'm sorry that the court process takes so long, but I applaud your bravery … and hopefully something good will come out of this for you."
To Morales, Ostrye said, "You were well liked and the parents trusted you as a coach. You had a relationship where you should have been looking out for him, but instead you were harming him."
She continued, "The threatening nature, the ongoing nature — it's a really egregious situation. You badgered him; you scared him for a long period of time, so you're going to be held accountable."
Morales, who was re-arrested by the sheriff's office Sept. 13, is lodged at NORCOR.