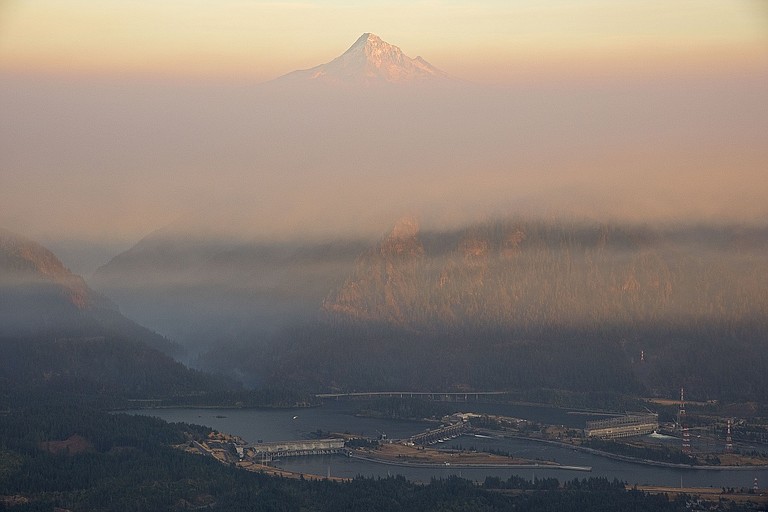 Originally published September 27, 2017 at midnight, updated September 27, 2017 at midnight
In sheer size, the Eagle Creek fire hasn't significantly diminished — 48,573 acres Tuesday — but its burden on traffic and firefighting resources is leveling off as fall weather settles in.
Crews battling the 46-percent contained fire have dwindled to a 170-person team.
Most trails on U.S. Forest Service land between the Sandy River and Mitchell Point remain closed. However, four state parks have reopened.
Eastbound Interstate 84 lanes reopened Saturday after a 19-day closure.
Flights over the Eagle Creek fire at the weekend's close revealed its size was almost a hundred acres smaller than expected. The acreage drop was due to more accurate mapping from an infrared flight Sunday night.
On Tuesday, the fire team's objectives included suppression repair, tree work, and mop-up where terrain allows. Personnel worked closely with resource advisors (READs) on repair specifications when using chippers and excavators in the fire's southern flank.
The Hood River County Forestry Department teamed up with resource advisers to finalize a plan for identifying and moving downed logs out of the fire's eastern flank. As chipping work ends in some areas, staff and heavy equipment are being shuffled around as needed, with more personnel and gear on order.
Forecasts state a high-pressure weather system will create a warming trend this week, lifting temperatures into the mid-70s Wednesday. Light east winds will pick up mid-week.
"The public will see an increase of isolated (smoke) from the fire starting today, mostly due to isolated logs continuing to burn. Fire behavior remains minimal and fire spread is unlikely around most of the fire," staff with the Eagle Creek fire team said in a Tuesday morning report.
Later in the week, rain and cool temperatures will arrive, going into the weekend.
---
Meanwhile, transportation through the Gorge has picked up its usual flow. Oregon Department of Transportation opened eastbound Interstate 84 between Hood River and Troutdale at 1 p.m. Saturday.
Drivers should note exits are open at Cascade Locks, but the following are closed: Larch Mountain, Bridal Veil, Multnomah Falls, Ainsworth, Warrendale and Bonneville.
Due to fire activity at Shellrock Mountain, ODOT diverted eastbound traffic onto the westbound highway by milepost 52. For a 1.2-mile stretch of road, both directions shared a single 18-foot wide lane.
This configuration will be in place for "the foreseeable future," ODOT staff said in a bulletin.
The section's speed limit has been reduced to 50 mph. No bicycle traffic will be allowed there. Travelers may not stop anywhere along I-84.
Don Hamilton, ODOT spokesman, said Friday U.S. Highway 30 will see an extended closure. The route suffered damage from trees and debris, and at historic tunnels like Oneonta Gorge Tunnel.
As for I-84, the highway may close again if fire conditions change, ODOT noted, due to changes in weather or landslides. Underbrush burned away by the fire has increased slide threats, particularly in the Gorge drainage areas, such as Herman Creek, Oneonta Creek and Eagle Creek.