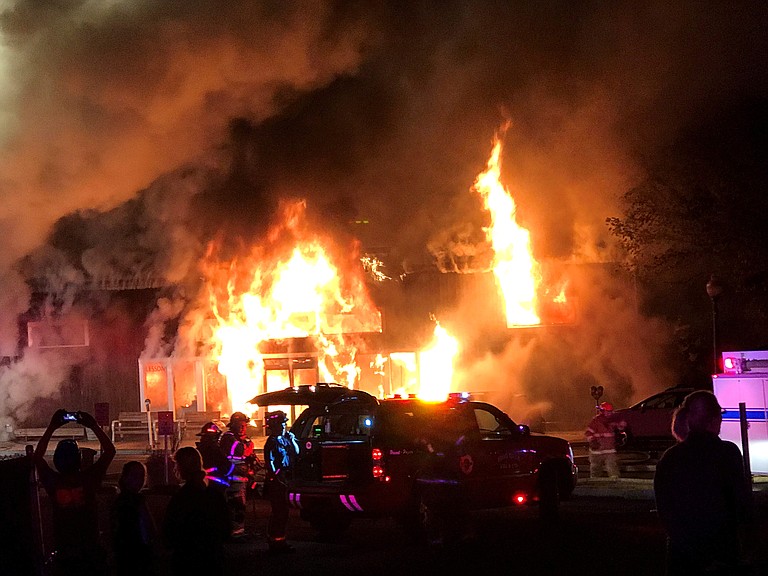 Originally published September 27, 2017 at 9:50 p.m., updated September 27, 2017 at 9:50 p.m.
A fire broke out Wednesday evening at the Kayak Shed, 6 Oak St., downtown Hood River. Fire officials do not yet know the cause. Nobody was hurt in the fire.
Flames burst from the retail kayak equipment store as multiple fire departments responded with engines, shortly before 8 p.m.
Witnesses said the fire burned trees to the north of the building, and appeared to emanate from a storage shed on that side. The fire was visible from Interstate 84.
"I was coming back from The Dalles and thought the whole downtown was on fire," one witness said.
Building and business owner John Hart said it is a total loss, and that he had recently moved merchandise from a separate warehouse into the shop and lower storage area, also destroyed. He is considering options for setting up in a new location, but has no idea how soon that can happen.
Firefighters worked to limit damage to the neighboring Ground Coffee building. Owner Mike Van Sisseren said he doubts the shop will be open Thursday morning, as the power has been cut off. He is also unsure of the status of his supplies, and expects to see extensive smoke and water damage in the building.
"It's been a terrible September for business, and now this," he said.
Maui Meyer, co-owner of New Yasui Buiilding to the west, was on the roof with hose.
---
Makenzi Seaton, who lives at Bridge Condos a block south at State and Front, said at about 9:53 p.m., "I was just sitting in the living room eating dinner when I happen to look to my right, and the kayak shed was just glowing orange with some smoke billowing up from what seemed like towards the back of the building.
This was just before a single police car pulled up.
I started getting extremely concerned as I started to see massive flames rise up. Thankfully soon many first responders showed up as the flames grew taller and the smoke plume was just huge.
The fire just spread all over the building and the fire was spilling out off all the windows.
At one point it caught the massive trees behind it on fire. Luckily many first responders showed up quickly and began dumping water on it and mostly got it contained, but as I sit here now, the smoke is still pouring out and (there) are still some clear areas on fire."