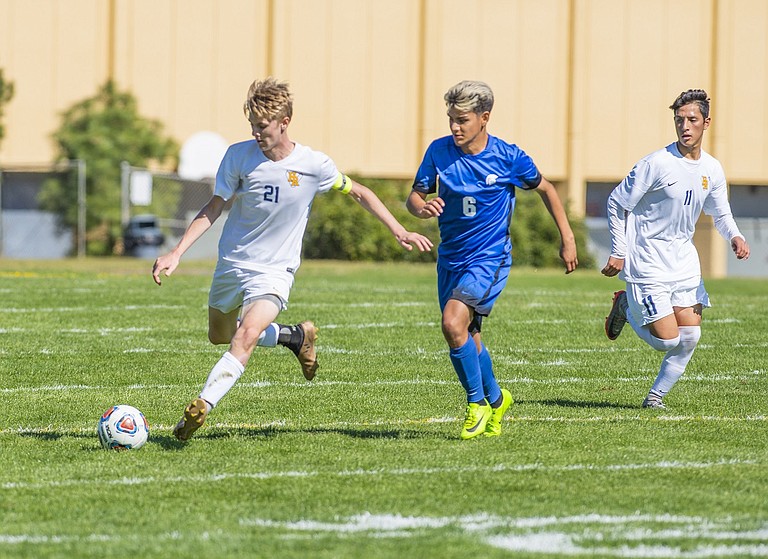 Originally published September 27, 2017 at midnight, updated September 27, 2017 at midnight
It's an unfamiliar sight to see the HRV boys' soccer team already dropping two games this early in the season, and to be clear, talent isn't the issue here, but rather how the team is mentally handling a much different start than in years' past.
Before last Saturday's matchup against Hillsboro, the Eagles were coming off a tough loss at Central Catholic, where they were shut out, losing by a score of 2-0.
Not playing their best brand of soccer against the Rams, as defensively many mistakes were made, the Eagles had an opportunity to quickly turn things around days later as they welcomed seventh ranked Hillsboro, according to 5A OSAA standings, to Henderson Stadium.
The Eagles' were able to bounce back after their loss to the Rams, beating the Spartans by a score of 2-1, with the lone goal for the Spartans coming off a penalty late in the game.
"After being shut out by Central Catholic the week before, I am not going to lie, it felt good scoring those goals," said Head Coach Jaime Rivera.
In the first half against Hillsboro, HRV played exceptional defense and turned a good defensive possession into a shot at goal by senior forward Westley Carter, which found the back of the net and put the Eagles up 1-0 heading into halftime.
Second half play was consistent for HRV, with constant movement on the offensive end making the opposing defense work hard, and great recovery on defense that prevented the Spartans counter attacks.
With eight minutes left in the game, the Eagles' would put their second goal up on the board, another one that Rivera was happy with.
"I was pleased with our two goals and how they came off well-orchestrated attacks, specifically our second goal," said Rivera. "Our second goal resulted from good service from our goalkeeper, quality passing patterns up the field, excellent movement off the ball by both Erik Pitones and Carter,and accuracy in front of the goal by Westley."
It's clear that for the Eagles' that scoring those two goals against the Spartans were very important for them and their confidence, but the focus after the loss to Central Catholic heading into this game was on the defensive end.
"Defensively, mistakes were made in the Central Catholic and Hillsboro games, but the difference in Saturday's game against Hillsboro is that we recovered well from those errors," said Rivera. "That it took them a penalty kick to score against us, I'll take it. I am proud of this team, that we did not allow a goal in play."
Rivera credits the defensive play for coming out "with more energy and intensity than in games past." He said the play "was evident with our increased communication on the field."
The Eagles, who are currently ranked first in 5A OSAA state standings, are 3-2 on the season and their only two losses come from 6A's second and sixth ranked teams.
Moving forward into league play against Pendleton Sept. 26, HRV recognizes what's going to get back to that state title game after their first five games.
"We have seen the results that come from quality defending and we are committed to defending better, and we're getting better with each passing day," Rivera said. "From one versus one situations to those involving groups, people will see a ball-hungry Eagle team the rest of this year that is eager to move into conference play with laser focus."
After HRV travels to Pendleton on Tuesday, they'll be back home Thursday night at Henderson Stadium to go up against a tough Woodburn team, with kickoff scheduled for 6 p.m.
Currently ranked ninth in 5A OSAA standings, Woodburn is undefeated through five games with their most recent victory coming last Thursday against Putnam.
These two schools have continued to butt heads with one another for years now and their games are nothing short of entertaining — and with them playing in Hood River this year, it would be an unfortunate game to miss.