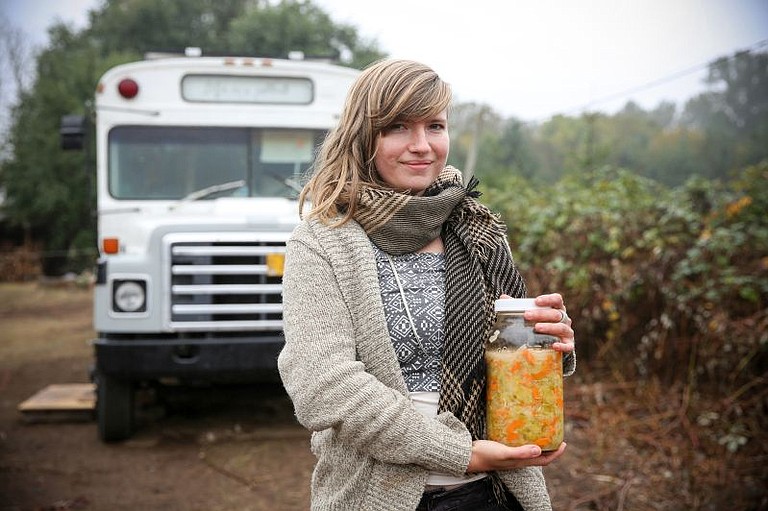 Wednesday, September 27, 2017
Waucoma Bookstore and Gorge Grown are hosting author Tara Whitsitt for a book signing on Saturday, Sept. 30 from 9 a.m. to 1 p.m. at the Hood River Farmers' Market, Fifth and Columbia streets in downtown Hood River.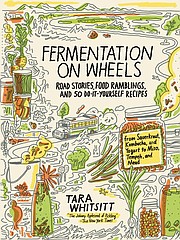 Whitsitt will be signing her new book, "Fermentation on Wheels: Road Stories, Food Ramblings, and 50 Do-It-Yourself Recipes from Sauerkraut, Kombucha, and Yogurt to Miso, Tempeh, and Mead." Whitsitt will also have her bus-turned-fermentation lab at the event. The public is invited on the bus for tours, tastings, and fermentation talk. Bring starter cultures of your own for exchange and discussion, added a press release. (If you would like to take a starter culture home with you, please bring something to trade or $10 per starter culture.)
About the Book
Three years ago, Whitsitt, a food activist, had a dream: To take to the road in a converted school bus and spread the gospel of kombucha, kimchi, and kefir nationwide. Called "the Johnny Appleseed of Pickling" by the New York Times, Whitsitt would bring her microbe-dense delicacies and her expertise to food communities across the country. Her motto: Tasty food belongs to everyone.
In a 1986 International Harvester bus-turned-fermentation-lab, Whitsitt took off from Eugene, teaching her skills to curious attendees, hosting potlucks, and sampling the seasonal produce of each stop on her tour. The project accrued a following, and she gave it a name: Fermentation on Wheels.
Through her stories, illustrations, photographs, and 50 recipes, "Fermentation on Wheels" tracks the two-year, 20,000-mile journey that made Whitsitt into a apostle of delicious, creative, and healthy, fermented flavors — from sourdough to sauerkraut and wild berry wines to fruited mead. "Fermentation on Wheels" is also celebration of how age-old food traditions can bring people together, inspire sustainability, and promote healthy eco-systems.
About the Author
Whitsitt is a nomadic artist and educator whose passion for growing food and teaching fermentation inspired the grassroots educational project "Fermentation on Wheels." Along with millions of microbes, she travels with a gray panther-like cat named Franklin. She lives in Eugene.