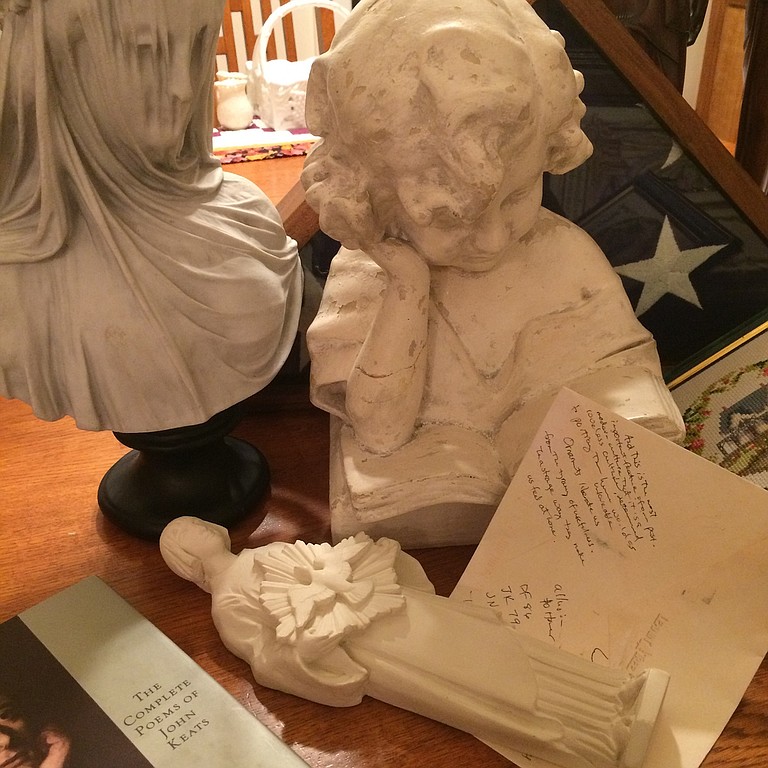 Wednesday, September 27, 2017
Eagle Creek fire and all its impacts have gripped the attention of everyone in the Gorge since Sept. 2. This was most true for the hundreds of residents who either had to evacuate their homes in early- and mid-September, or who lived in areas subject to evacuation alerts.
We asked readers to tell us, "What Did You Pack?" in preparation for leaving their homes and the implication that all their other belongings were in danger. Thanks to these readers for sending their lists and comments on what was a frightening, yet revelatory, experience.
— Kirby Neumann-Rea, editor
LaJuana Decker
The last-minute discovery of a tattered envelope with the words of philosopher Roger Scruton scribbled across the corner revealed to my mind what my heart understood all along, and explained the puzzling contents of my packed box: sculptures — Saint John, Strazza's Veiled Virgin, reading child; embroidered Christmas stockings; Dad's coffin flag; books — Keats, Bible, an antique grammar.
"Ornaments liberate us from the tyranny of usefulness. In a strange way, they make us feel at home … Through the pursuit of beauty, we shape the world as our home, and in doing so, we both amplify joys and find consolation for our sorrows."
Ben Bonham
Guitars and ukuleles.
Computer and back up hard drive.
Passport, birth certificate and green card.
Some woodworking tools from my Grandfather.
A few clothes.
Work boots.
Down jacket.
A book my father illustrated.
Dog, cat, chickens and two ducks.
Pat (and Dick) Schmuck
Dick and I live in a two-story house at the end of Reed Road surrounded by forest and an orchard. When Evacuation Level Two was announced, we decided we would leave. Our kids in Portland encouraged us to leave and said they would help. Our friends Betty and Don Shalhope offered us their home and garage because they were taking a trip. On Sept. 15, we made plans to evacuate. Our son, daughter, and grandson arrived ready to help. I developed criteria for what we would leave and what we would take. The criteria were:
If it is replaceable, leave it.

If it is not replaceable, consider.

It's history, meaning for you, take it.

Original pieces of art, sculpture or oriental rugs, take it.

Family photos and scrapbooks, take it.
We went through the house like whirling dervishes, taking down, piling up, wrapping up, and carrying to the three cars and one truck. And we took it to the Shalhopes' garage.

It was interesting how each person made different choices. Our kids and Dick took more than I did. As the fire started, I said, "It's just STUFF." But after 58 years of marriage, "stuff" had meaning. Our 52-year-old daughter and 49-year-old son also attached significant meaning to our "stuff." Our 18-year-old grandson consulted with me a lot and heard stories he never heard before.
Now it is Sept. 20 and we are still at the Shalhopes. What do we do now? We took the first load back to the house and decided we are going to move in SLOWLY. We will cull, sort, rearrange, paint and clean our house where we have lived for 21 years. I think I will actually enjoy the process.

Pat Case
Here are the main things …
Back-up tax receipts
Laptop and computer
Back-up computer drives
Enough clothes for a week
Toothbrush and other personal items
Prescription medicines
Full tank of gas (in both cars)