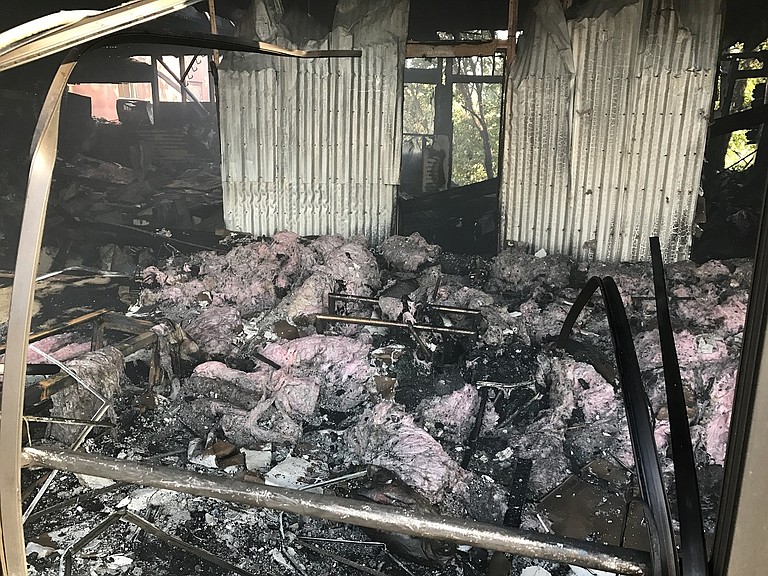 Originally published September 28, 2017 at 10:32 a.m., updated September 28, 2017 at 10:32 a.m.
Crews worked through Thursday morning mopping up the fire that destroyed Kayak Shed Wednesday night.
"This is a tremendous loss," said Chief Leonard Damian of Hood River Fire Department. No one was injured in the fire.
Cause of the fire, which caused minor damage to neighboring Ground coffee shop, is not yet known. Fire investigators will get their first look inside what remains of the building as early as this afternoon, according to Damian.
Kayak Shed owner John Hart said he does not yet have a figure on the financial total of the loss, but all his merchandise was destroyed.
One firefighter described the interior as "a gooey plastic mess" from melted kayaks and other gear.
Vinnie and Jennifer Schlosser of Hood River are the building owners; the building, one of Hood River's oldest, formerly housed Schlosser Machine Shop, and before it was Kayak Shed it was home to Hurricane Sails, owned by Doug Van Zandt, now of White Salmon, who built a new façade in 1993 and remodeled the interior before starting Hurricane, a sail retail and manufacturing operation that resided there from 1993-97.
"We can't say enough about the efforts of the fire department to protect the neighboring businesses," said Scott Reynier of Columbia River Insurance, who represents Kayak Shed, Ground and the third building on the block, New Yasui (home to Celilo Restaurant, Copper West Properties and other businesses.)
Among agencies' main tasks in response to the fire was cutting off power and the natural gas lines that run between Ground and Kayak Shed and on the east end of the property.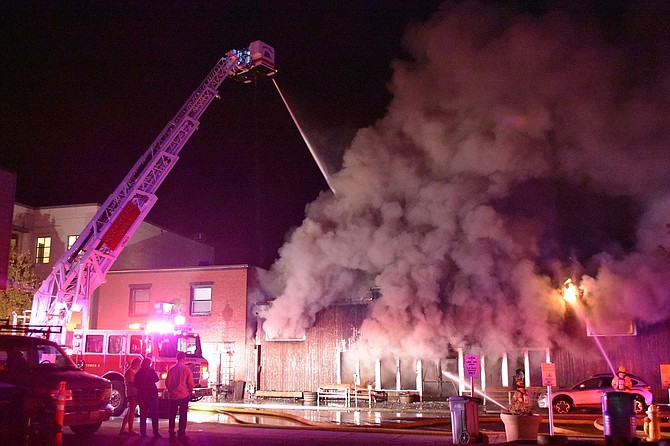 The American Red Cross has been notified and is expected to offer assistance to tenants of the second story apartments in Ground, according to Damian.
Ground owners Mike Van Sisseren and Carin Agren were joined by employees in cleanup on Thursday and expect to open for business on Friday.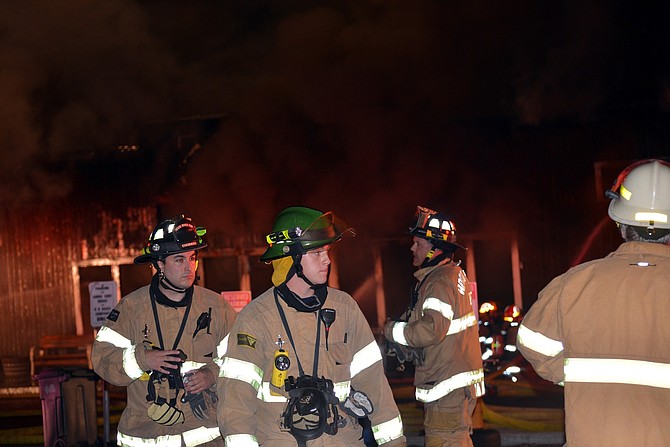 "We're going to work our asses off to get it open," Agren said, noting that the east wall of the building has one hole in it next to a vent, and some bubbling, but is otherwise intact.
The only products lost in the fire were bins of whole coffee beans, which must be discarded because of broken glass. She said as part of cleanup they will assess the damage to the coffee roasting machine, which may be damaged beyond repair.