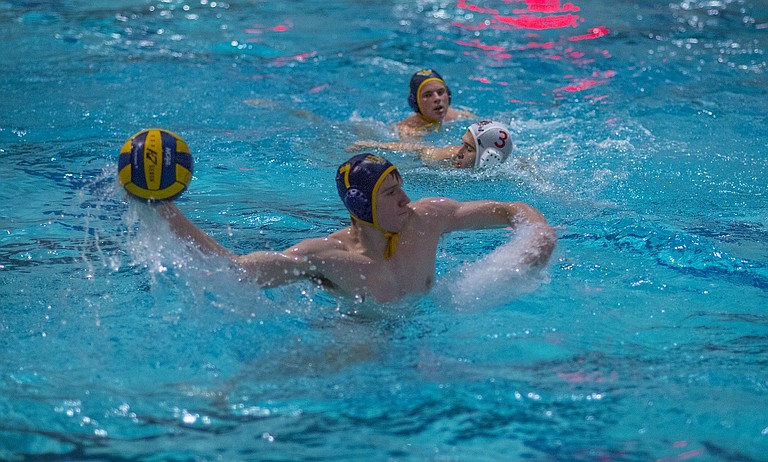 Saturday, September 30, 2017
Boys' water polo had a busy week as they played two games on the road and one game at home in the span of three days.
The first game was away against Parkrose. The boys would suffer their only loss during this three-game stretch, 13-8.
"We made too many mistakes against a good team," Captain JJ Mears said. Head Coach David Robinson agreed, saying, "I would sum it up that way also. Parkrose was second in the state last year, so they are tough, but I want to see how we do at our pool, that will be the real test."
The reason Robinson says, "our pool," is because at Parkrose, they play in shallow pools. Robinson explained that in this kind of pool, "you can stand on the bottom and the goalie can jump and run around. They practice and play with that pool and we just never do, but that's just an excuse."
Parkrose gave HRV some trouble defensively as they were fast off turnovers. "This took that component out of our offense a little, but bottom line was we had too many turnovers and they had a great goalie that amassed around 12 saves in situations we would usually score," Robinson said.
The Eagles would quickly turn things around in a make-up game at home against David Douglas that was postponed earlier this season due to fires in the Gorge.
HRV beat David Douglas 20-6 in a game that was "much more controlled and calm," said Robinson.
"Learning from Tuesday's loss to Parkrose, we had fewer turnovers and with improved passing and shot selection, we put the game away early allowing for a lot of valuable bench experience," he said.
However, while the starters were in the game, this team experimented with a new brand of play that's similar to small ball in basketball.
"We put all of our fast swimmers in at once and it was very effective, especially when turnovers turned into quick scores. Something we will be working on in the near future," Robinson said.
The last game of the week was Thursday against a tough Barlow team on the road.
The Eagles were able to hold off the Bruins 18-16.
After Barlow went up 2-0 early on, the Eagles' fought back to end the first quarter on a 4-2 run.
Heading into the second with the score all tied up at four, the Eagles' would pull ahead 10-7 heading into halftime, in large part due to effective pressing and releasing defensively.
Pulling away in the third, Robinson put four bench players in and kept his two captains, Mears and Cole Rothman, in the game.
"The idea was quality rest for the starters and to try and stay even or better," said Robinson. Barlow ended up only trailing by four points heading into the final quarter and momentum had shifted in their favor, "but our starters recovered to end the game down the stretch.
"These types of games really help a team grow," Robinson said. "In the state tournament, you can't run your starters the whole game so the bench has to be battle-hardened and the team also needs to learn to shift from speed to physical play and this was a great game for that."
The girls water polo team was also in action this week against David Douglas and Barlow.
HRV would open their week on Wednesday with a match against league opponent David Douglas.
The Eagles went on to beat the Scotts 16-2.
David Douglas tends to be known for having strong, fast players on their team, but they weren't able to keep up with the quickly paced game that the Eagles threw at them.
Despite a slower start in the first quarter that only gave HRV a 3-1 lead, the team rallied in the second quarter to score eight goals while HRV's senior goalie Kat McElderry let in zero. Hood River stuck to their game plan of strong pressure defense, which was led largely in the field by seniors Ella Mudry and Lauren Orr, and junior Jamie Robinson for a combined 15 steals, and backed up by McElderry in the goal with four saves.

"Offensively, the team showed patience against David Douglas," said Head Coach Kellie Dunn. "Passing the ball around until they found the best shot opportunity."
Goal leaders in this game were Robinson (5), Orr (4), and Rose Finstad (4).
Defensively, the girls' put up quite the numbers tallying in 19 steals as a team. Steal leaders against the Scotts were Mudry (6), Robinson (5), Orr (4) and Faith Ocheskey (2).
On Thursday evening, the Eagles went to Sam Barlow High School for another league game.

"Barlow is a team that always comes ready to play, and this game was no different," said Dunn.
While the Eagles seemed to control the pace of the game in the first quarter, the Bruins held on, sneaking in enough goals to keep things close. Once again, in the second quarter, the team took their play to the next level and made a relentless offensive run against Barlow. Defense held strong as well with McElderry holding down the fort for some key saves.

In the second half, HRV continued to play with "confidence and patience," said Dunn.
Barlow wasn't able to find an answer for all the offensive threats, with six different players scoring goals for HRV. The defense stayed at a high level as well, with Barlow's team getting frustrated and even unable to safely pass the ball from the goalie to field players on offense.

Ocheskey played a wonderful game defensively in the backcourt, leading the team in steals for the night with six. Offensively, senior captain Orr really found her rhythm, shooting at 100 percent, and also leading the team with five goals.

Other leaders in this game scoring wise were Finstad (3), Olivia Summerfield (2), Ocheskey (2) and Robinson (2).
After wrapping up this week's games, Dunn feels that the Eagles "are the team to beat in the Mt. Hood Conference."
Next up for both the boys and girls water polo teams is an away game against David Douglas on Oct. 3, a rematch from the home event earlier this week.