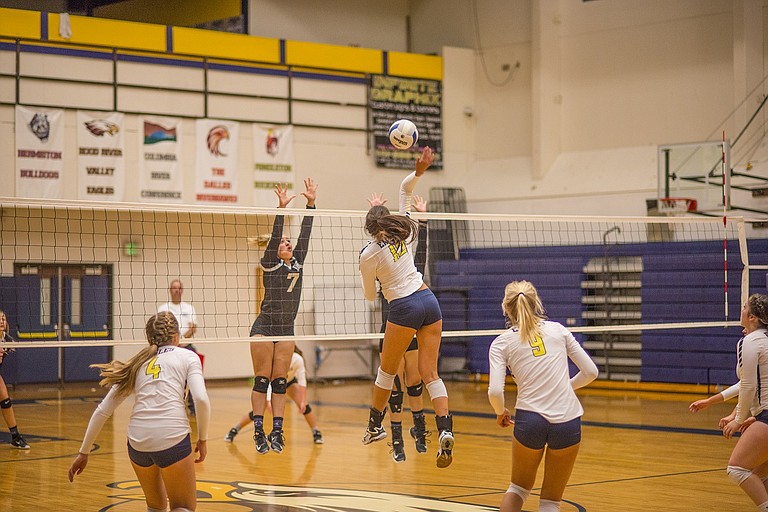 Saturday, September 30, 2017
Midway into the regular season and the HRV volleyball team has finally picked up steam as they head into the later half of their schedule.
The Eagles have now won four straight games in dominate fashion, including on the road against a tough Pendleton team.
On Tuesday, Sept. 26, the Eagles' (8-4) swept Pendleton and handed the Buckaroos (8-2) their second loss of the season.
This match was important for both teams as it would ultimately decide if Pendleton would go on to win the Columbia River Conference title in September or if the Eagles would get another shot at it come October.
"The girls knew if we want a chance to win the conference title, it was a do-or-die game for us," said Head Coach Scott Walker.
The Eagles' road win Tuesday sets up a crucial home game Oct. 10 between these two schools that'll most likely crown a league champion.
Walker explained that the difference between the Eagles' loss at home against Pendleton earlier in the season and their victory on the road Tuesday "was our passing and serving."
"With the better serving, we were able to make it more of a net game," said Walker. "And with the experience that Shae (Duffy) brought to our block/defense, it really made a huge difference Tuesday."
That night the Eagles were led by Duffy and Katie Kennedy on the defensive end, who each tallied four blocks against the Buckaroos.
Duffy and Kennedy also added 10 and seven digs to their already dominant defensive performances.
While these two girls were controlling the game on defense, they were also making their presence felt on the offensive side of the ball as well.
"Shae got more sets in the middle Tuesday and went 16/31 with no hitting errors," Walker said.
"With Shae and Katie burying balls, it was really fun and exciting to watch."
Duffy's 16 kills on the night were second only to Kennedy, who went 20/37.
The Eagles' offense was efficient Tuesday night because of their continued effort as a team to pass and serve the ball well.

The goal for a match is to pass a 2-plus percent and on Tuesday, the Eagles' passed a 1.72, which is a good sign for this team.
Setting numbers were led by Emily Curtis, who had 27 assists. Behind her was Hannah McNerney with nine.
The Eagles continued their impressive play on the road Thursday as they beat Hermiston in three straight sets; winning in dominant fashion (25-8, 25-5, 25-11).
Heading into the end of the regular season, Walker explained that this team still has some work to do.
"We can always improve on serve receive and service, and we still need some work on our setter/hitter connections, especially on the outside," said Walker.
But Walker also recognizes that this team has already done a great job of improving and in their recent play, especially against Pendleton, they've made a clear statement to opposing teams.
"I think the statement we made Tuesday is that we are finally getting back to where we were before all of the missed practices, and we are finding our groove again," he said.
The Eagles' next competition is this Saturday, Sept. 30, as they host a tournament at Vannet Court that begins at 8 a.m. Scheduele has yet to be determined.