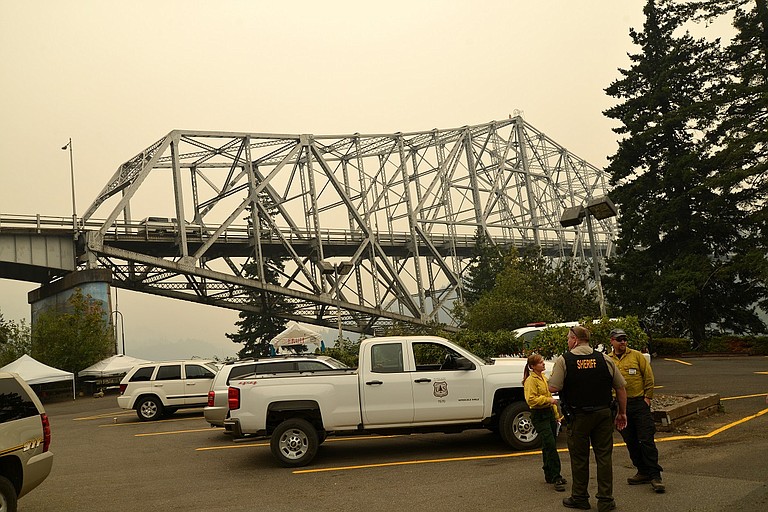 Saturday, September 30, 2017
As our incident management team returns home from the Eagle Creek fire, I would like to extend a sincere thank you to the residents of the Hood River Valley and Cascade Locks. The support you gave our team and all the firefighters working on the Eagle Creek fire has been overwhelming.
In order to become firefighters, men and women have to trust in the science of fire and the experience of leaders. They often fight against their instincts or perform acts that seem counterintuitive. For instance, in order to protect communities, we often need to burn out the fuels by putting more fire on the ground. There are also times where, rather than moving away from fire, we are safer when we are closer to it. Those ideas and many others that come with wildland fire are difficult to understand without experiencing fire firsthand and spending many hours learning from the expert practitioners of our craft.
Without fully understanding how we were going to combat the fire that threatened your communities within the Columbia River Gorge corridor, you placed your trust in us. During those most difficult times, you supported us. We take that trust seriously and were humbled by your support. We are honored to work on this fire and I hope we earned the trust you placed in us. If we did, it was your encouragement that made it possible.
That week, we had a family slip into our fire camp. They came quietly so as to not interrupt our work and they were only here for a few moments, leaving some tomatoes grown from their backyard garden. A couple of us caught them before they reached the door to thank them and shake their hands. They responded, "We don't have much to give to you, but we wanted to share what we do have." That spirit was evident in all corners of your community. Every day, we fielded calls from people wanting to help. Volunteers offered to serve food and keep the dining area clean. Many others brought baked goods or delivered socks and toiletries.

All of those actions provided comfort for our firefighters, but of course the many letters your children wrote to us were our favorite. One day, we folded all of those letters and drawings and placed them in the sack lunches that firefighters take to the fireline. When they came back to camp that night, many were carrying the notes and sharing them with their friends.
Your community has demonstrated so much generosity in the midst of this rapidly moving fire. You have shown us your best. Again, thank you for your support and trust.
— John Pierson, incident commander, Southwest Area Type 1 Incident Management Team 2
•
The Columbia River Gorge Commission wants to express our deep gratitude to the U.S. Forest Service, firefighters, first responders and county sheriff departments for all their hard work to keep the public safe and homes protected during the Eagle Creek fire.
As the land use agency for the National Scenic Area, we are cooperating closely with Gorge-wide resource specialists to plan for the next phase of recovery after the fire is contained. Our goal is to assure that all our Gorge communities and resources are protected as much as possible and to assist with ecosystem restoration efforts, mitigation, and re-building structures as needed once an official assessment is made on the fire's impact.
We are also evaluating how to improve fire prevention and emergency response measures in our management plan as part of our "Gorge 2020" process. Landscapes will recover with time. They may look different for a while, but they are resilient. We need to be patient, hopeful, thoughtful and inclusive in our approach as we collectively move forward to plan our next steps.
— Laurie DeKay, White Salmon, Columbia River Gorge Commission
•
Our hearts go out to the people who have been evacuated and those directly impacted by the Eagle Creek fire. We want to thank the firefighters and first responders for all of their work as people work to contain the fire, minimize the damage and support people who have been displaced.
The Columbia River Gorge is a special place to many people and I want to let you know that the National Forest Foundation created a fund to support on-the-ground recovery and restoration efforts following the Eagle Creek fire. We worked in coordination with the Regional Office of the Forest Service to plan how this fund can complement the restoration efforts the agency will conduct after an assessment of the impacts of the fire has been completed. We are asking for contributions from businesses and individuals to support this fund as we are anticipating there to be much work that will need to be accomplished. Please help us in raising contributions for the fund by visiting our Eagle Creek fire restoration fund webpage at www. nationalforests.org/eaglecreekfire.
Once the fire is out, we will work with the Forest Service to understand the priority restoration activities that this fund can support. We will provide grants to local organizations and/or contractors to implement projects in coordination with the Forest Service at the Columbia River Gorge National Scenic Area. Let me know if there are any questions or if I can provide more information. Thank you for your support.
— Patrick Shannon, Pacific Northwest director, National Forest Foundation, Portland