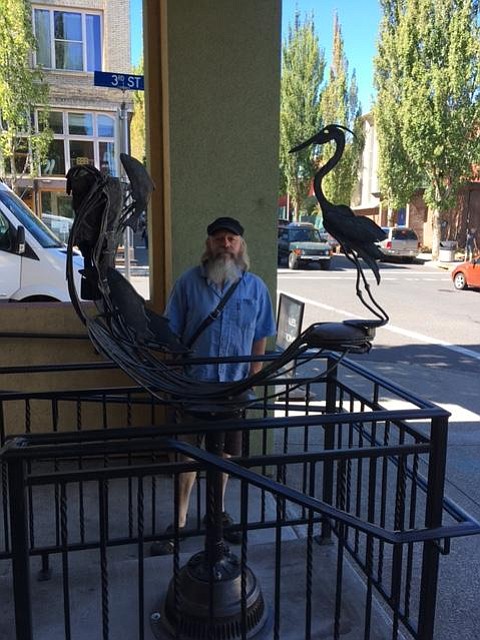 Saturday, September 30, 2017
Local metal artist Alan Root has donated his sculpture, "Heron Viewing Spawning Salmon," to Columbia Center for the Arts.
Root has been creating welded and forged iron creations for over five decades. He currently lives in Portland, where he created welded steel sculptures — working with iron and vintage pieces of rusty metal. Root has a passion for the little town of Mosier, where his family has owned and operated cherry orchards for five generations.
The tools and methods Root uses have been handed down from three generations of iron workers and blacksmiths in his family. He uses iron "imagery" and discarded farm and logging equipment as well as old truck and bike parts, and juxtaposes and couples them together to create abstract realism, whimsical wall sculptures, and functional yard and garden art. He likes to describe his work as "Farm Punk."
"'Heron Viewing Spawning Salmon' is one of my favorite iron sculpture creations," Root said. "After introducing and displaying it at the Columbia Art Gallery, getting to know all of the wonderful folks who work and volunteer at the center, and seeing how much they love and appreciate this piece, I decided to gift it to the center because it feels like the perfect home for this art."
"We are so happy to have this beautiful piece as a welcoming sculpture when people come to visit the center," said Columbia Arts Executive Director Kerry Cobb. "Alan has been so generous to gift this sculpture to us, and we agree with him that it feels like the piece has found its home."