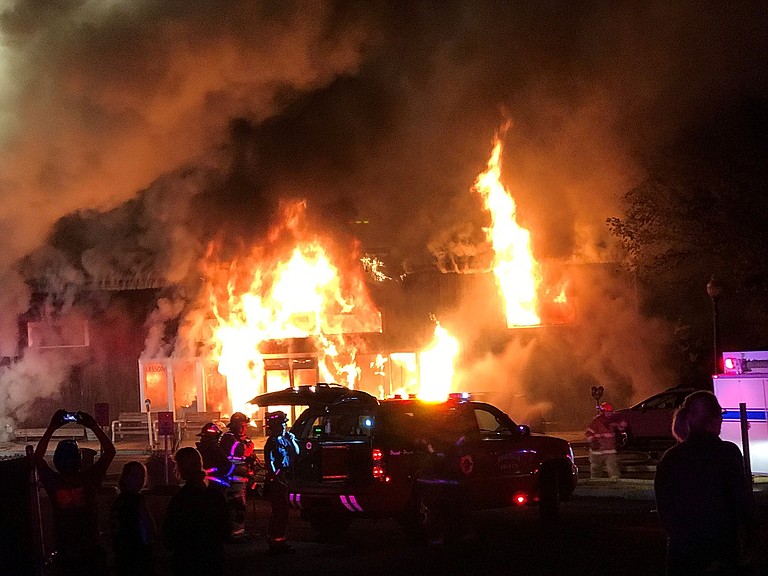 Wednesday, January 3, 2018
July
In July, The Hood River-Tsuruta Sister City program marked its 40th anniversary with a dinner and program attended by visiting Tsuruta guests. A Hood River delegation traveled to Tsuruta in October.
Murray's Clearance Center announced it was closing by the end of the year. The five clearance center owners had signed a confidentiality agreement and could not disclose what would be moving into the building, but would retain ownership of both the building and the property. No word yet on what is coming, but remodeling work was begun in December.
In other news, the Port of Hood River swore in new commissioners Ben Sheppard, John Everitt and Dave Meriwether during two separate meetings, renewable energy proponents gathered to celebrate a solar array slated for construction atop the public works building, and the bottom of the cherry market had fallen out with a bountiful harvest across the Northwest, meaning that anything smaller than a one-inch cherry couldn't be sold.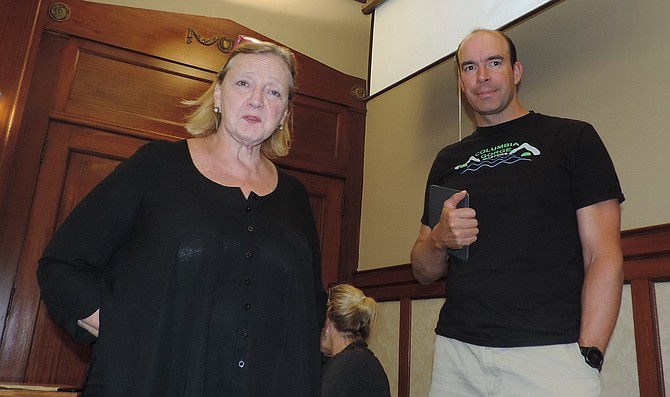 August
A heat wave hit the Gorge at the end of July and beginning of August. An "excessive heat watch" was upgraded to a warning as temperatures soared into the triple digits — peaking at 105 degrees — and low temperatures in the mid 60s to low 70s.
Forest fires, in the Pacific Northwest and Canada, contributed to the shroud of smoke lingering in the Gorge this month. While the Indian Creek fire near Cascade Locks contributed to the haze, the north-northwest wind brought in smoke from blazes in British Columbia. By months' end, the Indian Creek fire would grow to 327 acres.
Frank Toda, president of Columbia Gorge Community College, resigned his post mid-August, effective Sept. 29, and the board voted unanimously to let Toda go. The City of Hood River named Dustin Nilsen as its new planning director after the retirement of Cindy Walbridge, and 6th Street Bistro and Loft celebrated 25 years in business.
The solar eclipse brought together onlookers at downtown Hood River and the waterfront for a lively scene shortly after 10 a.m. on Aug. 21 — even though Hood River was only at 98 percent totality. And the first Farmworkers Celebration hit Jackson Park at the end of the month, featuring music, food, games and awards to workers by orchardists.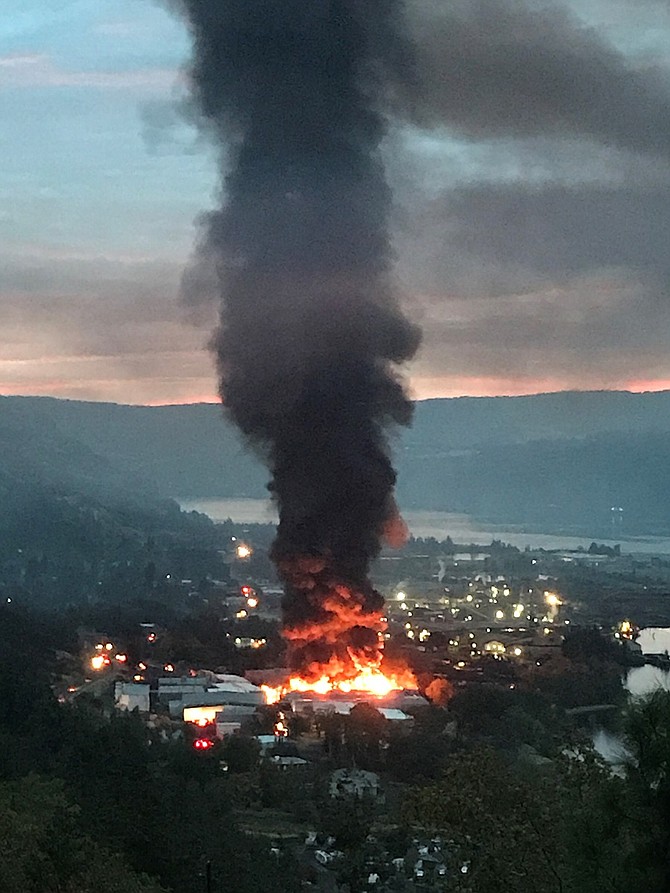 September
Fire.
The defining moment for September, and the rest of autumn in the Gorge, came Sept. 2 with the breakout of the Eagle Creek fire in the western Gorge. Perilously close to the existing Indian Creek fire, the two would merge into a complex by mid-September, leading to the evacuation of hundreds of Cascade Locks and western Gorge residents, including dozens in the Archer Mountain area near Stevenson. More than 1,000 firefighters would be called in to fight the blaze, which reached nearly 50,000 acres.
Two leading citizens died in September: Sheriff Deputy Mike Anderson, and philanthropist and wide-ranging volunteer Don Benton.
Immigration Counseling Service, a non-profit immigration legal services program with an office in Hood River, hosted two bilingual community information sessions in early September. The news item said, "These are for anyone interested to learn more about the Deferred Action for Childhood Arrivals (DACA) program, what happened with President Donald Trump's rescinding of the DACA program on Sept. 5, what this means for current DACA recipients, what might happen in the future, and what actions can people take now."
The Eagle Creek fire, burning 41,550 acres by mid-September, prompted Hood River County Sheriff's Office and fire incident managers to extend evacuation notices into west Hood River — including some areas of the city. (No one was evacuated, but officials put people on notice they might need to, a first for the area.)
A Level One order — "Get Ready" — included thousands of homes. An American Red Cross evacuee shelter in Stevenson moved to River of Life Assembly church at 979 Tucker Road in Hood River.
Hood River County School District canceled all classes Sept. 15 due to smoky, worsening air quality and the Crystal Springs Water District boil water order.
Gorge transportation regained some vigor when Oregon Department of Transportation opened Interstate 84 westbound between Hood River and Troutdale Thursday evening, albeit with no estimate at reopening eastbound lanes. The closure — one of the longest in years, caused by fire-scorched trees and fallen rocks — had been in place since Sept. 4.
The Sept. 25 meeting of City Council was a welcoming to new planning Director Dustin Nilsen and a tearful send off for his predecessor, Cindy Walbridge, who would depart Sept. 29 after a generation with the city. Staff members and people from the community thanked Walbridge for her long service and dedication to planning and historic preservation. Walbridge has served as planning director for 27 years.
Sept. 28, fire consumed a major piece of Hood River history Wednesday as the 110-year-old Kayak Shed building fell to flames. Firefighters from throughout the Gorge responded; no one was hurt. Investigators were on scene Friday morning to try to assess the cause of the fire, which totaled the building and left kayaks and other contents in what one firefighter termed "a gooey mess." Two weeks later, investigators ruled the fire a result of an accidental electrical malfunction. The building, which housed Schlosser Machine Shop in the 1960s through 1990s, is owned by the Schlosser Family Trust. Kayak Shed owner John Hart started the business 15 years ago, and said he would look for a new place to rebuild the business in Hood River.
Oregon Gov. Kate Brown visited Cascade Locks and Sept. 29 in her second official trip in this county since the Eagle Creek fire broke out a month ago. She shopped at several downtown Hood River stores.
At a morning listening session at Marine Park Pavilion in Cascade Locks, Brown assembled a panel of state staff and listened to concerns from business representatives whose companies took an economic blow from the fire.
"The Gorge feeds my soul," Brown said. "We want to make sure it's not just a great place to play, but a great place to work as well." Extended highway closures and a fog-like smoke caused by the blaze hampered businesses throughout the region.
October
West of Hood River, the landscape now looks far different along the curving section of Interstate 84 near milepost 53. In early October, the first of a series of rock blasts along Interstate 84 would occasionally delay fall travelers.
Six blasts would happen about once a week through mid-November, spurring rolling slowdowns near milepost 53.
The explosive work is part of Oregon Department of Transportation's project building the latest segment of the Historic Columbia River Highway State Trail, between Wyeth and Lindsey Creek.
The Hood River County Board of Commissioners decided to put $550,000 worth of transient room tax revenue toward county park septic system repairs over the next several years.
Funds will go toward replacing two major restroom systems at Toll Bridge Park near Parkdale, where system failures have caused partial park closures. The board's decision diverts TRT money away from its current recipient, the Hood River County Chamber of Commerce, according to a funding scenario staff presented. The revenue has previously gone toward the chamber's destination marketing and tourism programs.
While firefighters still worked for official fire containment of Eagle Creek fire,, a 15-year-old boy was been arraigned in juvenile court Oct. 23 on charges related to causing the fire, according to a statement by John Sewell, Hood River County District Attorney. (By year's end, Sewell had not released the name of the suspect.) Charges included Reckless Burning, Depositing Burning Materials on Forest Lands, Unlawful Possession of Fireworks, Criminal Mischief and Recklessly Endangering Other Persons.
A packing line and an estimated 100,000-150,000 boxes of pears were destroyed by the Oct. 18 fire at the Underwood Fruit and Warehouse Company in Bingen. Firefighters from throughout the Gorge responded to the non-injury blaze. About 70 growers from the area, mostly from Hood River County, have their pears processed, packaged and marketed by Underwood Fruit.
Hood River's tented public pool is treading closer to the end of its usable lifespan, according to a facility study the parks district commissioned.
The Hood River Valley Parks and Recreation District contracted with Water Technologies Inc., an aquatics engineering firm, to do a condition assessment of the Hood River Aquatic Center. Their March report stated the pool has about three to five years left of serviceable use.
The original aquatic complex at 1601 May St. was built in 1948. The tent enclosure and other infrastructure upgrades came during an overhaul in the 1990s.
Mark Hickok, parks district director, said, "We've come to the conclusion that within the next five years, we're going to need (a) major renovation or a new building."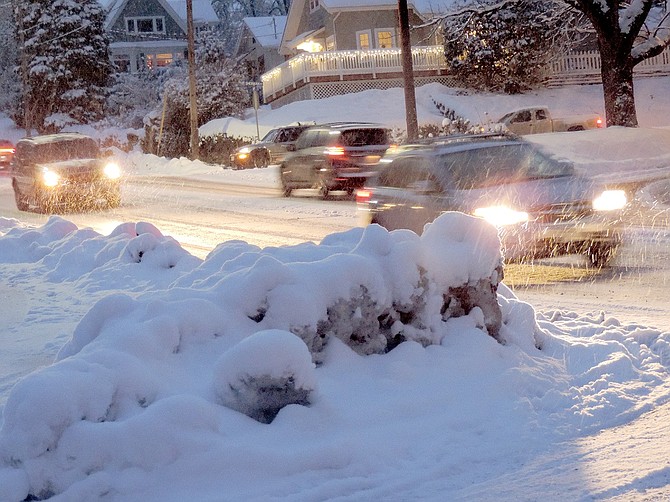 November
Citing legal issues and costs, Oregon Gov. Kate Brown asked state officials to quash a water exchange with Cascade Locks that would make possible a Nestlé water bottling plant. Brown sent a letter Oct. 27 to Curt Melcher, Oregon Department of Fish and Wildlife director, asking the agency to withdraw a 2010 water exchange application between ODFW and the City of Cascade Locks.
The proposal — introduced about nine years ago — involves exchanging a portion of spring water from Oxbow Springs, which supplies ODFW's salmon hatchery, for an equal amount of the city's groundwater.
Brown said state agencies have already expended "significant resources, including legal costs on this matter," and that processing the exchange would lead to "expected challenges and court appeals."
A Hood River County voter measure cast doubt on the outcome of the water swap, Brown said.
"This law makes the ultimate goal of the proposed water exchange uncertain," Brown said.
Community members gathered in early November at Jackson Park for a rally and march to Hood River City Hall in support of DACA Dreamers (Deferred Action for Childhood Arrivals) and to encourage the passage of a clean Dream Act in Congress.
"Our Dreamers need a voice," said Hood River Latino Network President Martha Verduzco, who helped organize the event. "There's a lot of fear with everything that's been going on with ICE, and we want to help them," she said, referring to enforcement actions by the federal agency Immigration Customs Enforcement.
An estimated 75 people attended, of all ages and backgrounds.
State Representative Mark Johnson (R-Hood River) announced Nov. 3 he would retire from the Legislature effective Nov. 6.
Johnson, who has represented House District 52 since his election in 2011, will be leaving the Legislature to serve as the president and CEO of Oregon Business & Industry (OBI), created July 1, 2017, through the merger of Associated Oregon Industries (AOI) and Oregon Business Association (OBA). Johnson also serves as chairman of the Hood River County School District Board.
Within two weeks, Hood River resident Jeffrey Helfrich would be appointed by the board of commissioners from Hood River, Clackamas and Multnomah counties to fill out Johnson's term. Helfrich, a retired police officer, had previously served as Cascade Locks City Council member, and ran unsuccessfully for a Port of Hood River Commission seat in 2016.
Hood River City Council will in January decide next steps for the proposed Children's Park structure. In a draft schematic of the Children's Park playground design process, the wishes of local children are borne out in designer Lisa DeShano's plan. It was unveiled Nov. 9 at a public meeting at Hood River Middle School, after dozens of local citizens including dozens of school children, submitted drawings and met with DeShano to give her their ideas.
Two new features include a separate, smaller play structure located next to the picnic area, and hillside slides making use of the slope from Eugene Street on the south side of the park at Ninth and Eugene streets. Additional trees are also included in the draft. Demolition is planned in January and construction of the new facility by spring.
County and city officials approved the groundbreaking Hood River County Energy plan in November and December. County Board of Commissioners acted first, followed by city council.
"It's a blueprint to reduce emissions from burning fossil fuels and increase economic benefits related to energy use in Hood River County while improving community resilience and energy independence," Marla Harvey told the board. She is the county's energy and sustainability coordinator.
The non-binding advisory document lays out goals and objectives for local governments. The county supported its launch through partial funding of a Resource Assistance for Rural Environments (RARE) AmeriCorps coordinator, supervisory support from Roberts, and other in-kind services since September 2016. Funding also came from partnering local governments, Energy Trust of Oregon and Ford Family Foundation.
As a roadmap to help the community meet its future energy goals, the plan includes incremental energy goals for 2030, 2040, and 2050 and identifies strategies to achieve them. It focuses on four areas: buildings, transportation and land use, agriculture and water, and community-scale power generation.
The plan's supporting resolution states that climate change "threatens to significantly impact the surrounding natural environment and resources on which Hood River County's economy and livability depends."
Goals include:
• Replace power generated from fossil fuels with clean, renewable energy in buildings, water systems, and transportation by 30 percent in 2030, 50 percent in 2040 and 80 percent in 2050, as compared with 2016 levels.
• Generate half of the county's energy needs with new, local diversified energy sources and storage capacity by 2050. Increase overall capacity, price security, energy generation control and stability, and provide key services in the event of emergency.

• Boost investment in locally produced power. Specifically, strategize $25 million in revolving funds by 2025 to enable local clean energy projects and create a business environment that supports the Hood River County Energy Plan goals.

Commissioner Les Perkins, who has been a leader in the energy plan's development, praised the concept.
"In the next five years things are going to change rapidly and communities that are thinking ahead are going to be in a position to take advantage of the changes," Perkins said.
"The fact that if we can get five entities to sign on to the same plan — nobody does that. It's a big deal (to funders)."
Commissioner Bob Benton identified some tweaks to the plan, such as focusing certain language on a countywide approach instead of city-centric. He also voiced an intention to review the goals and weigh the level of commitment that will be expected of the county.