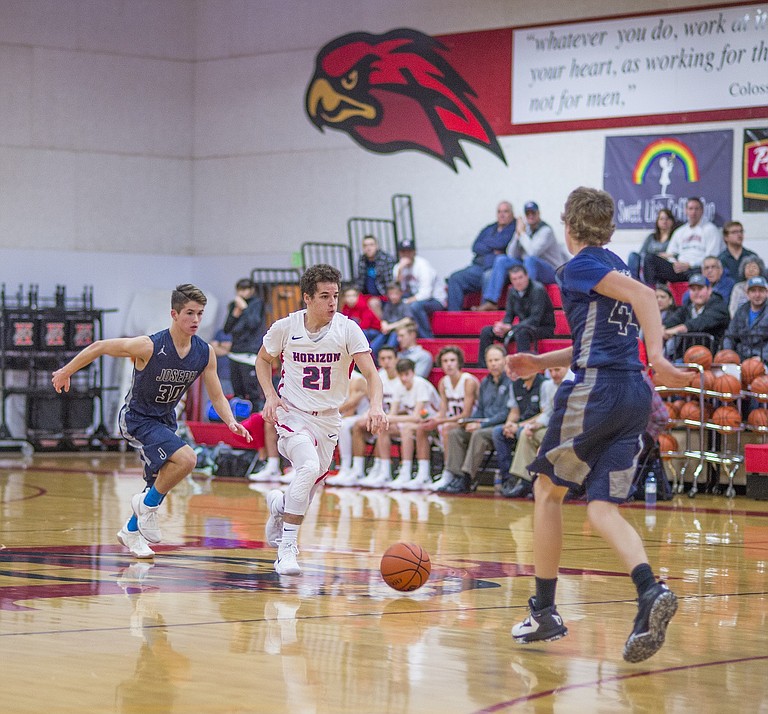 Wednesday, January 3, 2018
After a two-game road game stretch, the Horizon boys basketball team was back at home on Dec. 30 as they welcomed Joseph to town.
The boys headed into this game coming off a 20-point blowout over Echo on the road nine days before and they were able to continue this momentum against Joseph.
Horizon would go on and beat Joseph by a final score of 53-39.
However, it took some time for the Hawks to get going after a slow start in the first quarter.
Four minutes into the first quarter, the Hawks had the only points of the game with three — 3-0.
The Hawks were playing against an aggressive Joseph team that wanted the Hawks to play fast as they pressed and played a 2-3 zone.
For quite some time, the Hawks were unable to have success offensively, but they were playing smart on the defensive end and that helped them to stay in the game as they did not give Joseph a chance to find any momentum.
After one quarter, the Hawks led Joseph 8-7.
An eight-point first quarter turned into a 17-point second quarter led by top scorers junior Derek Johnston and freshman Caleb Lingel.
And the Hawks were able to continue smart play on the defensive end, holding Joseph to only eight points in the second quarter. Horizon went into halftime with a 25-16 lead.
The Hawks would ride the scoring outburst from the second quarter into the third and fourth, scoring 15 and 13 points in the final two quarters, which outscored Joseph's 13 and 9.
Top performers versus Joseph: Johnston led the Hawks in scoring with 16 points and added four steals and three assists. Lingel backed up Johnston's performance with 14 points. Bailey Holste had nine points and three assists. Kyle Brown finished with eight points on 4-9 shooting from the field and four assists.
Now at 5-3 on the season and ranked 7 in 1A OSAA rankings, the boys look to push their winning streak to three with a home matchup versus Klickitat/Glenwood on Wednesday, Jan. 3 (results unavailable at press time).