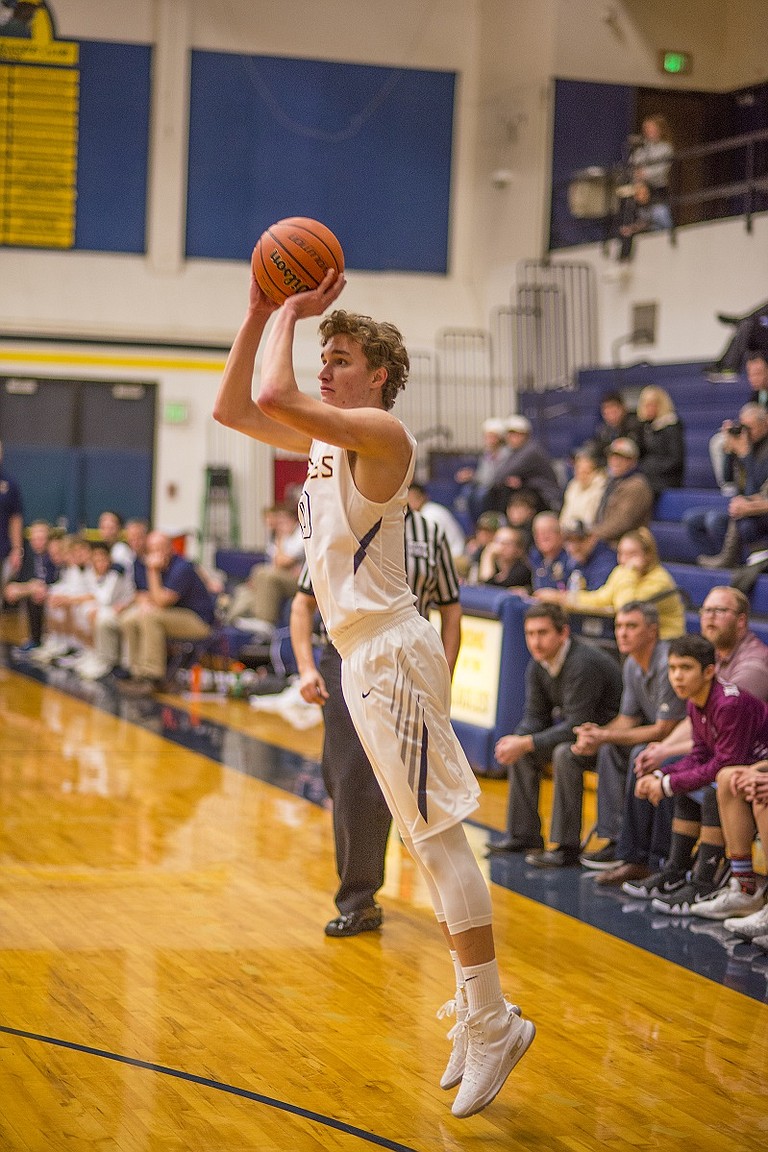 Wednesday, January 3, 2018
The HRV boys basketball team heads into 2018 on a five-game losing streak, including their most recent loss at home to Stevenson by a final score of 66-64.
The loss moves the Eagles to 4-7 on the season and drops them to 29 in the OSAA 5A state rankings.
HRV opened the game versus Stevenson in a 2-3 zone looking for some intensity on the defensive end of the floor, but the Eagles' over-aggression led to two quick fouls by HRV defenders closing out on Stevenson's shooter behind the three-point line.
Stevenson wanted to be aggressive on the defensive end as well, as they came out in a full-court press.
The Eagles struggled to break the press, turning the ball over 22 times in this game, and Stevenson, with under two minutes left in the first quarter, went on a 7-0 run to go up 18-15 with 30 seconds left in the first quarter.
Senior guard Peiyton Slatt subbed in for the final play before the second quarter and hit a big three-point shot to stop the Stevenson run. The game was all tied at 18 going into the second quarter.
In the second, the press continued to stifle this young Eagles team and when the boys did break the press, they rarely made Stevenson pay.
The Eagles struggled to convert on their open court opportunities and when they did get the ball up court for a layup opportunity, they were often fouled and sent to the line. The Eagles shot 9-18 from the line.
Stevenson went into halftime with a 35-29 lead.
In the second half, both teams had similar performances, but the Eagles needed to show something more if they were going to win.
The Eagles continued to turn the ball over, struggled at the free throw line and took poor shots. On the night, the Eagles shot a total of 29-65 from the field.
HRV would continue to beat themselves all game and their play that put them behind early ultimately led to Stevenson sneaking out of Hood River with a 66-64 win.
The Eagles were led by senior forward Tanner Wells, as he put up 18 points, nine rebounds and two steals.
Slatt and Erik Siekkinen added 15 points and 13 points, respectively, on the night.
With the loss, the Eagles head into their home matchup on Wednesday, Jan. 3 (results unavailable at press time) versus St. Helens looking to break their five-game losing streak and get back on track before Columbia River Conference play starts on Jan. 18.