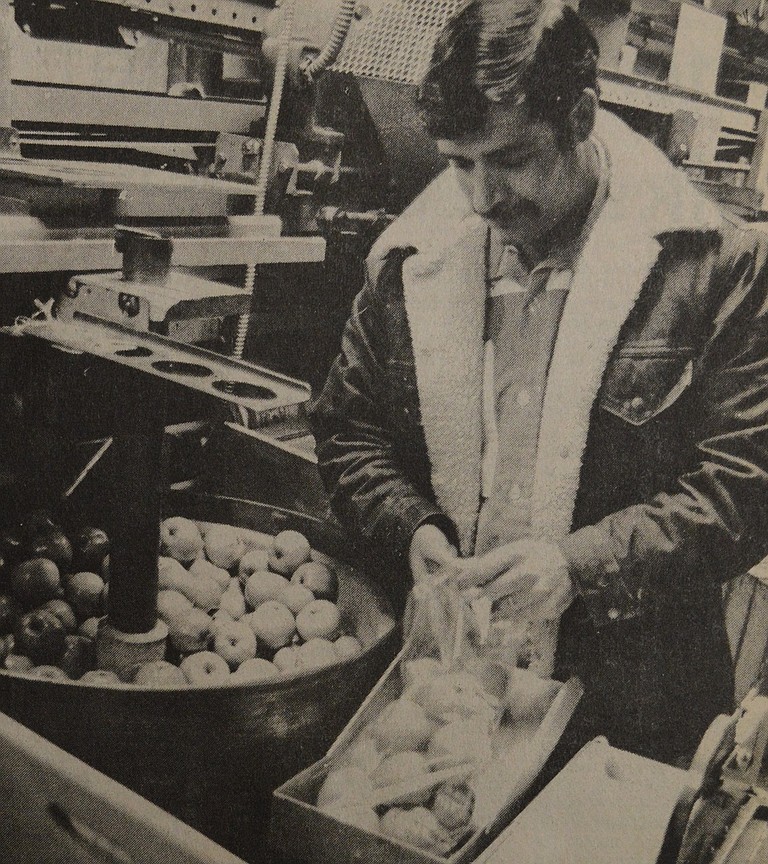 Wednesday, January 3, 2018
1918 — 100 years ago
For over a week, a force of carpenters has been working on the upper story of the Electric Theater and today actual work on the "Liberty" will be underway. H. Cramer, the local contractor, will have a full force of men at work on the building. The electrical contract was let to Apple City Electrical Shop. The "Liberty" promises to be one of the most up-to-date and modern little show houses in the state. The lamp house will be of the latest interlocking tile with five dead air spaces in the wall, making an absolutely fireproof lamp house.
VERBATIM: Gallery closes for relocation
Columbia Art Gallery will be closed during January and February to prepare for a move from its Oak Street location to a new facility in the old Hood River Fire Station on Second Street.
Renovation work on the new space will begin this month with completion anticipated by the second week of March. Gallery Director Liz Freeman, who is also a professional interior designer, will oversee the renovation project. "I would appreciate any volunteer help available to keep our costs at a minimum," Freeman requested.
The move to the old fire station allows the non-profit gallery to have a more permanent location and provide for further growth, Freeman added.
Hood River City Council agreed to a 10-year lease of the fire station for one dollar a year, if the gallery would provide major renovations needed to turn it into an art gallery.
Remodeling will include replacing the red garage doors with a storefront window and door, leveling the sidewalk and providing lighting and wall changes inside. The new facility will allow a larger gallery area, kitchen, storage and classroom/meeting space.
— Hood River News, January 6, 1988
1928 — 90 years ago
The new city snow plow, recently purchased from the Coulter Motor Co., was put to work Saturday afternoon and in a few hours had piled the six inch blanket of snow in the center of the business streets of the city. The motive power of the new plow is provided by a Fordson tractor, with heavily tired and chained driving wheels, and a heavy steel beam, to which is attached the curved scraper which throws the snow to the center of the street. In past years, the snow was turned from the center of the streets to the gutters and when a thaw set in, the gutters were clogged and the water could not reach the catch basins. Under the new system the catch basins will be kept open and pedestrians will be able to cross at the intersections without going in over their heads.
1938 — 80 years ago
In the near future, the Mount Hood area is to be thoroughly surveyed for its mining possibilities, according to State Mining Geologist A. V. Quine, who was in Hood River yesterday. While there have been many efforts in past years to find the sources of the small quantities of gold always present in the Hood River and its tributaries, little has been heard of copper deposits, and it is to that end that these copper deposits be definitely located that Quine and his associates will make an extensive survey.
1948 — 70 years ago
Christmas in Hood River County was like an early spring day. For an hour or so after dawn, there was some fog, but when the sun broke through, the fog quickly disappeared, and the day was clear and unusually warm for this season of year. Many residents who took time out to examine their gardens report a number of surprises in flowers in bloom, including forsythia, rhododendron and even Scotch broom, while many of the flower gardens revealed that they had not yet been hit by frost, even geraniums in many yards still carrying green leaves.
1958 — 60 years ago
"Progress in 1957 was the keynote of the Hood River County Chamber of Commerce," was the proud claim by Manger George Bartch as he reviewed the past year's activities by this local business group. Chamber members are probably happiest over the spectacular success of their campaign to pressure the state highway commission into action on the disreputable Mt. Hood Loop Highway.
1968 — 50 years ago
Most stamps will cost more starting Sunday, a joint announcement by Hood River Valley postmasters reminded this week. Increases will affect all classes of mail except parcel post and international mail beginning Jan. 7. First class mail moves up to six cents and 10 cents for air mail. Present price is five cents for first class, eight cents for air mail. The postmasters pointed out that the new rate for postcards will be five cents, and eight cents for airmail post cards.
1978 — 40 years ago
Sixteen inches of snow covered the slopes when Cooper Spur Ski area operator Alex Newman posted notice full operations would officially start this weekend. Both a rope tow and T-bar will be running, he said. The course will operate all day during the weekends and during evening hours of weekdays, with the exception of Mondays. It's a far cry from last year, when no snow was visible at Cooper Spur at this time of year. In desperation, Newman and his wife Judy began to manufacture their own snow. By the first of February they had real snow.
1988 — 30 years ago
Oregon Department of Transportation officials project a 1994 construction date for a project to bring the Second Street overpass in line with current standards. They discussed the project with Port of Hood River commissioners at their meeting Monday night. It is possible, however, that lesser ramp changes might be made a good deal sooner to help alleviate congestion problems and provide better access for large trucks, commissioners were told.
1998 — 20 years ago
The winter's meager rationing of snow throughout Hood River County has mostly affected skiers and other outdoor recreationists. So far, anyway. But if the dry weather pattern continues, it could have implications for orchardists and others in the local agriculture industry. On Monday, Mount Hood's snowpack was only 53 percent of normal for this time of year, according to measurements taken by a U.S. Natural Resources Conservation service worker.
2008 — 10 years ago
Two new bus shelters, each designed to hold up to 16 students, have been installed in the upper valley through the efforts of the Odell Lions Club. Bus driver Daryl Slining called Lion James Matthews about the need. Odell Lions paid for framing materials and donations from a number of individuals and businesses in the community helped make the shelters a reality. Bart Mooney donated labor for construction and also materials and labor for roofing. Paul Lavoie provided heated, enclosed shop space to dry panels, so benches and floors could be painted.
— Compiled by Trisha Walker, News staff writer