Originally published January 6, 2018 at midnight, updated January 6, 2018 at midnight
Compass Family Medicine opens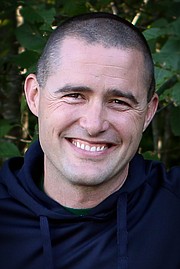 Ben Pate, PA-C, opened Compass Family Medicine on Jan. 2, at 1215 C St., corner of 13th St. on the Heights in Hood River.
Pate, a certified physician's assistant, has been practicing internal and family medicine in the Gorge for more than eight years. He was previously affiliated with Summit Family Medicine on the Heights.
Pate notes that that Compass Family Medicine has opted out of insurance plans and instead offers posted self-pay prices. For more information, visit www.compassfamilymedicine.com, or call 541-436-4111.
Planning director talks housing on Jan. 11
City of Hood River Planning Director Dustin Nilsen will speak on housing in Hood River in the next "Fireside Chat" sponsored by the Hood River County Chamber of Commerce, Jan. 11 from 5:30-7 p.m. at Columbia Gorge Hotel.
The community is invited. Fireside chats are informal, focused discussions, led by a guest speaker and followed with open discussion and a question-answer session.
January's Chamber Coffee Clatter will be Jan. 19 at the Hood River County Chamber office, on Marina Drive near the Hood River-White Salmon Bridge, 8-9 a.m. Anyone may attend; following a short social time, with coffee and refreshments provided, businesses and community groups are given an opportunity to give short updates.
Local restaurants make Wine A-List
The Oregon Wine A-List Awards recognize restaurants across the world "displaying enthusiasm for Oregon wine and a deep appreciation of the diverse regions, varietals and producers of Oregon," according to a press release.
Gorge regional honorees are: Cascade Dining Room, Timberline Lodge; Celilo Restaurant and Bar; Riverside Hood River (at Best Western Plus Hood River Inn); Simon's, The Columbia Gorge Hotel; and Solstice Wood Fire Café.
A-List honorees "boast wine lists that have a significant presence of Oregon wine, typically representing a variety of styles and producers, with the list designating the wines' Oregon origin. Within Oregon, restaurants devote 30 percent or more of their wine lists to Oregon wine or feature at least 30 different Oregon producers. Outside of Oregon, restaurants devote 10 percent or more of their wine lists to Oregon wine or feature at least 10 different Oregon producers."
Pacific Power pledges to pass tax cut savings to customers
In a Jan. 3 press release Pacific Power announced that "on Dec. 22, 2017, changes to the tax code were passed into law that will lower federal taxes on corporations. Pacific Power is committed to passing the benefit of this tax cut on to customers."
Stefan Bird, president and CEO of Pacific Power, said, "We strive to provide our customers reliable service while keeping rates low. The benefit of this tax cut should be passed on to our customers — and we will work with our regulators and stakeholders on the best way to do that.
"The full impact of this tax change will take several months to calculate. Also, any proposed changes to benefit customers, such as rate reductions, will then require the approval of the state public utility commission. As such, it will take some months before the company will be able to offer proposals on how best to pass these benefits to customers."
Skamania Chamber celebrates Jan. 19
The Skamania County Chamber of Commerce presents awards annually to members in two categories, Business of the Year and Member of the Year.
Nominees for Business of the Year include Brigham Fish Market of Cascade Locks and Windermere Glen Taylor Realty.
The entire chamber membership is invited to vote for their favorite candidate in each category. Winners will be announced at the Chamber Annual Dinner and Awards Ceremony on Friday, Jan. 19, at Skamania Lodge. Tickets are available for the dinner at $35 per person and everyone is invited to attend. Reservations can be made by calling
the Skamania County Chamber at 509-427-8911 or emailing info@skamania.org.