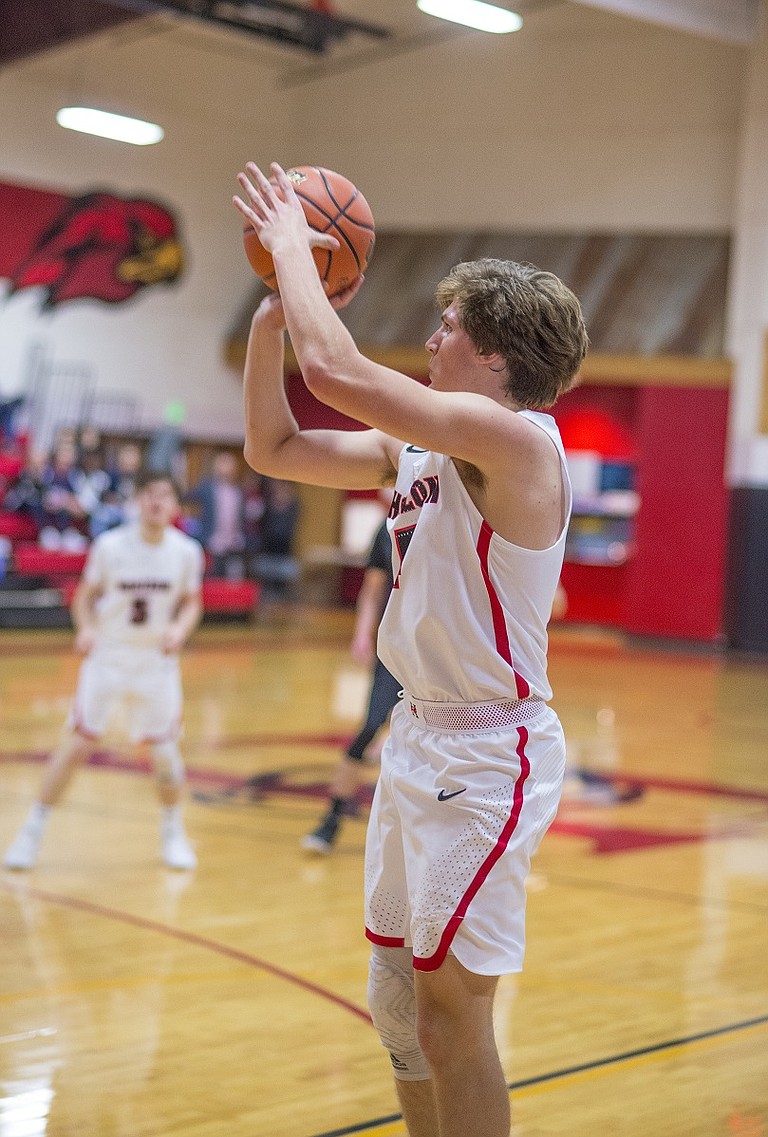 Originally published January 6, 2018 at midnight, updated January 6, 2018 at midnight
The Horizon Hawks boys basketball team continues to keep things rolling as they knocked off Klickitat/Glenwood by a final score of 64-39 on Jan. 3 to extend their winning streak to three, the Hawks' longest of the season.

The Hawks are currently 6-3 and are ranked eighth in 1A OSAA standings.
Against Klickitat/Glenwood, junior forward Derek Johnston continued to scorch opposing defenders as he had a double-double, putting up 25 points and grabbing 14 rebounds.
In Johnston's last six games, he has had four where he has scored 20-plus points, including a 28-point performance against Trinity on Dec. 14 and his most recent performance of 25 points versus Klickitat/Glenwood.
Johnston hasn't only been getting it done on the offensive end — he's also proving to be a player that Horizon's Head Coach Darrin Lingel can count on when it comes to the other end of the floor as well.
Defensively, Johnston ended his night versus Klickitat/Glenwood with five steals and two blocks.
There's no question Johnston is the guy for the Hawks this year, and it has never been clearer then after his performance versus Klickitat/Glenwood on the road Wednesday night.
But this is a team game and as much as you like to see one player step-up on a regular basis and take control, you need to still have that person who can take the load off the number one scoring option, and freshman guard Caleb Lingel is beginning to surface as a player who can do just that.
Lingel versus Klickitat had 16 points on 50 percent shooting from the field, including 2-4 from the three-point line.
Also with a team-leading six steals on the night, Lingel was a catalyst on the defensive end for the Hawks.
This team is beginning to find their groove, especially on the defensive end of the floor and it was evident in the Hawks' third quarter versus Klickitat/Glenwood as they held them to just one point in eight-minutes.
Johnston and Lingel made a statement versus Klickitat, that there's more than one threat on the offensive end for the Hawks.
And there's no forgetting the third player of the Hawks' big-three, junior guard Bailey Holste.
Holste had an off night versus Klickitat/Glenwood, going 2-8 for four points, but he's a player that comes out with the same intense energy every night and who holds value with this Hawks team, in that night in and night out, he's going to come out and give it his all.
Other top performers versus Klickitat/Glenwood: Nolan Ryan had eight points and two rebounds, and Kai Robertson had five points, three assists, two steals and one block.
Next up for the Hawks will be their 1A-6 Big Sky League opener at Arlington on Friday, Jan. 5 (results unavailable at press time).