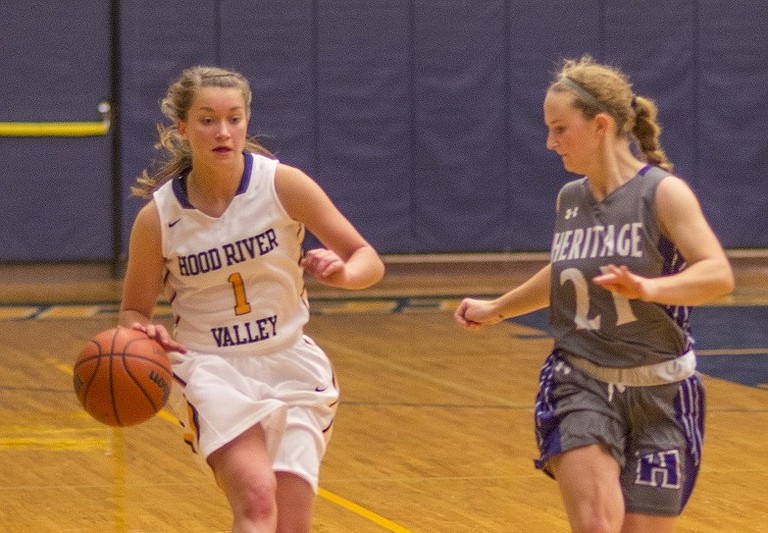 Originally published January 6, 2018 at midnight, updated January 6, 2018 at midnight
A 1-2 record at the Vince Dulcich Memorial Tournament in Astoria last weekend moved the HRV girls basketball team to 7-5 on the season before opening 2018 on the road versus St. Helens on Jan. 3.
St. Helens headed into this game with a 4-5 record, but the losing record didn't mean a thing to Head Coach Donnie Herneisen, especially with the girls having to travel to St. Helens.
"It's always hard to go into a hostile environment and get a win," said Herneisen. "But the girls prevailed in St. Helens."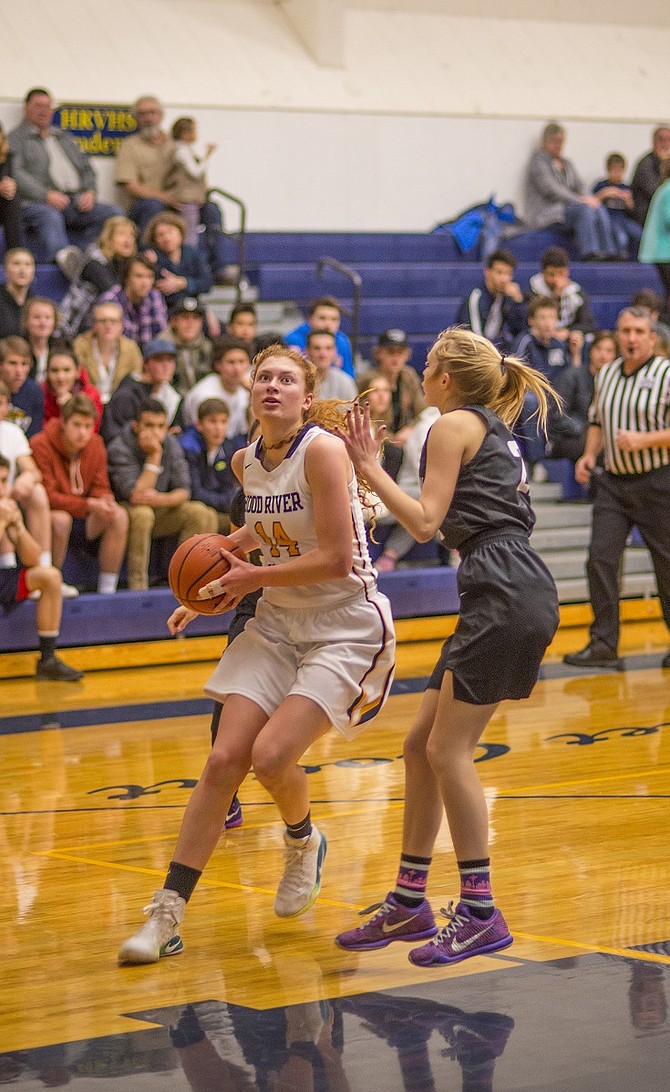 The girls held on and won a nail-biter on the road, beating the Lions by a final score of 41-40.
Recently, the girls have been getting things done much differently on the court than the other teams they've matched up against.
"Amongst the teams we've played lately, it's clear that they have a 'star' player night in and night out," Herneisen explained. "We on the other hand have had really good balance throughout the season, with four different players leading us on any given night."
Against St. Helens, this held true as the Eagles saw sophomore forward Maddie Holms score 30 of the Lions 40 points, while the Eagles attacked St. Helens with "balance."
Haylee Baker and Lauren Orr led the way for the Eagles, both scoring in double-digits. Baker ended the night with 14 points, seven assists and six rebounds. Orr added 10 points, nine rebounds and a block.
The Eagles also received a smaller scoring boost, but a boost nonetheless, from guards Emily Curtis and Barrett Ihde, who each had six points; Curtis added six rebounds as well.
"The most impressive thing I've noted about our team recently is our balance," said Herneisen. "We have consistently had pretty balanced scoring among our big four players in Orr, Curtis, McNerney, and Baker."
With only two games left before the girls start up league play, Herneisen still feels that this team has "a lot of issues to clean up."
"We're still allowing other teams to dictate the pace of the game and we also need to find a way to counteract other teams' star players," said Herneisen. "We can't simply let one or two opposing players dominate the game."
But the most important things for the girls is going to be "learning how to be road warriors," said Herneisen.
The Eagles currently have played five games on the road, going 3-2 in those matchups, and have one last road game before heading back home in 10 days. And five of their nine Columbia River Conference games are on the road, including three straight to tip-off league play.
"If this team is going to be able to scrap out a postseason berth, we'll have to find a way to do it away from Vannett Court," said Herneisen. "And of course, we're still looking to get that first CRC win in the last six years. That's a big first step."
Now at 8-5 on the season, the girls will have an eight-day break until their next game, which is an away game versus Corbett on Jan. 12.
The girls next home game isn't until Jan. 16 when they will face Liberty.