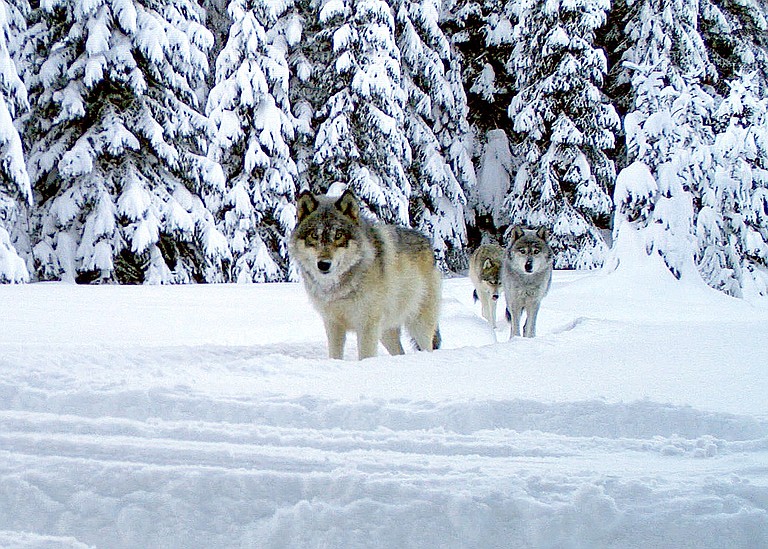 Originally published January 6, 2018 at midnight, updated January 6, 2018 at midnight
Rumors that wolves have been let loose in the Hood River Valley sparked local conversations — but according to the Oregon Department of Wildlife, those stories were false.
Jeremy Thompson, district wildlife biologist for ODFW's Mid-Columbia District, said there is "no validity" to the claim.
Thompson said he heard a story third-hand in December that wolves had been released in the county. That's not the case, he said, and not just for the Hood River area.
"ODFW has never released (a wolf) in the state of Oregon," Thompson said.
The wolf packs residing in northeast and southern Oregon migrated naturally into the state from Idaho or were born here, according to ODFW's website. The latest wolf count, done in 2016, found a minimum of 112 statewide.
Thompson explained that there haven't been any confirmed wolf sightings in Hood River County since spring of 2015, when a lone collared wolf "briefly entered the east side of the county before moving south into Klamath County."
The male gray wolf, OR-25, was migrating from a pack in northeastern Oregon. The wolf was found dead that October near Fort Klamath, the Salem Statesman Journal newspaper reported.
There was another confirmed wolf sighting recently before the OR-25 case, in which someone found tracks in the Mid-Columbia region.
However, state biologists have not confirmed that any wolves live there.
"We've documented migrant wolves ... we have yet to document residency," Thompson said.
Gray wolves in the western two-thirds of the state are still protected by the federal Endangered Species Act. The U.S. Fish and Wildlife Service is the lead management agency for wolves west of Highways 395-78-95.Thompson said if there was a confirmed sighting, staff would do their best to get out and investigate it.
ODFW has an online form for submitting wolf sightings at www.dfw.state. or.us/Wolves/wolf_reporting_form.asp
Thompson recommends that if people do see wolves, tracks, or scat, they should log the time and date, GPS coordinates, and take photos to submit. Those interested can also call the ODFW office in The Dalles at 541-296-4628.
Management plan
The state wildlife agency is updating its overarching management plan for wolves statewide.
The goal is "ensuring the conservation of gray wolves as required by Oregon law while protecting the social and economic interests of all Oregonians."
A working copy of the revised Oregon Wolf Conservation and Management Plan is available online at bit.ly/2j1w4nt.
ODFW is preparing for adoption and rule-making of the document, scheduled for a commission meeting Jan. 19 in Salem. Public testimony will be taken at that meeting and can be submitted via email at odfw. commission@state.or.us.