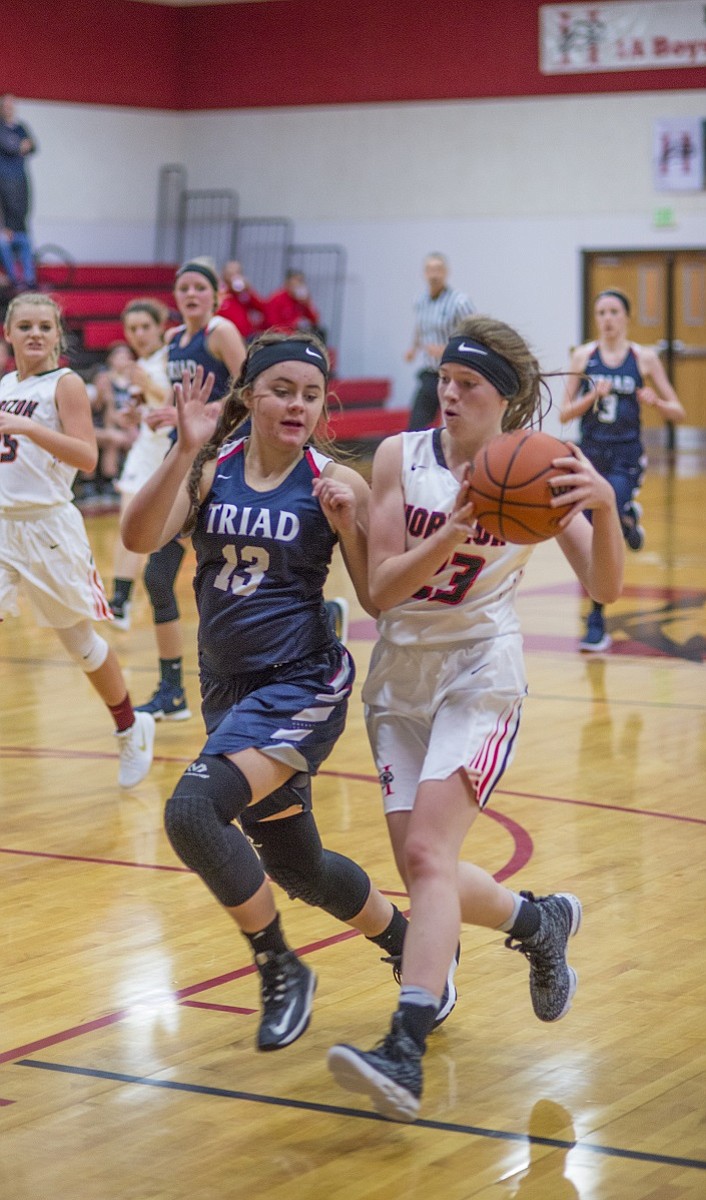 Originally published January 6, 2018 at midnight, updated January 6, 2018 at midnight
The Horizon Hawks girls basketball team were able to get things back on track after last weekend's blow out to Joseph at home with a 53-44 win on the road over Klickitat/Glenwood on Jan. 3.
The girls versus Klickitat/Glenwood were led by outstanding performances from junior guard Kaitlin Wenz and sophomore forward Fionna Marsalis.
Wenz was the Hawks' second-leading scorer against Klickitat/Glenwood with 19 points, only behind Marsalis, who put up 22, but that wasn't all the junior guard had in store Wednesday night.
The 19 points was just a piece of the puzzle to Wenz's triple-double versus Klickitat/Glenwood.
Wenz would pull down 15 rebounds and you'd think the final stat would be double-digits in assists, as this is the most-common way you see a triple-double earned, but Wenz earned her triple-double on the defensive end by snatching 10 steals on the night.
Whether it's the boys or girls team on HRV or Horizon, Wenz's triple-double is the first the county of Hood River has seen this basketball season.
Wenz's final stat line Wednesday night was 19 points, 15 rebounds, 10 steals, six assists and five blocks.
Marsalis, the scoring leader for this Hawks team through the first nine games, continued to be dominant offensively, putting up a season-high 22 points on 6-17 shooting from the field and 10-16 shooting from the free throw line.
But nothing stands out more in Marsalis' box score than her 10 offensive rebounds — 11 total rebounds.
Marsalis, at 5 feet, 6 inches, isn't your natural rebounder; she instead brings energy that those she's up against can't match and it's why she's been a problem for opposing defenses in the paint all season.
Against Klickitat/Glenwood, the performances by Wenz and Marsalis were enough for this Hawks team to come out with the road win, but the girls also had some help from senior Alexis Ruiz who filled up the stat sheet with eight points, four rebounds, three steals, two assists and one block.
Heading into the Hawks league opener versus Arlington on the road Jan. 5 (results unavailable at prees time), Head Coach John Combs feels that throughout their non-league schedule, their greatest struggle has been "role adjustment from players who played last season to their new roles this season and relative inexperience from our other players.
"However, I have been very impressed by some of our newcomers, and our difficult preseason schedule has prepped us for a league campaign where our goal is the post season," said Combs. "We will need to bring consistent energy and effort to achieve this goal."
With league play starting, Combs' message to his team is simple before game one, "Give it everything you have, love your teammates through the grind and let the results of doing those two things allow us to achieve our goals."