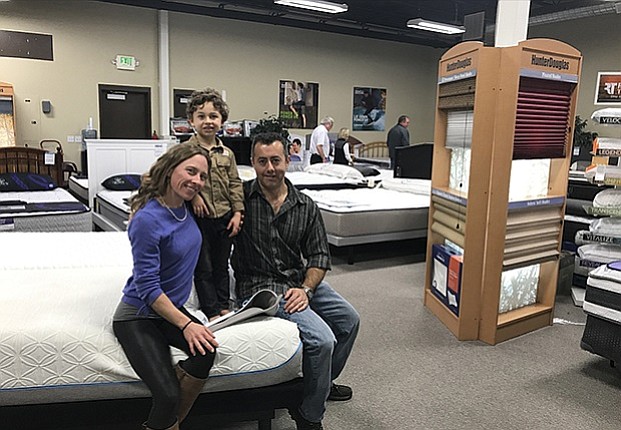 Originally published January 10, 2018 at midnight, updated January 10, 2018 at midnight
Ronelle Masters and her husband, Alejandro, have enjoyed success since celebrating the grand opening of their second Downey Sleep Center, in Hood River in May 2017.
The Downey Sleep Center was started by Masters' grandmother in 1968. Ownership transferred to her parents, Ron and Carol Vergeer, in 1982. They ran both the furniture and mattress sides of the business until 2016, when Masters and her husband left their lives as circus performers in England to come take over the Downey Sleep Center.
The opportunity to expand to Hood River presented itself a little more than a year after the couple took over the mattress store.
The Hood River location, in the 2900 block of Cascade Ave., spent years as a discount mattress store before the owner decided to sell. "We still have a lot of the same discount pricing but a better-quality product," Masters said, noting that the location "needed a little TLC."
Since acquiring the Hood River location, the Masters have been getting rid of old stock and bringing in popular products from their store in The Dalles, including a large variety of bedroom furniture and high-quality mattresses like Sealy and Tempurpedic. "Currently we are the only place in the Columbia River Gorge where you can test for yourself the comfort of a Tempurpedic mattress," they state on their website.
Masters primarily handles accounting and customer service, while her husband deals with the warehouse and deliveries. While the two of them had business handled with one location, the expansion created the need for three full-time employees to help with the store. "Our employees are more like family," Masters said.
"Alejandro hates it when you go into a store and they pressure you into buying," Masters said, so the couple model their business to promote knowledge-based sales that provide the best product for the customer's purpose. The goal, Masters said, was to provide convenience for customers and to serve a wider area, so folks out in the Gorge won't have to travel so far to get a quality product that fits all their needs.