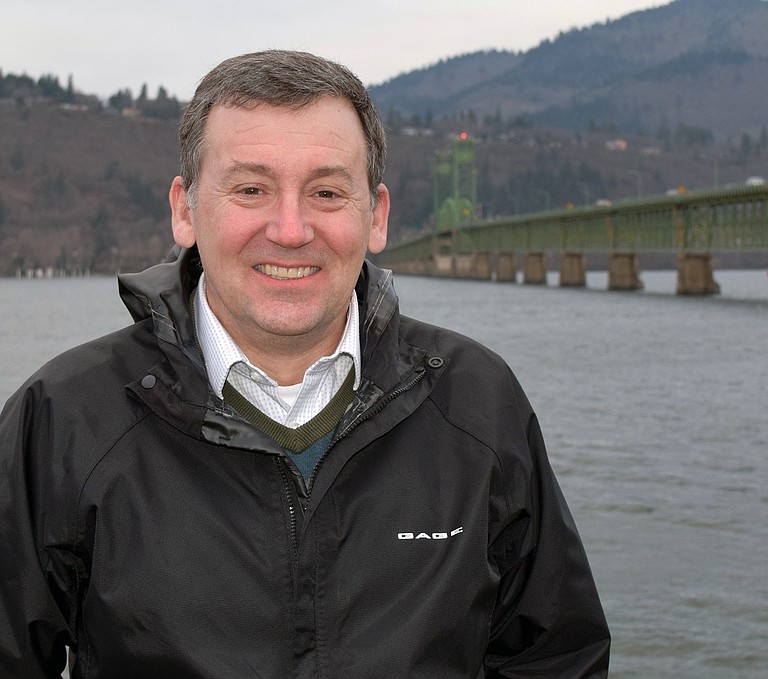 Originally published January 10, 2018 at midnight, updated January 10, 2018 at midnight
The Port of Hood River has hired a new specialist as it takes steps toward replacing the interstate bridge.
Kevin Greenwood, from Newport, joined the port district staff Jan. 2 as project director for the "Hood River-White Salmon Bridge Replacement Project."
Greenwood has held various port and city government posts in Oregon.
The new staff position will play a lead role charting out efforts to replace the Hood River Bridge. The structure was built in 1924 and owned by the port since 1950. The mile-long span connects communities, businesses and the freight network of the Gorge.
For years, port officials have said the publicly owned bi-state link must be replaced due to its age and structural deficiencies.
However, because it spans two states, is port-owned, and an expensive $250-million plus to reconstruct, a replacement would require teamwork in the Gorge and beyond.
"The Port Commission is committed to replacing the bridge as quickly as possible while continuing to ensure the continuous and safe operation of the existing bridge," Michael McElwee, port executive director, said.
McElwee said Greenwood will direct completion of tasks required by two bills that came out of the Oregon Legislature last year — HB 2017 and HB 2750.
Lawmakers committed, respectively, $5 million in funds to Oregon Department of Transportation for a pre-construction environmental study on a new bridge, and a framework for a private-public partnership that could manage such a structure.
Of Greenwood's tasks, McElwee said, "This work will be primarily focused on the completion of the required Final Environmental Impact Statement which will require participation and collaboration from federal, state, regional and local authorities.
"Kevin is a well-known and respected professional in these arenas and we are lucky to have him onboard."
The Port Commission mulled details for the project manager position at their Dec. 19 meeting, according to minutes. The salary range listed in a job description filed in a port meeting packet was $85,000-$125,000. Commissioners authorized staff to fill the post.
Greenwood said he was ready to join the port team.
"I'm excited to be working with Michael McElwee and the Port Commission on this critically important capital project," Greenwood said. "I have the utmost respect for Michael's leadership and look forward to collaborating with him and his staff."
Greenwood worked from 2014-2017 as the general manager of the Port of Newport, which has $92 million in assets and an annual operating budget of $14 million. The Port of Newport hosts a National Oceanic and Atmospheric Administration marine center and international terminal as well as two large marinas with a total of 650 commercial and recreational boat slips.
During his work in Newport, Greenwood wrote a successful TIGER grant for construction of an international terminal shipping facility and led lobbying efforts in Salem and Washington, D.C., to advocate for infrastructure funding.
Before that, he was general manager for the Port of Garibaldi, where he wrote several successful grants for repair of the Tillamook Bay Commercial Avenue wharf including from the TIGER, ConnectOregon, and U.S. Commerce Department programs. Greenwood also served as Garibaldi's city manager and was a president of the Oregon Public Ports Association.
He holds a Master of Public Administration in Rural Development from Portland State University and a Bachelor of Arts in English and Political Science from University of Washington.
Greenwood was scheduled to present his first project update to the Port Commission during their meeting Tuesday.
Bridge work session
Port commissioners and a panel of experts will take a "deep dive" into what's next for the bridge replacement project, according to Genevieve Scholl, port communications and special projects manager.
On Thursday, Jan. 18, Greenwood will convene the session, exploring public-private partnership funding models, federal requirements for project permitting and funding, typical timelines and processes, and other aspects.

The public meeting runs from 1:30-4:30 p.m., at 1000 E. Port Marina Drive, Hood River. For more information, contact the Port of Hood River via email to porthr@gorge.net.