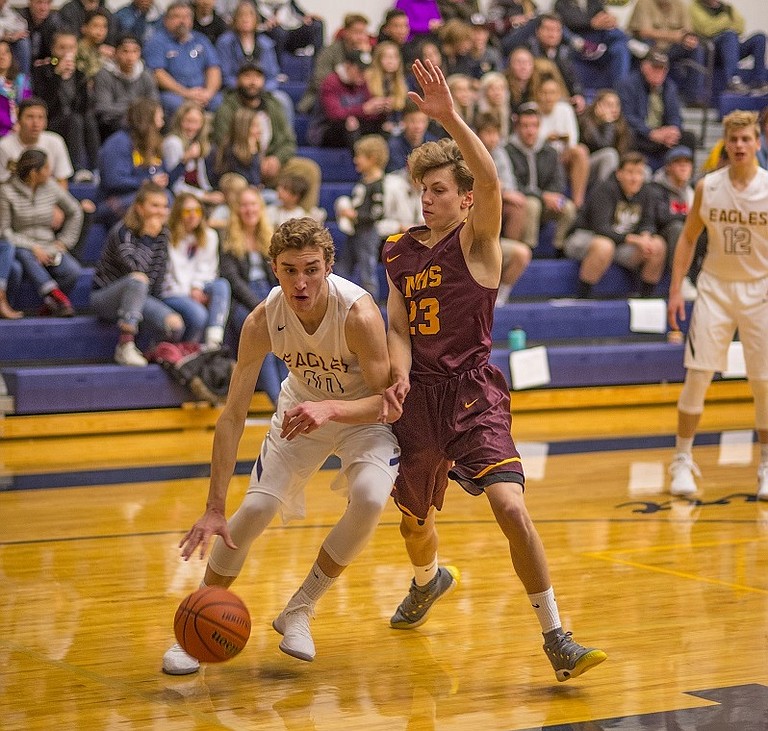 Originally published January 10, 2018 at midnight, updated January 10, 2018 at midnight
Last Friday night was no different than the previous six games for the Hood River Valley boys basketball team, as they went on the road and lost to Woodburn by a final score of 62-40.
The loss extends the losing streak to seven in a row for the Eagles as they drop to 4-9 on the season and 30th in 5A OSAA standings.
HRV showed once again that a lack of experience at the varsity level is detrimental.
On the road, the Eagles had 27 turnovers on the night versus Woodburn and it allowed the Bulldogs to run away with this game early.
And when HRV wasn't turning the ball over, their shots weren't falling, due in large part to shot selection as the boys shot 17-44 from the field, including 5-19 from the three-point line.
Despite the tough road loss, the Eagles had some positives versus Woodburn, led by seniors Tanner Wells and Carson Orr.
Wells notched in a double-double with 12 points and 19 rebounds — 15 defensive and four offensive rebounds.
Orr led the Eagles in scoring with 13 points on 6-11 shooting and added nine rebounds.
These are reassuring numbers for HRV because the Eagles will be returning eight varsity players, suspended the last six games for disciplinary reasons, on Friday, Jan. 12 against Corbett at home.
With the performances from Wells and Orr, then having eight varsity players return, there is hope that this team can get back into the flow of things.
There's no telling what will happen against Corbett, since we haven't seen this HRV boys basketball team at full strength since Dec. 14 of last year, but just knowing that everyone is finally back together brings some confidence that this team desperately needs at this point of the season with only two games remaining until league play.
After Corbett, the boys are given a great opportunity to get a road game under the belt as they'll travel to Liberty on Tuesday, Jan. 16.
HRV opens Columbia River Conference play at home on Thursday, Jan. 18 at home versus Pendleton.