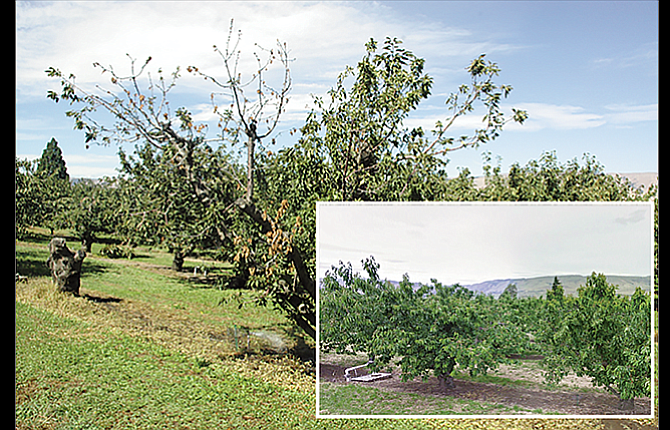 Wednesday, January 10, 2018
Cherry Leaf Roll virus has been found in The Dalles and Oregon State University officials want growers to stop its spread by removing infected trees this spring.
Also making an appearance in local orchards is Little Cherry Disease, already in play in the Willamette Valley and in Washington State.
In addition, several viruses transmitted by microscopic worms, including Tomato ringspot and Tobacco ringspot, have been discovered in Hood River, The Dalles and Grand Ronde Valley orchards and vineyards.
"I think if we get on top of the situation we can minimize the spread of the problems," said Dr. Jay W. Pscheidt, an OSU professor and a plant pathology specialist.
He said eliminating the problems is essential to the industry since Oregon is one of the top producers of sweet cherries in the United States, supplying about 10 percent of the total market.
"For most growers and field representatives, the world of cherry viruses is a confusing bowl of alphabet soup," said Pscheidt.
"It can be confusing for plant pathologists, as well. To help simplify this world, we came up with a grower action rating, a scale of one to 10, to indicate which viruses should receive more attention than others.
"This has helped reduce the possibility of dozens of viruses down to an important seven that growers should be worried about.
On that list is Cherry Leaf Roll, which was found during a two-year study in a small block of Bing and Royal Anne cherries on the east side of The Dalles.
The study began in 2016 and continued through the 2017 harvest.
"To our knowledge, this is the first report of the virus infecting sweet cherries in Oregon," he said.
According to Pscheidt, the disease has been battled in Washington for the past two decades and causes trees to decline so that there is poor growth, leaf bunching, small leaf galls and hardly any fruit.
Leaf galls are identifiable by bumps or small round balls that grow on leaves, twigs and stems.
They can also appear as a wide variety of abnormal growth in different shapes.
"We want to get the word out for orchardists to watch for these symptoms," said Pscheidt.
There is no known treatment for the virus, so removal of the infected tree is the only way to stop the spread of the disease, he said.
A block of Bing trees where Leaf Roll was found last summer has already been removed, he said.
•
Other growers are encouraged to follow suit if their trees show signs of the virus.
"We're not sure how it's getting around," said Pscheidt.
One possible way the disease spreads is through root grafts, so orchardists are asked to be sure stocks are not infected.
Little Cherry Disease is also a problem, said Pscheidt, because fruit on infected trees does not ripen or color properly and has little flavor.
Having small cherries on trees does not mean the bacteria is present, he said. The disease manifest in leaves that are notably abnormal and fruit that is deficient.
Because Little Cherry is spread by leafhoppers, a tiny insect that sucks plant sap from trees, it may be possible to slow its spread with pesticide application, said Pscheidt.
Once the disease is established, he said tree removal is the only way to stop it.
What OSU researchers are worried about with Tomato ringspot and Tobacco ringspot is that they can transfer from infected cherry trees into grapes, peaches, plums and apples through replanting.
"We want to work out a management plan with orchardists who find any of these problems," said Pscheidt, who plans to seek funding to continue studying the spread or containment of viruses in The Dalles.
Pscheidt works out of a Corvallis office and can be reached for more information at 541-737-5539 or pscheidj@science.oregon-state.edu.