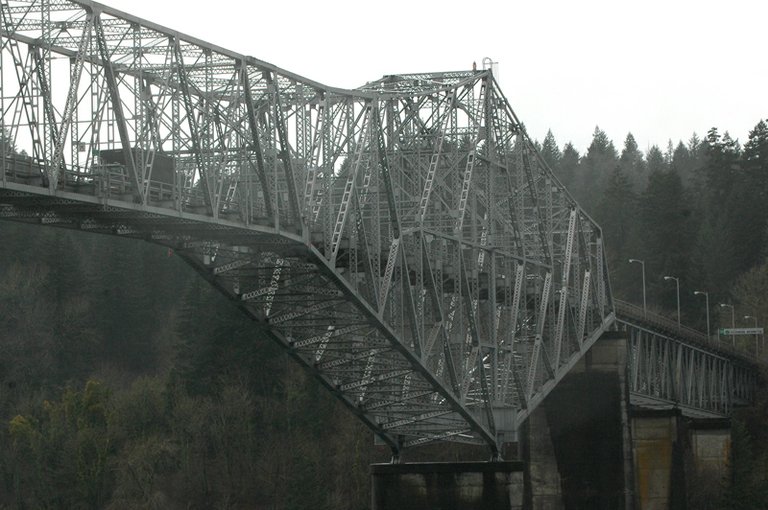 Originally published January 13, 2018 at midnight, updated January 13, 2018 at midnight
Drivers of heavy vehicles will pay a steeper rate for crossing Bridge of the Gods, starting Feb. 1.
The Port of Cascade Locks will raise per-axle tolls on the bridge to $3 on commercial trucks next month. Rates apply to customers paying by cash or card.
Current commercial truck tolls range from $5 — three-axles — to $15 — eight-axles.
Ryan Vollans, bridge manager, said there's no change in tolls for two-axle passenger vehicles, bikes or pedestrians, however.
Motorists in passenger cars will still pay $2 per crossing, or $1 with a local sticker or coupon book. That toll hike rolled out in 2016, following a series of public hearings in Cascade Locks and Stevenson. Via the program, those who sign up for a residency sticker get a discount.
Certain discounts apply to the new rates for trucks as well.
Vollans said via email of commercial truck rates, "Customers purchasing coupon books will get a discounted rate of $2 per axle. Coupon books are available for purchase at both the toll booth and the port office in Cascade Locks."
Paul Koch, port general manager, said the port adopted a resolution approving the toll increase in November at a special work session
The toll hike comes amid infrastructure maintenance and capital cost challenges at the bridge.
The port is operating with a 10-year maintenance plan for the bridge, which calls for the port spending about $3 million dollars over the next decade to keep the bi-state link at its current 80,000-pound weight limit.
For more information, call the port at 541-374-8619. The port's office is located at 427 S.W. Portage Rd, by the riverside Marine Park.