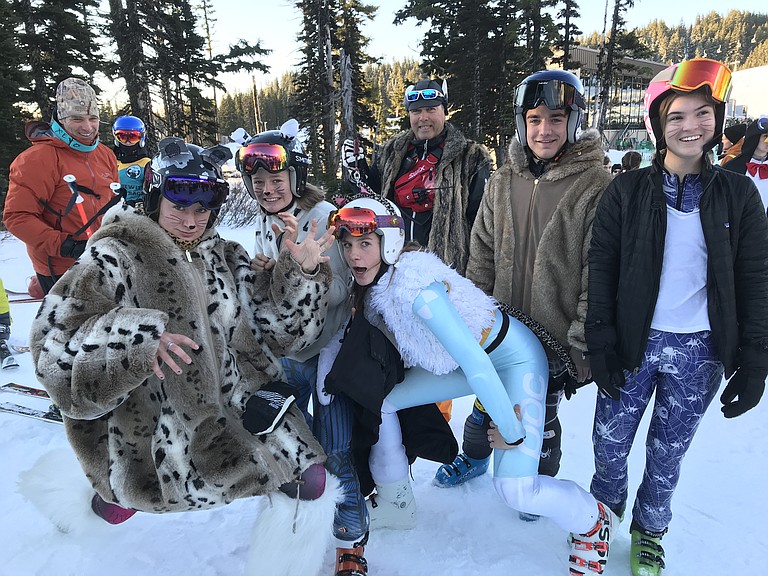 Originally published January 13, 2018 at midnight, updated January 13, 2018 at midnight
The Hood River Valley ski team opened its 2018 ski race season on Saturday, Jan. 6 in the Kelsey Hewitt Memorial ski race held at Mount Hood Meadows.
The race is a "fun non-league dual Giant Slalom course," said Head Coach Scott Keillor. This course has fewer gates and is designed for a fast race.
For the athletes, this race was just a sample size of the terrain before the competitive season gets underway, but this race was more important than just a pre-season run, as it brought skiers together to honor former skier Kelsey Hewitt.
Hewitt lost her life ski racing many years ago and this non-league dual race is a way for some to remember her and for others to learn about who she was and how her life continues to live on.
HRV brought to this race a total of nine athletes; five girls and four boys.
Nearly 400 skiers in total competed at this race and the nine athletes from HRV "did very well," said Keillor.
Both the girls and boys had two athletes place in the top-10 of their respective races.
In the girls race, Paris Nunn was the highest finisher for the Eagles as she placed sixth out of 161 athletes; Nunn's final time was 21.12 seconds, only .03 seconds shy of St. Mary's Alex Adamek in fifth place.
The other top-10 finisher for the girls was Erin Sutherland who finished with a time of 21.49 seconds, earning her 10th place. Her finish was .02 seconds shy of ninth-place.
Behind Sutherland in 11th place was Erika Anderson. Anderson's final time of 21.82 seconds was just enough to beat out Jesuit's Amber Mills who finished in 12th place with a time of 21.85 seconds.
Other HRV performances at the Kelsey Hewitt Memorial ski race: Eva Jones with a time of 23.53 seconds finished in 25th place and Audrey Horst ended the race in 116th place with a final time of 29.61 seconds.
In the boys race, Nash Levy led the Eagles with a time of 21.36 seconds and the finish would be enough to earn him a tie for fifth-place with Dylan Dernbach of Central Catholic.
Christopher McElwee of HRV slipped into the top-10 with a time of 21.41 seconds as he beat out Barlow's Brady Layman by .01 seconds for 10th place.
Colson Zack and Mitchell Lamer finished off the day for the Eagles as Zack ended in 26th place with a final time of 22.47 seconds and Lamer at 22.97 seconds finished in 31st place.
After combining the total times, the girls team took second place and the boys team took third place overall at the Kelsey Hewitt Memorial ski race.
On top of performing well at this race, HRV also won the costume creativity award with their animal theme.
With the ski season finally underway, Keillor and the team "are looking forward to a great season," said Keillor. "We plan to continue our dominance in the league and to defend last year's first place state finish with at least a podium position for the team."
And to do that the team will have to battle through six Mount Hood league races before the state championships in early March at Mt. Bachelor.