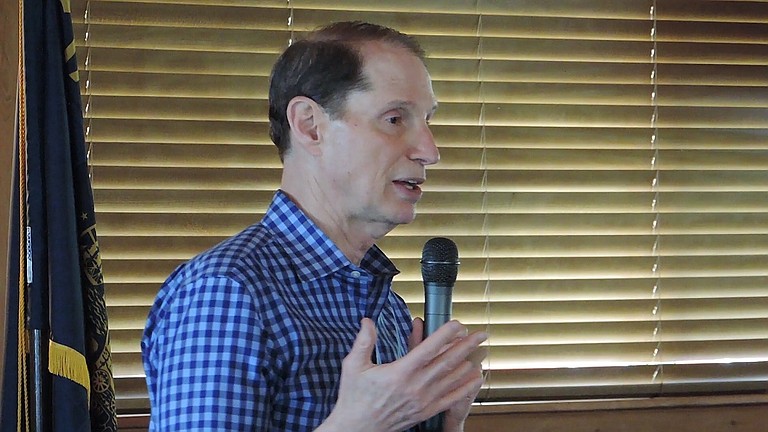 Originally published January 13, 2018 at midnight, updated January 13, 2018 at midnight
U.S. Sen. Ron Wyden has introduced a bill that would create a grant program for repairing and replacing outdated bridges.
The "Bridge Investment Act" would require that all bridge projects funded by the bill use American-made steel and iron.
"Reliable bridges are critical to Oregonians' safety and for local Oregon businesses to successfully transport world-renowned agriculture products, athletic apparel, manufactured goods and so much more," Wyden said in a statement.
"Over half of the bridges in our state were built more than half a century ago. Investing and repairing this aging infrastructure is key to maintaining our Oregon way of life."
Asked whether the bill would address Oregon bridges — including the Hood River White-Salmon Interstate Bridge and Bridge of the Gods — Wyden spokesman Hank Stern said the bill was designed for such projects.
"It would create a new grant program dedicated to bridge projects," Stern said.
The bill, unveiled Jan. 4, would put $75 billion over 10 years to bridge repair projects, issued through a competitive grant program. The funds would help leverage additional investment from state and local entities.

S.2279 was referred to the Committee on Environment and Public Works.
Stern said, "There currently is no stand-alone funding source for bridges. Instead, they must cobble together funding from Highway Trust Fund dollars and other broader grant programs."
The two aging bridges in Hood River County have drawn concerns over structural efficiency. The Port of Hood River, owner of the Hood River Bridge, is taking steps toward replacing the span. The district specifically hired a replacement project manager this month, Kevin Greenwood.
Stern also confirmed that Wyden's staff have been talking with local port authorities.
Wyden is a ranking member of the Senate Finance Committee, which oversees transportation. Also sponsoring the bill are senators Sen. Sherrod Brown (D-Ohio) and Sen. Sheldon Whitehouse (D-Rhode Island).
A news release from Wyden's office highlighted the White House's call for $1 trillion in infrastructure spending, and noted a New York Times interview with President Donald Trump acknowledging that the nation's bridges are in poor shape.
The senators' bill calls for "significant investment in bridge repair projects, which are not currently prioritized under existing federal highway grant programs."
The United States has more than 55,000 termed "structurally-deficient" bridges, or those that need significant repair. The U.S. Department of Transportation estimates a $123 billion bridge repair backlog nationally, including $17 billion in needed improvements to rural and local bridges off the federal-aid highway network.
Senators backing the bill argued it would spur job creation, factor into a bipartisan transportation package, would involve an evaluation process for projects, bundle certain projects into single applications to cut red tape, and apply to various government entities.
The bill's full text is posted at: www.congress.gov/ bill/115th-congress/ senate-bill/2279