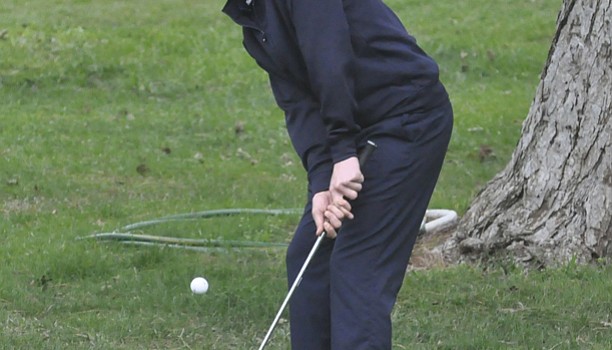 Should be done by the end of the month
A welcomed addition to the Hood River Waterfront is quickly taking shape, and with a finish date of the end of February, the new river access at the west end of the Hook will be ready for windsurfers, kayakers and stand-up-paddlers who come out of the woodwork in droves as winter winds down and the river-recreation season rapidly approaches.
With spring weather already in the air, high school athletes are about to gear-up and hit the great outdoors for the final season of the school year. New to the lineup of coaches for Hood River Valley High School, Matt Luchsinger will replace Jon Munk as head varsity boys lacrosse coach.
Final games of regular season are next week
The Pendleton Buckaroos scored early and often to win a pivotal matchup Tuesday night on their home court against the Hood River Valley varsity boys basketball team. The 72-60 outcome, fueled by Buckaroo Wes Persinger's game-high 22 points, breaks the tie for the lead and establishes the pecking order in the Columbia River Conference with a week left in regular-season action.

Hood River Valley High School varsity swimmers claimed 15 district titles Saturday on their way to a commanding performance at the 2015 Columbia River Conference swimming championship at the Hood River Aquatic Center.

Marquez, Shaner, Manzo, Jones finish in top-four for trip to state championships
Christian Marquez, Junior Manzo, Jason Shaner and Angel Jones are headed to the OSAA 5A State Wrestling Championships.
Road game Tuesday was biggest of league season
With a 74-64 win Friday night at The Dalles, the Hood River Valley High School varsity boys basketball team is all but guaranteed an appearance in the 5A state championships; the mission now will shift from simply qualifying for a post-season to earning the best possible ranking going into the tournament, and from simply staying afloat in a rebuilding year to claiming the first Columbia River Conference title in team history.
HRV baseball fundraiser Feb. 21; Gorge Roller Girls host Feb. 28 bouts
The powerhouse 1A No. 1 ranked Horizon Christian School boys basketball team steamrolled two more opponents over the weekend to conclude its Big Sky Conference schedule with a perfect 14-0 record.
Last week we had some remarkable league action on the friendly boards at Hood River's Orchard Lanes, and when the dust settled a truly eclectic mix of bowlers who shot the most over their averages ended up making our coveted Team of the Week. This particular lineup is particularly special because it's comprised of three new faces who have never made it before

HRV boys basketball in three-way tie for first in conference
Led by Dallas Buckley's 16 points and Skyler Hunter's 14, the Hood River Valley Eagles' varsity boys basketball team gave Hermiston a taste of good old-fashioned revenge Tuesday night at Vannet Court.
Tim Furlong and Joyce Ebersole took top honors over the last few weeks at Orchard Lanes, as you'll read in this combined report from league action in the last week of January and the first week of February.

The Teacup Nordic Junior Racing Team is a cross-country skiing team that trains regularly at Teacup Lake Nordic Club on Mount Hood. The team trains year-round to race at Junior National Qualifier races around the Pacific Northwest. By earning five qualifying times, an individual can join the Pacific Northwest all-star team and compete at Junior Nationals in Truckee, Calif.
A selection of Hood River's toughest young wrestlers were in Parkrose last weekend for the 2015 Oregon Wrestling Association Kids State Folkstlye Championships. After the full day of wrestling, eight local boys found themselves on the podium and two were hailed state champions.
Hawks pull off key comeback vs. Rangers
The 1A No. 1 ranked Horizon Christian School varsity boys basketball team continued to dominate the Big Sky Conference as it notched two more wins last week to extend their conference win streak to 44 games. Horizon (11-0 Big Sky, 19-3 overall) won 58-25 Friday at Arlington (1-10, 3-18), followed by a 54-45 come-from-behind home win Saturday over the No. 11 ranked Dufur Rangers (9-2, 13-7).

Hood River Valley High School senior Patrick Crompton has been selected as one of 16 Oregon high school football players to be honored next month as a top scholar athlete at the 54th annual Portland Chapter of the National Football Foundation and College Hall of Fame awards banquet.