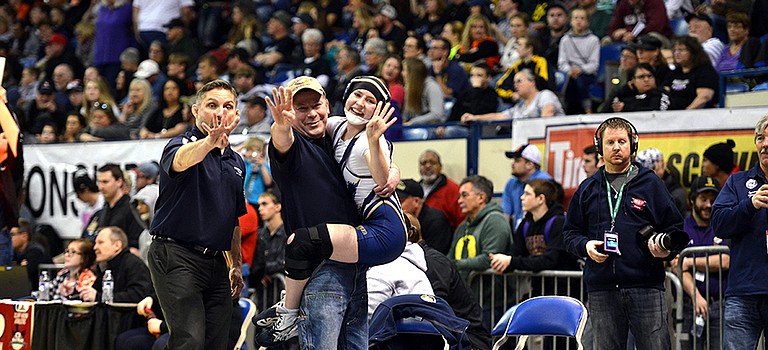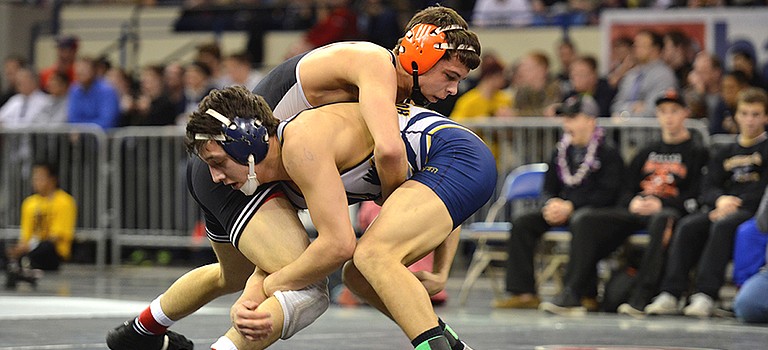 Hood River Valley wrestling had four top-five placers and finished fifth overall in the 18-team Elks Memorial Invitational tournament over the weekend at HRVHS. Highlighting the all-day affair for the Eagles were Jason Shaner, Christian Marquez, Junior Manzo and Steven Swafford, who placed third, first, sixth and fourth, respectively.

'Matt would approve'
Matt Klee dedicated a great deal of time and energy building things for others, and now, as a year since his death approaches, an impassioned community is coming together to build something for him.
Hood River Valley High School will be one of just two locations on the west coast to host a special girls' wrestling clinic on Wednesday, Feb. 4 as part of USA Wrestling's goal of raising awareness and participation in female wrestling across the country.
The Hood River Valley High School varsity girls swim team sent a clear statement last weekend that it is intent on reclaiming the Columbia River Conference title — after losing it last year to Pendleton — and making waves at the 5A State Championships. At the annual Hood River Invitational Saturday, the girls claimed the team title and beat the next closest CRC finisher, Pendleton (4th place) by more than 100 points.
Hats off to our Team of the Week bowlers who rolled the most over their averages in last week's league action at Hood River's Orchard Lanes. Once again we have a nice mix of bowlers — some new, some household names and all of them on fire.
For Babe Ruth, players can register every Wednesday night at the Hood River Valley High School indoor hitting facility (next to HRV baseball's home field) from 7:30-9 p.m. A copy of your player's birth certificate is needed at registration. The fee this year is $90. For more information e-mail David Hough at: Yzhough@yahoo.com.

Eagles upset Pendleton with 33-point fourth
A relentless onslaught of aggressive full-court pressure and a late-game rally that included 33 points in the fourth quarter gave the Hood River Valley High School varsity boys basketball team a season-defining win Friday night at Pendleton.
Babe Ruth, Little League sign-ups start this week; CSRT excels in first race
Eagle wrestling has a new trophy to add to its collection.
The No. 1 ranked Horizon Christian School Hawks boys basketball team had another dominating performance over a Big Sky Conference foe as they crushed the Ione Cardinals 69-27 at home last Friday.
Winter steelhead tips from a local pro
Steelheading this time of year is a challenging sport. After all, how many people think about fishing in the middle of the winter? Dealing with the rain, hail, snow, and cold rivers that fluctuate from muddy-to-clear, depending on the ever-changing weather conditions, is what makes this sport difficult for some and exciting to others. The rewards can be great (if you dress for the occasion) big hard fighting fish and scenery that at times can be breathtaking.

Eagles 39, Lions 24
HRV wrestling hosted its first home dual meet of the season Tuesday night, and for those in the audience expecting an exciting show, the action did not disappoint.
Lucy McLean continued her run of dominance in high school ski racing last weekend with another first place finish in Mt. Hood Ski League slalom action Sunday at Mt. Hood Meadows. The win — her fourth consecutive first-place finish this season – propelled the Hood River Valley High School varsity girls ski team to an overall win for a third straight time.
Due to lack of snow, the Teacup Lake Nordic Club has rescheduled its annual Teacup Classic race for Feb. 22 with hopes that the dismal snowpack with improve by then.
Eagle basketball gains momentum as CRC action tips off Friday
HRV girls: It might not have been pretty, but Friday's 39-37 overtime road win against Vancouver's Heritage High was a much-needed shift in momentum for the Hood River Valley High School varsity girls basketball team as it heads into the start of Columbia River Conference play.