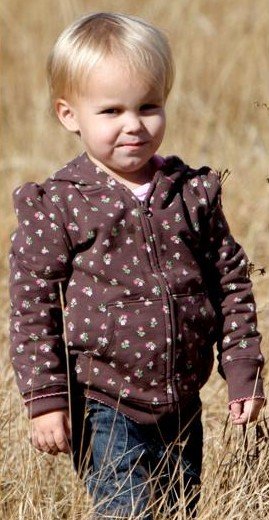 Autumn Rocsan Schweitz
September 22, 2005 - January 26, 2009
Three-year-old Autumn Rocsan Schweitz passed away in Portland, Ore., on Jan. 26, 2009. She was born Sept. 22, 2005, in Bend, Ore., to Rebecah Jean Olmstead and Wesley Lynn Schweitz.
Autumn was a conduit of joy. She loved to sing and dance and make snow angels. Her heart was full of creativity and she loved to paint.
She brought many smiles when she would say "I want to do my BaBalalala-et!"
Autumn like to be held and have her ears rubbed. She was a very determined little girl who gave so much and was extremely loved.
Autumn is survived by her mother, Rebecah Olmstead, of Hood River, Ore.; father, Wesley Schweitz, of Mitchell, Ore.; sisters Alisha Carson, of Redmond, Ore., and Cassandra Schweitz, of Parkdale, Ore.; brother, Clout Tolstoy, of Portland, Ore.; grandparents Don and Dee Olmstead, of Parkdale; great-grandmother, Phyllis Lenaburg, of Portland; and numerous other family members and friends.
A celebration of her life was held on Saturday, Jan. 31, at 1 p.m. at Hood River Alliance Church with interment at Parkdale Cemetery. Gardner Funeral Home handled arrangements.