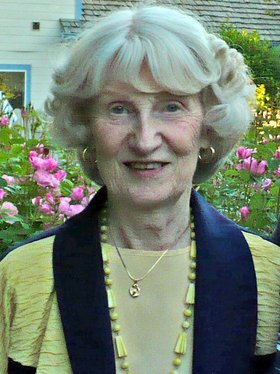 Meva Henrietta Sandercock
January 3, 1926 - July 7, 2012
Meva Henrietta Sandercock, 86, of Hood River, Ore., died on July 7, 2012, at Vineyard Heights in McMinnville, Ore. Funeral services will be held on Sunday, July 15, at 2 p.m. at the Hood River Valley Christian Church with viewing on Saturday, July 14, from 3-7 p.m. at Anderson's Tribute Center in Hood River. Interment will be at Idlewilde Cemetery in Hood River.
Meva was born on Jan. 3, 1926, in Haines, N.D., to Herman and Mabel Clarinda Olson Van Ras. In 1936 Meva moved with her family from North Dakota to Hood River, Ore., and graduated from Hood River High School in 1945.
On Sept. 17, 1945, she married Harold A. Sandercock in Vancouver, Wash. They moved to Portland in the latter 1940s where Meva worked for the telephone company as an operator. Their son, Steven, was born in 1949 and soon after the family moved back to Hood River where Meva began working for the Oregon-Washington Telephone Company. She was promoted to supervisor and then chief operator in 1964.
In 1961 she was the first secretary and one of the founding members of the Cascade Central Credit Union in Hood River in which she remained an active member until her death. Her membership number was a single digit.
Meva retired from the telephone company on Jan. 1, 1982. After her husband Harold's death in June 1985, she remained an active member in the church.
Her other interests included membership in the Arts Club, her monthly bunko gatherings, helping her friends and relatives in any way she could, and, of course, garage saling. For several years she cleaned houses with her close friend Sally Neal. It gave her some "mad money" for garage sales, but more than that, it gave her more opportunity to help people. Health issues forced her to retire in 2006.
Meva is survived by her son, Steven, of McMinnville; sister, Florence Chandler, of The Dalles; brother, John Van Ras (Liz), of Hood River; three grandchildren, four great-grandchildren and several nieces and nephews.
A loving and caring mother, sister, grandmother, great-grandmother and friend, Meva will be sorely missed by all whom she touched. We're sure the Lord greeted her with open arms — and the latest heavenly garage sale schedule!
Memorial contributions may be made to the Valley Christian Church, Hood River, 975 Indian Creek Road, Hood River, OR 97301. To leave private online condolences, please visit www.macyandson.com.
Condolences are being received online.