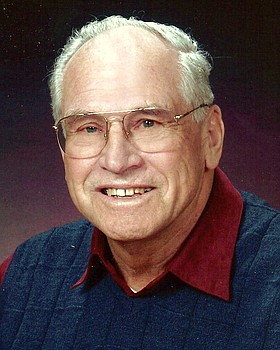 Charles Victor Henderson
January 8, 1921 - May 29, 2015
Charles Victor Henderson was born in Fargo, N.D., on Jan. 8, 1921, to Gunda (Eilertson) and Charles Henderson. He married Della Mae Fode in Elko, Nev., on Feb. 5, 1960.
Charles was an orchardist and vintner, and owner and operator of Mont Elise Vineyards. He was a founding member of the Washington State Winery Association, and also a member of the BPOE #1968 Lodge and Our Redeemer Lutheran Church in Hood River. He enjoyed restoring machinery, and reading about history and archaeology.
Charles passed away at his home in White Salmon, Wash., on May 29, 2015, at the age of 94.
He is survived by his wife, Della; son Charles Henderson, of Happy Valley, Ore.; daughter Elise Carlson, of Mukilteo, Wash.; and grandchildren Candace, Constance, Jacob and Ian.
He was preceded in death by his brother Robert, sisters Esther and Laura, and his parents.
The family requests memorials be made to Providence Hospice of the Gorge or FISH Food Bank, Hood River.
A memorial service will be held on Saturday, June 6, at Our Redeemer Lutheran Church in Hood River at 1 p.m. Please send condolences to the Henderson family by visiting gardnerfh.com.

Condolences are being received online.