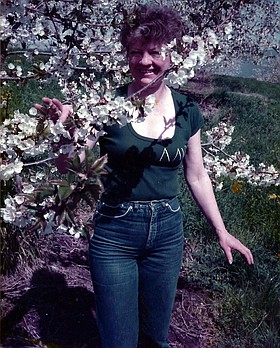 Rose Van Riper
The Dalles, Ore.
July 10, 1938 - December 18, 2017
Rose Van Riper was born on July 10, 1938, in Tacoma, Wash., to Paul and Mildred (Millie) Bramann. When she was 7 years old, her family moved to Minnesota and she was raised on a dairy farm. In 1954, her family moved to The Dalles, Ore. She attended The Dalles High School and graduated with the class of 1957.
She married Earl Van Riper in 1958. In the early years, they raised their three sons, Richard, Rory, and Rod, in Hood River, Ore. In the late 1970s, she moved to The Dalles. She worked as a checker for Safeway for 28 years. She met Dan Curtiss, a local cherry farmer, in the late '70s. They raised cherries together, and she started Rose's fruit stand in the early 1980s. Her fruit stand was known for fresh, ripe fruit from the farm. In addition to the fruit stand, she had a U-pick pumpkin patch and a haunted house, which was open to the local schools. She openly stated to family and friends that the pumpkin patch was not opened to make money, but rather provide kids the real experience of picking pumpkins. With beautiful blossoming flowers around the fruit stand and the towering sunflower plants at the pumpkin patch, you could tell that Rose truly had a green thumb.
Many of her customers have fond memories of visiting Rose's fruit stand. She would have the radio on outside while she greeted her customers with her infectious smile. She had a quick-witted sense of humor. She was not known for her political correctness, but she sure made you laugh. Rose was known for her extraordinary cooking skills and her love for photography, by documenting many life experiences and events through photo and video. Her family for several generations to come will enjoy events of her lifetime. She often commented that she was the first person to own a camera in her family.
Rose and Dan enjoyed traveling to Europe, South America, and fell in love with the small town of La Manzanilla in Mexico. She would spend several months during the year in Mexico, enjoying the sun and relaxing environment. She enjoyed the company of many great friends and also cooking for large holiday gatherings.
Rose passed away on Dec. 18, 2017, at her home in The Dalles. She was 79 years of age at the time of her passing.
She is preceded in death by Dan Curtiss, sister Sue Bramann, stepfather Dale Wood, mother Mildred Wood, father Paul Bramann and her son, Rodney Van Riper.
She is survived by sons Rory and Richard Van Riper, and three grandchildren, Wyrann Van Riper, Tyler Van Riper and Austin Van Riper. She has two great-grandchildren, Wyatt Van Riper and Sydney Van Riper. Sydney is the first girl born in the family since 1940.
Arrangements are under the direction of Anderson's Tribute Center Celilo Chapel, 204 E. Fourth St., The Dalles. Visit www.AndersonsTributeCenter.com to leave a note of condolence for the family.