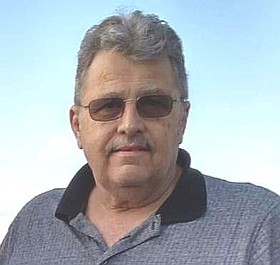 Terry A. Goss
Odell, Ore.
April 28, 1950 - December 21, 2017
Terry A. Goss passed away on Dec. 21, 2017, surrounded by family in his Odell home after a short battle with cancer. Terry was born on April 28, 1950, in Roseburg, Ore., and was 67 years of age at the time of his passing.
Terry was born to Truman and Mildred (Short) Goss. He had two other siblings, James Goss and Trudy Klantchnek. His family soon moved to Odell, and Terry spent his childhood years growing up on his family's fruit orchard. As a young boy growing up in the farming community, Terry, his brother and his sister kept busy working and playing in their parent's fruit orchards. Terry attended and graduated from Wy'east High School in 1968. During his academic career, he was an involved FFA member, sparked by a keen interest in animals. He always had a favorite horse from the time he was a kid, until the end of his life. During his high school years, Terry worked for his Uncle Don at his veterinary clinic in Southern California. Shortly after graduating high school, he studied radio broadcasting in the local area.
Terry married the love of his life, Deborah Langford, in Hood River, Ore., on May 2, 1970. Not long after they began dating, Deborah got her ears pierced and Terry said he was going to the jewelry store to get earrings. He returned with a wedding ring instead. Terry and Deborah have been life partners, and have been inseparable for 47 years since that trip to get earrings.
Terry and Debbie enjoyed spending time with their two growing children, Cassandra and Steven. Annual summer vacations were spent water skiing at Cove Palisades, bicycling in Sunriver, Ore., and taking trips to Disneyland in California. Throughout the years, family was always together to celebrate birthdays, Thanksgiving, and Christmas. Having family around was Terry's greatest joy in life.
Terry spent his "working years" employed by the Diamond Fruit Growers at their Parkdale packinghouse. He then went to work for Pete Stadelman as the manager at his Milton-Freewater packinghouse. While in Milton-Freewater, Terry was a member of the Chamber of Commerce. In this capacity, Terry and Debbie made a trip to Japan and were able to engulf themselves in another culture, and were able to experience "real," fresh seafood. Terry came full circle when he returned to manage the Hood River Stadelman facility and be closer to his children and grandchildren. In all, Terry worked in the fruit industry for 35 years. He finished his working career with Opportunity Connections in Pine Grove, Ore., where he helped adults with special needs.
Terry is survived by his spouse of 47 years, Deborah; his two children, Cassandra and her husband, Jeff McNerney, and Steven and his wife, Gretchen; grandchildren Ashley and her husband Casey Rogers, Eric McNerney, Kellen, Addison, and Logan Goss; father Truman and his wife Faye; sister Trudy and her husband Bucky Klantchnek; and sister-in-law Cindy Goss. He is preceded in death by his mother Mildred and his brother James.
A memorial service for Terry will be held on Jan. 6 at 2 p.m. at the Hood River Church of Christ, 1512 Tucker Road, Hood River. A reception will immediately follow. Donations may be made in Terry's name to Adopt-A-Dog animal shelter (Hukari Animal Shelter) at 3910 Heron Drive, Hood River, OR 97031.
The family would like to give a special thanks to Hospice of the Gorge for all of their help and continued support.
Arrangements are under the direction of Anderson's Tribute Center (Funerals • Receptions • Cremations) 1401 Belmont Ave., Hood River. Visit www. AndersonsTributeCenter.com to leave a note of condolence for the family.
Services for Terry A. Goss
January 6, 2018

Memorial service: 2 p.m.
Hood River Church of Christ