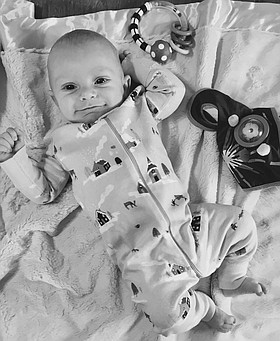 William "Whit" Walter Trude IV
Lyle, Wash.
October 3, 2016 - March 8, 2017
On Oct. 3, 2016, William Walter Trude IV (Whit) was born to William Walter III and Jennifer Stacy Trude of Lyle, Wash. On March 8, 2017, Whit Trude's precious life on earth was inexplicably ended due to sudden infant death syndrome (SIDS). The profound joy and love that Whit brought to Jen and Will in his short five months will remain in their hearts forever. The light and beauty in his eyes and smile will never be forgotten.
In addition to his loving parents, Whit is survived by his great-grandfather Arthur Kunst of Pennsylvania, and great-grandmother Alice Munn of Pennsylvania; grandparents William W. Trude, Jr., of Kentucky, Sharon Trude Coffin and Tris Coffin of Pennsylvania, and Tom and Susan Stacy of Maryland; uncles and aunts Ryan Trude and Emma Pirie of Washington, Jim and Catherine Stacy Carver of Oregon, Kaeli and Paul Duggan of Washington, DC, Abby and Zach Wright of Boulder, Colo., Jackie Coffin and Evan Paige of Winchester, W. Va.; young cousins Thomas and Charlie Carver; and five generations of an adoring and close-knit extended family.
Words cannot express the sadness and pain that family and friends are feeling from this loss, nor the deep appreciation for all the love and support they are receiving from far and wide. Jen and Will would like to extend their gratitude and love to an amazing community for the incredible outpouring of support. They would also like to thank the Hood River Fire Dept., EMS, and Emergency Team at Providence, Hood River, Ore. Lastly, they would like to extend a special thank you with warmth and love to Laura McCann and her family. A beautiful visitation was held at Anderson's Tribute Center in Hood River on Sunday, March 12. In lieu of flowers, contributions can be made online to the Whit Trude Memorial at gofundme.com.
Arrangements under the direction of Anderson's Tribute Center (Funerals • Receptions • Cremations), 1401 Belmont Ave., Hood River. Visit www. AndersonsTributeCenter.com to leave a note of condolence for the family.