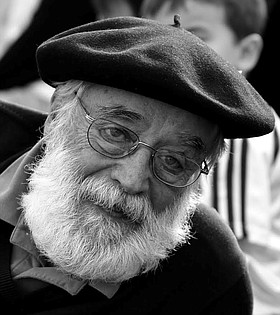 Guillermo Willy Fisch
Bingen, Wash.
November 20, 1940 - October 23, 2017
Guillermo "Willy" Fisch was born in Buenos Aires, Argentina, on Nov. 20, 1940, to Nélida Paviolo and Santiago Plácido Fisch. He died peacefully Oct. 23, 2017, surrounded by friends and family in his home in Bingen, Wash. Despite several years of cancer treatment and other health complications, he maintained a positive and loving attitude to the end.
As a young man, Guillermo earned advanced degrees in naval architecture and marine engineering from the University of Buenos Aires, and served in the Argentinian Armed Forces for two years. It was there he discovered a love for cooking, to the delight of army buddies and everyone who knew him after.
Later in life, his professional focus shifted from ship design to international sales and consulting, and took him all over the world, working in Brazil, Haiti, Angola, Mexico, Portugal, Spain and the United States, where he spent many years working at Marco Marine. He was involved in fisheries development in Mexico and the Azores, and for several years in Madrid, he directed a big eye tuna study for the International Council for the Conservation of Atlantic Tuna, a part of the United Nations. His professional passions eventually led him to work first as a consultant, and later employee, of Insitu in Bingen. He was with Insitu from the beginning and retired a few years ago. He can be credited with encouraging the founders to design technologies aimed at helping fishermen locate schools of tuna. Essentially, this would lead to many of the innovations that still define the company to this day.
In Bingen, he became a beloved member of this vibrant Gorge community. He leaves a deep impact on all who knew him, with his love of food and wine, his appreciation for music, literature and poetry, his knack for learning and playing with the many languages he mastered, and his remarkable ability to connect with people from every culture and walk of life. He is survived by his beloved wife, Jerilyn, his dear sister Inés, his daughters Lupe, Amalia and Gigi, his stepsons Brian and Bo Gilliland, his grandsons Santiago Hinds, Owen Seaborn and Ben Chavez, his sons-in-law Patrick Hakes and Victor Chavez, and a considerable number of friends on at least three continents. He will be deeply missed.