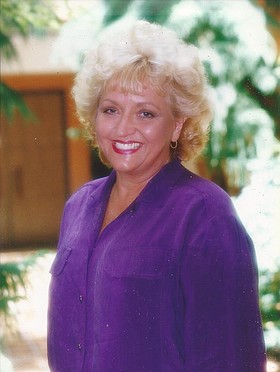 Janet Gail Chandler Skarset
San Jose, Calif.
August 10, 1942 - October 8, 2017
Janet Gail Chandler Skarset of San Jose, Calif., passed away Oct. 8, 2017, after a long struggle with health issues including cancer. Janet, the youngest of four siblings, was preceded in death by brothers Dan and Pat Chandler.
She is survived by her husband, Larry Skarset, son Steffen Hulegaard, wife Chi and their sons Grant and Ryan, daughter Sheralyn Hulegaard-Ready, husband Rick and their daughter Carlee, step-daughter Tammy Stark and her husband Trent, her sister Joan Fowler, and numerous nieces and nephews.
Janet was born in La Grande, Ore., on Aug. 10, 1942. Her parents, Orville and Bell Chandler, lived on their ranch West of Haines in Baker County, Ore. The Orville Chandler Ranch is today owned jointly by Janet and members of the Chandler Family Trust.
Her early education, grades one through eight, was at the Muddy Creek School, often requiring a horseback ride or rather remote walk, at least once accompanied by a friendly cougar. The trend of rural school consolidation then provided bus transportation to the high school in nearby North Powder, where Janet finished her junior year in high school. The death of her father in 1959 necessitated a move with her mother to Hood River, Ore., where Janet graduated from Hood River High School.
The next phase in her education, and indeed, an important part of her life, was in Eugene, Ore., at Lane Community College, where she studied dental hygiene, becoming a graduate of the first class of hygienists and subsequently the University of Oregon, earning a degree in Public Health.
There she met and married Carl O. Hulegaard and reared their children, Steffen and Sheralyn. Janet's productive and challenging life included vocations in public health and dental hygiene. She spent a year in Riyadh, Saudi Arabia, working in the dental hygiene profession and helping to establish one of the first western based dental clinics. Upon returning to the U.S., she moved to San Jose, where she meet Larry Skarset and became part of his family.
So much detail has been overlooked here such as Janet's love of flowers, good humor, laughter, but most of all devotion to her family and friends. Janet will be missed by all whose lives she touched and loved.
Remembrances can be sent to the American Lung Association or the American Heart Association supporting research and early testing programs.