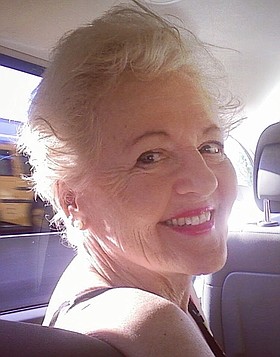 Aurora Ravenet Acosta
Danville, Calif.
March 5, 1936 - November 1, 2017
Aurora Ravenet Acosta was born in La Habana, Cuba on March 5, 1936, to Maria Teresa Limonta and Luis Ravenet, the middle child of an extraordinary loving relationship. She died peacefully on Nov. 1, 2017, in her home in Danville, Calif. Despite struggles with dementia, she maintained her vibrant and engaging character until the very end.
Recollections of her childhood in Cuba always painted a rich picture of a loving home, a "Finca" full of music, excellent food, good times with her siblings Bibi and Cachi, and an especially close bond with her father. She attended Colegio del Apostolado Catholic School, and later studied piano at the Conservatory Orbon, attaining degrees in piano and music theory in 1958. She attended University of Villanova in Havana, but studies were interrupted by marriage and political events.
She married Orlando N. Acosta on June 16, 1956. They had three beautiful daughters: Aurora, Teresa, and Ines Maria. The Cuban revolution came in the midst of this, and proved to be the catalyst for a completely different life. Leaving their beloved Cuba was an excruciating decision. But considering the oppressive communist regime, which had stolen every material possession and crushed their livelihood, the choice became clear.
The family emigrated to the U.S. in 1961, landing in Philadelphia, Pa., with their belongings on their back and an engineering job for Orlando.
Aurora set about learning how to run a household, and later gave birth to her son, Orlando. These were not easy times, but once in the U.S., Aurora never looked back. She embraced America and its values fully, becoming a U.S. citizen in 1969, giving thanks for the economic opportunities, the freedom of expression, and the chance of a better life for her children. She vowed never to go back to Cuba, and this vow she kept.
Aurora was an inspirational mother, one who would do everything and anything for her children. She taught by example, with high expectations in terms of academic and personal success. You had better become a fully productive member of society, or else … Slacking off was never acceptable. Her non-linear yet highly adaptive intellect was a constant, almost farcical challenge to her scientific husband. She was a musician, with the chops and soul to prove it. She loved dancing. Her Catholic faith was unshakable, with Aurora volunteering and becoming an integral member of the local Catholic church wherever she lived. She would jokingly recall one of her favorite accomplishments being named an honorary "Irish" by her Catholic Women's group in Daytona, Fla.
Early in her career she taught piano, which she would do on and off for 30 years. Later, she worked in accounting, and then real estate, proudly bragging about being Rookie of the Year realtor for Century 21 in 1983.
Career situations caused the family to move about, homesteading in Huntsville, New Orleans, Charlotte, Miami, Northern Virginia, and Daytona. She was unfailingly gregarious, with a nearly superhuman level of energy, and this combination of course meant that no matter the location, she immediately made friends. People everywhere loved this beautiful, quirky, witty, positively energetic Cuban wonder. In her last years, with dementia setting in, she lived in alternate locations in her children's homes. She was loved deeply and will be sorely missed.
She was preceded in death by her parents and her brother, Dr. Luis Ravenet. She is survived by her sister, Dr. Caridad Kenna; her four children, Aurora Dunn, Teresa Acosta, Ines Moxley, and Dr. Orlando R. Acosta; her ex-husband, Orlando N. Acosta; 12 grandchildren, Nicholas Dunn, Krystyn Bullock, Stacey Ethridge, Marco Yakou, Chantal Yakou, Rosemarie McReynolds, Dr. Frederick Moxley, Jonathan Moxley, Eric Moxley, Annelise Acosta, Olivia Acosta, and Celia Acosta; six great-grandchildren, Xavier McReynolds, Everett McReynolds, Genevieve McReynolds, Harrison Etheridge, Hayden Etheridge, and Aurora Bullock.
A memorial service is being held in Danville, Calif., on Nov. 14 at St. Isidore Catholic Church.