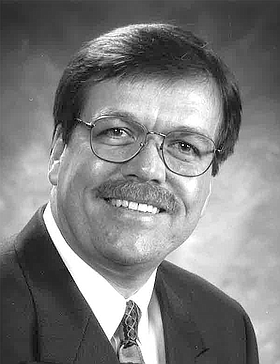 Jerry Miller
White Salmon, Wash.
unknown - November 2, 2017
Jerry Miller, a resident of White Salmon, Wash., and an administrator with the White Salmon School District, passed away on Nov. 2, 2017, after a difficult struggle with brain cancer.
Jerry was born in the Alaska territory in 1956, the eldest child of Helen Heggie and Rodney Miller. The family moved back to Becida, Minn., when Jerry was very young to be closer to Jerry's grandparents, Floyd and Eva Heggie and Dewey and Effie Miller. While in Minnesota, he lived across the road from his maternal grandparents' home and farm until he was 8; Floyd and Eva were integral influences in his life, and models for his later role as a loving, attentive, grandfather. He attended the Meadowbrook School, a one-room school house, in Becida. The family then moved to Hoquiam, Wash. Jerry returned to Becida to visit his grandparents every summer. Jerry lived in Hoquiam until graduating from Hoquiam High School in 1974. He went on to earn a degree in early childhood education from Central Washington University in 1978.
His first teaching job was at the Quinault Tribal school in Taholah, Wash., where he taught kindergarten and first grade. It was there he met his equally talented wife Jan, herself an elementary school teacher, and taught Sarah, Jan's daughter, in his very first class. Jerry went on to other elementary school teaching assignments, including six years as a first-grade teacher at Whitson Elementary in White Salmon. He also taught in the Griffin and North Thurston school districts in the Olympia, Wash., area. In 1997, he earned his Masters' in Education from St. Martin's University, and went to work as Washington's Statewide Reading Specialist in the Office of the Superintendent of Public Instruction. From there he worked in curriculum development and instructional support for the Puget Sound ESD and the Issaquah, Wash., school district, ending his far-too-short career in White Salmon, where he was the Director of District Federal and State Programs and Curriculum Director for the entire district until his cancer advanced.
While working in education, Jerry earned notoriety for his approach to learning, specifically his ideas about reading instruction. In 1993, he was awarded the Christa McAuliffe Award for Excellence in Education, and in 1994 he was named "Teacher of the Year" by St. Martin's University. In 1998, he earned the "Steppin' Out" award from the Employment Securities Division for his work in developing the Washington Reading Corps Interagency Agreement.
He was the author of many articles about education, and worked as a national speaker with the Bureau of Educational Research. He was a ghost writer for the Seattle Seahawks reading incentive program entitled Ready, Set, Goals. This program provided autobiographical vignettes of players for third and fourth grade students. Each month, several classrooms participated in a statewide "book talk" with Seattle Seahawks team members. The program was highly effective in motivating reluctant readers to set academic and behavioral goals.
As great as his professional achievements were, Jerry himself said, "I hold most dear those times when former students and their families have sought contact years later to let me know I made a difference in their lives."
Jerry was a unique, creative teacher who defied stereotypes and always worked as an advocate for the forgotten and underserved. He taught his second graders that Michelangelo was not only a Ninja Turtle, he was the artist who painted the Sistine Chapel. Jerry's students taped paper to the underside of their desks, and learned firsthand how difficult it is to paint while laying on your back. He always had a menagerie of animals in his room. He taught high school students to become writers by reading them picture books. He taught toddlers how to dig for razor clams. A visit to an Asian grocery store was likely to turn into an engaging lesson. With Jerry as your teacher, learning was fun.
Jerry was not only a creative educator; from an early age, Jerry's eclectic talents, unbridled curiosity, and cooking skills were obvious. He learned to make jam from his grandparents, and passed on that skill to friends and family. He was a master at making Ukrainian eggs, an elegant calligrapher and a talented musician and singer. In high school, he was chosen to represent Washington State on a European tour, where he sang for the pope. He was a consummate host, getting all his guests involved in creating fabulous meals — chicken mole, pot stickers and dancing crab legs were three of his favorite meals to make. He had a wonderful sense of humor and a contagious laugh.
Jerry is survived by his wife, Jan Mebesius Miller, and his stepdaughters Sarah Miller and Anna Miller. He leaves behind his beloved grandsons Levin and Benjamin, who will miss him terribly. Survivors also include his mother Helen Miller, father Rodney Miller (Phyllis), sister Diane Hedges (Mark) and their children Sativa Miller and Madison Hedges; brothers Jeff and Jon (Rachel), and Jon's son Skyler; and many aunts, uncles and cousins in Washington and Minnesota.
A service celebrating his life will be held on Sunday, Nov. 12 at 2 p.m. at the Riverside Church, State and Fourth streets in Hood River. A reception will follow. A memorial fund, Desire to Inspire: The Jerry Miller Memorial Scholarship Fund, has been established. Please make contributions in Jerry's memory to the Quinault Indian Nation, P.O. Box 70, Taholah, WA 98598, and include Jerry Miller's name in the memo.
Services for Jerry Miller
November 12, 2017

Memorial service: 2 p.m.
Riverside Church