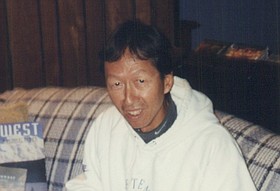 Stanley Wayne Tamura
Portland, Ore.
September 5, 1954 - November 4, 2017
Stanley Wayne Tamura passed away in Portland, Ore., on Nov. 4, 2017, surrounded by his family.
Stan was born Sept. 5, 1954, in Hood River, Ore., to Oscar and Kimiko Tamura and was 63 years of age.

His childhood years were spent working in the family orchards with his parents, brother, aunts, uncles, and cousins: changing irrigation lines, thinning pears, and picking box after box of cherries, pears, apples and peaches. Stan was taught the value of hard work from an early age and it stayed with him throughout his life. Of course, he often found ways to add a dose of fun into this hard work, sometimes throwing cherries at cars passing on the highway with his brother Gary and cousin Ken.
Stan loved family outings, going pine mushroom hunting in the woods and trout fishing. Tamura family holiday gatherings were another favorite pastime of his, primarily because of the delicious food that was always served. Stan was an animal-lover from an early age, always trying to take in the many stray cats that lived in the orchards around his home. When it came time to take care of the cats once they were brought into the house, however, he left that responsibility to his older brother.
He was very athletic, participating in various high school sports, but found that his passion was in tennis.
Stan attended Western Oregon University, where he played on the varsity tennis team. He graduated from WOU in 1977 with a bachelor's degree in social sciences. After college, Stan lived in Palm Springs, Calif., working at the Palm Desert Resort and Marriott's Rancho Las Palmas Resort and Club, eventually working his way up to the position of director of tennis for the five-star resort.
From 1989-1990, Stan had the unique experience of working as the personal tennis coach for King Hussein and Queen Noor of Jordan, as well as the rest of the royal family. It was also during his time in Jordan that he served as the National Coach for the Jordan Tennis Federation. After leaving his position with the royal family, Stan spent five years as a consultant for Nike in the Asia-Pacific region. During this time, he organized and developed the Nike International Tennis Camp and Nike Asia-Pacific Tournament Team programs, which ran throughout the region. As part of this program, Stan organized training camps for the top national juniors in each country and selected the top prospects for further training and traveling teams. From 1993-2000, Stan was a touring team coach for many International Tennis Federation teams, including teams that played at the French Open and Wimbledon junior events and on the WTA and ATP circuits.
From 2000-2007, Stan was the head tennis coach at the Hong Kong Sports Institute. He worked with the top Hong Kong national athletes, including Olympic Games and Asian Games medal winners. In 2002 and 2003, Stan was awarded the prestigious Hong Kong Bank Foundation "Coach of the Year" award for his efforts, the only tennis coach in Hong Kong history to win this top award. After leaving the HKSI, he worked as a private coach for a family in Taipei, Taiwan, coaching two high-school aged students who now attend college in the United States and play for their university tennis teams.
The Stanley Wayne Tamura Tennis Center was opened in Taipei in 2016, honoring Stan for his dedication to the sport that he loved and spent his life teaching to others.
Stan lived an adventurous life traveling the world, but he always found it comforting to return to his hometown of Hood River to visit family and friends.
Stan is survived by his older brother Gary Tamura, niece Lesley Tamura, nephew Sean Tamura and Sean's wife Jessi.
A private gathering of family and friends will occur at a later date.
Remembrances can be made to Hood River Adopt-A-Dog (3910 Heron Drive, Hood River, OR 97031) or the Odell Fire Department (3431 Odell Hwy, Hood River, OR 97031) in Stan's name.
Arrangements are under the direction of Anderson's Tribute Center (Funerals • Receptions • Cremations), 1401 Belmont Ave., Hood River. Visit www. AndersonsTributeCenter.com to leave a note of condolence for the family.